BE Event Hire stocks and supplies both aluminium and steel framed banqueting chairs in an array of standard colours ready for hire. Banqueting chairs are suitable for exhibitions, weddings, conferences, shows, just about any indoor event where you want to provide a higher level of comfort to your guest.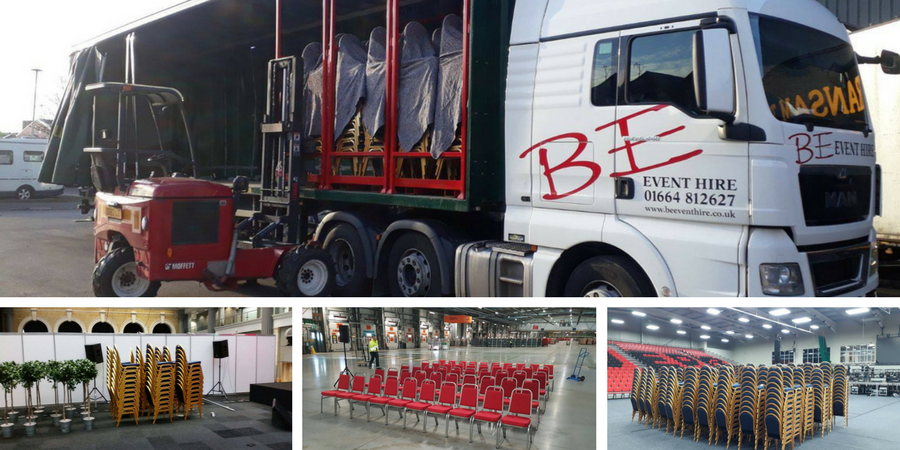 Most banqueting chairs vary between a 44cm and 46cm seat width and between 48cm and 49cm in height. Two centimetres does not sound a lot, and you should check your banqueting table sizes to ensure a comfortable seating arrangement for your guests if being used with tables.
Banqueting Chairs
BE offer a budget and standard banqueting chair for hire:
Budget Banqueting Chairs
The budget banqueting chair has a square backed frame and is slightly smaller then the standard chair.
Height: 84cm
Width: 43cm
Seat Height: 47cm
Standard Banqueting Chairs
Our standard banqueting chairs have a higher rounded chair back.
Height: 94cm
Width: 43cm
Seat Height: 47cm
We are proud to be the preferred event furniture hire supplier to most Universities across the Midlands, MCM Comic Cons and have supplied furniture hire to prestigious events such as the London 2012 Olympic Games and the Queens Diamond Jubilee. Our furniture can be seen regularly at most of the festivals including Glastonbury, Womad, Cornbury, Towersey, Download, Reading and Leeds as well as many outdoor London events such as winter Wonderland at Hyde Park, plus West End Live and London Pride in Trafalgar Square.
From that 1 or 2 extra chairs needed for Christmas lunch to 10 000 banqueting chairs, BE Event Hire caters for your every need.
If you prefer to Buy banqueting chairs, our sister company can help you find the perfect chair for your venue.