The cost to hire chairs and tables will depend upon a type of chair or tabled hired. Chair hire costs start at £1.10 for a folding chair, £2.50 for a banqueting chair, up to £5.00 for a tolix bistro chair. Table hire costs start at £2.20 for a plain wood trestle table, £5.60 for a 5′ round banqueting table, up to £16.25 for a 6 seat picnic bench. Hire prices are per item per week.
There are a range of table & chair hire options available for events, BE can supply as little as one extra chair for the family Christmas dinner to 5000 trestle tables for an exhibition.
We believe Shakespeare said it best when he penned the words: What's in a chair? Okay. That reference is a touch overboard, but if the Bard were around today, he would surely want to have a comfortable place to plant his derriere at his latest production's after-party. And pray, where to put the mutton if no table is available to hold his pewter plate?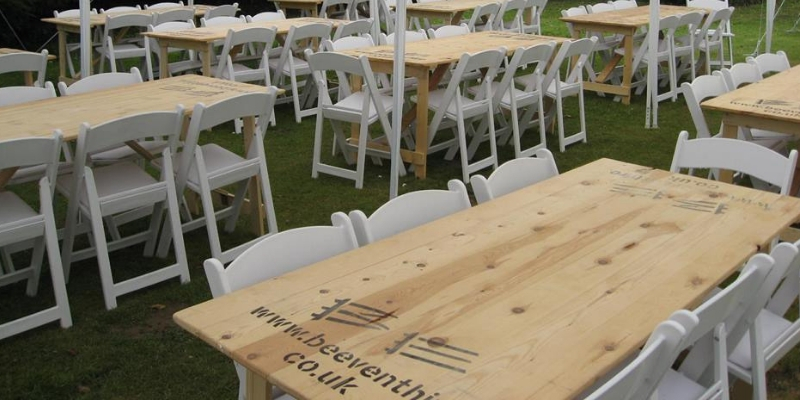 Tables Hire Costs
We offer a range of table hire options, with costs ranging from £2 to £20. If you are unsure of to table sizes and seating, see our table hire guide.
Please not that pricing within this article exclude VAT, so click through to the actual page or product for accurate up to date prices.
Trestle Tables

Trestle table range prices from £2.20 (for a 6- x 2-foot wood tabletop surface with tongue and groove construction and folding legs) to high-end food preparation tables fabricated of stainless steel that measure 6- x 2-feet; 3-inches and cost £20.00 each to hire.

Round and Oval Tables

Round tables or banqueting tables range from £4.35 for small, 3-foot rounds to the other end of the spectrum, gather a crowd at our biggest oval (an impressive 11- x 5-feet) priced at £17.35. We have every size in-between so do browse our selections to assess the sizes you require.
Bistro Tables

Bistro tables range from a simple aluminium round measuring 700mm in diameter (these fold down and stack) costing just £6.50 to the four pricier options in our bistro table category at £15.00. We also offer two colourful bistro sets.

High Tables

High tables or poseur tables range from red acrylic rounds that are 60cm deep and run just £10.65 or our truss high tables at £15.00 to our latest teak high tables: 60- x 60-cm square at £22.50. Poseur tables provided additional tables with an efficient use of space available.
Bistro Tables
The trend toward speciality tables has exploded and our inventory reflects it. We stock everything from colourful, children's tables at £4.00 to 6-person picnic benches that hire for £16.25 each. Included in our speciality table category are conference tables (£7.25), glass-topped coffee tables (£15.00) and exam desks at £4.50 each.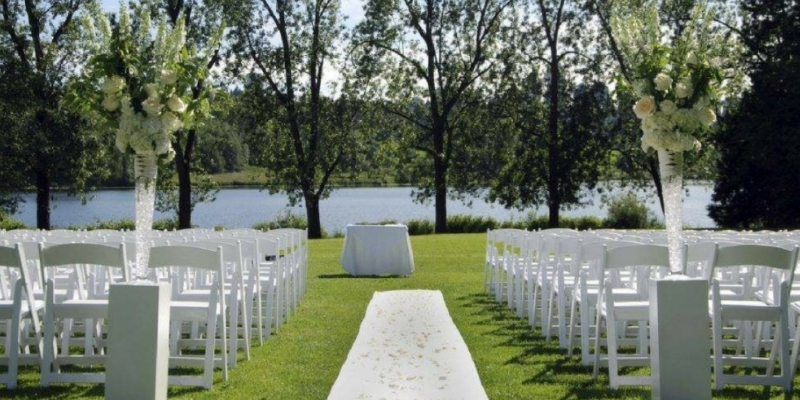 Chair Hire Costs
We currently offer 56 types of seating options, from formal occasions to casual, work-related social events, your needs are unique and so is our variety of chairs, each of which are accompanied by reasonable pricing.
Chair hire prices are designed to suit all budgets, you order provides a full week of use and pricing below excludes VAT so you can plan accordingly.
Back to Basics
Our no-frills, Samsonite folding chair is a consumer's first choice when they stage large-scale events. These chairs run just £1.10 per chair and are easy to stack when not being used. We offer 5 upgraded, basic seats that range from £1.35 to £1.95 that add class and comfort to any gathering.
Middle of the Range
Hire prices range between £2.20 and £2.50 for banquet chairs. High-end metal, Chiavari, Rattan and cross back wood selections run between £2.60 and £3.20, depending upon colours and styling. Chiavari chairs are particularly popular at weddings thanks to their romantic styling and we stock them in several styles, one of which may be just what you are looking for.
Something Different
If your event tends toward the industrial, opt for our £5.00 Tolix or metal bistro chairs to lend a modern look to your affair. Alternately make a splash with teak garden chairs at £6.50 each or arrange for aluminium Milano chairs at £6.80. Our comfy, upholstered reception chairs (modular upholstered sectional furnishings) are available for hire at £30.30 per section.
While you've got an idea of how much the tables and chairs you prefer will cost, nobody likes surprises, so you can relax knowing we have a large inventory of tables (includes 10,000 traditional 6-footers). And whether you need 30,000 folding chairs or 600 picnic tables for an outdoor event, we have you covered.
Further, our long history of providing table and chair hire for all types of events since 1972. We even offer a self-collect service instead of our standard delivery options. You book your order, pay for it 48 hours in advance, and then show up between 8:00 a.m. and 4:00 p.m. on weekdays (Monday to Friday) to load your order onto your vehicle(s) for transport to your venue. Our furniture hire FAQs should answer all your questions, if not please do call our hire team.
Further, our crew is happy to help load your vehicles and since there is no fee associated with this method of collection, feel free to order extra chairs or tables if you've left a few family off the guest list.
Thinking of buying chairs and tables instead of hiring, then we our handy buying guides from our sister business.
Related Resources