BE Event Hire offer a wide range of chair hire for all types of events, from weddings, exhibitions, conferences, festivals both indoor and outdoor. We can supply as little as one extra chair to 30,000 folding chairs for a concert, delivered 7 days a week nationwide.
Chair Hire Types
This chair hire guide includes the following chair hire types:
Banqueting & Conference Chairs
Folding Chairs
Wooden Chairs
Chiavari Chairs
Bistro Chairs
Bar Stools
Benches
**Seating guide for chair numbers around table sizes at bottom of guide.
Banqueting & Conference Chair Hire Guide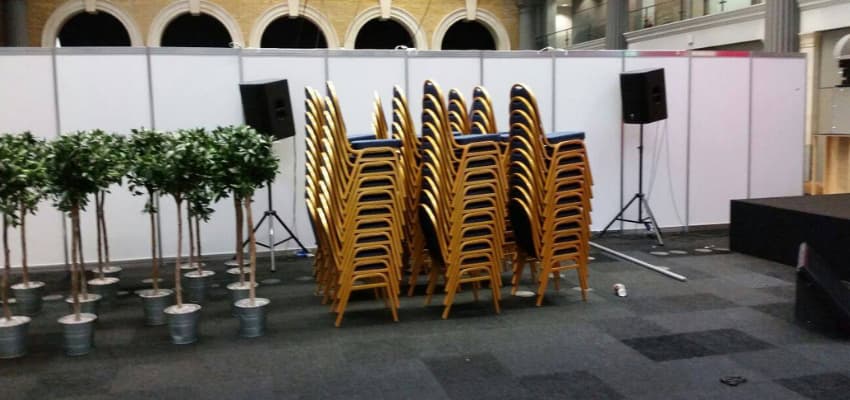 Banqueting Chairs
BE Event Hire stocks and supplies both aluminium and steel framed banqueting chairs (premium & budget) in an array of standard colours ready for hire. Banqueting chairs are suitable for exhibitions, weddings, conferences, shows, just about any indoor event where you want to provide a higher level of comfort to your guest.
Conference Chairs
ISO Conference chair with a black padded seat and back.
Black & Silver Conference Chair
Folding Chair Hire Guide
Folding chairs available in tubular light weight, ideal for large scale venue seating, wooden and resin chairs, metal bistro folding chairs.
Wooden Chair Hire Guide
We have a number of wooden chairs that have a traditional feel to them and can add a rustic feel to a wedding or event.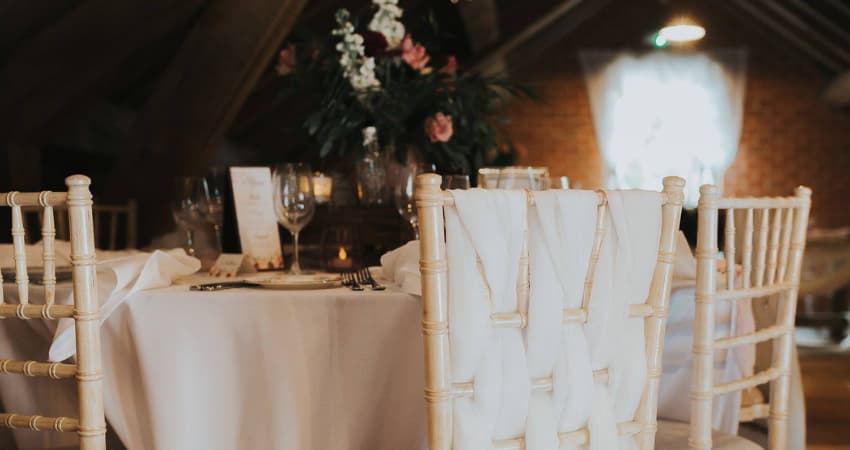 Chiavari Chair Hire Guide
BE Event Hire offers a selection of Chiavari chairs to hire ranging from limewash, crystal resin, gold and silver Chiavari chairs.
Bistro Chair Hire Guide
BE Furniture Sales takes pride in our extensive range of bistro chairs.
Bar Stool Hire Guide
Bar stools are used extensively for on sets of TV game shows as well exhibition stands and also parties where space is at a premium.
Bench Seating Hire Guide
Our bench seating and picnic benches are suitable for both Indoor and Outdoor use.
Table Seating Size Guide
Quick reference guide to table sizes, seating configurations and tablecloth sizing recommendations.
Trestle Table Seating Size Guide
Trestle Table Size
Seating
Tablecloth
6′ x 2'6″
6
3 each side
70″ x 108″
6′ x 3′
6 – 8
3 each side + head & foot
70″ x 108″
6′ x 2′
6
3 each side
70″ x 108″
5′ x 2′
4 – 6
3 each side
70″ x 108″
4′ x 2'6″
4
2 each side
54″ x 54″
4′ x 2′
4
2 each side
54″ x 54″
The amount of seating around a table will depend on the table layout. You can also substitute a 70″ x 108″ tablecloth for two 90″ x 90″ tablecloths. If you are unsure of the amount or sizes of tablecloths required for your table layout, please do speak to us.
Round Table Seating Size Guide
| | | |
| --- | --- | --- |
| Round Table Size | Seating | Tablecloth |
| 6′ | 10 – 12 | 130″ Round |
| 5′ 6″ | 9 – 11 | 118″ Round |
| 5′ | 8 – 10 | 108″ Round |
| 4′ | 6 – 8 | 90″ Round |
| 3′ | 2 – 4 | 88″ Round |
BE Event hire offer a huge selection of tables and chairs to hire for every occasion. We can supply as little or as much as you need, Midlands based and deliver UK-wide 7 days a week.
View our sister company if you are thinking of buying chairs rather then hiring, we also have some handy buying guides.
Related Resources