Are planning to hold an event in Melton Mowbray soon?. Melton Mowbray is a wonderful area to hold an event and is dotted with fabulous event venues. BE Event Hire provides event furniture hire to make any event a success.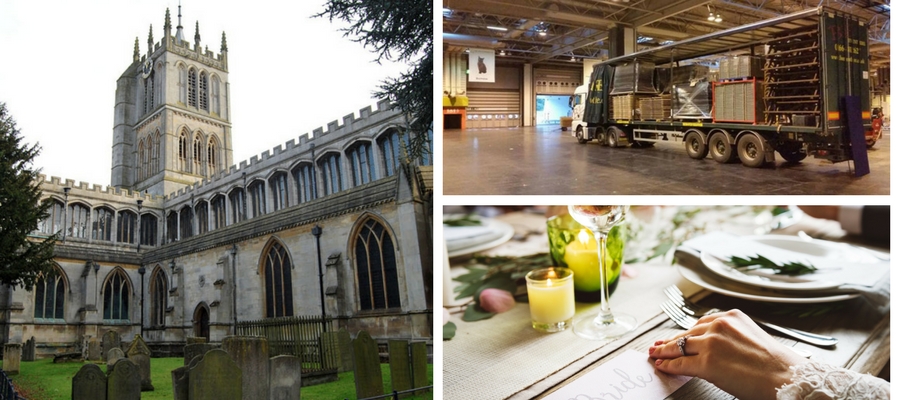 A sample of event venues across Melton Mowbray (and nearby). If you know of a great event venue that we have missed out, please contact us with the details.
Stapleford Park
If you are planning a wedding, look no further than Stapleford Park. It is every couple's dreams of holding their wedding in a prestigious and memorable venue, and this place has that. The country house is considered to be amongst the most romantic places in the English countryside.
The country house, coupled with the dreamy landscape, offer to make your wedding a truly magical experience. Stapleford Park even has its own church; the beautiful St Mary Magdalene Church, which is a perfect setting for a Blessing. After that, celebrations can take place at the majestic Grand Hall, which is just a short walk away.
At this venue, you will have access to professional and experienced event coordinators, who are ready to offer their expert advice on all aspects of the special day. They go over each detail meticulously to ensure the day is a success.
The largest hall has a capacity for 189 guests. However, they also have facilities for small, intimate wedding for those that would like that. The venue offers accommodation for attendees and parking is free. If you want exclusive access to it, that is guaranteed too.
Brooksby Hall
This majestic 16th-century manor house is the perfect setting for a fun event or wedding. It is set on 850 acres of pristine land in the heart of the English countryside. The manor is set in the midst of well-manicured gardens, and it even has its own lake. This makes for a stunning backdrop when taking photos of your special day. The estate is located in the quiet countryside, which makes it perfect for hosting a simple yet sophisticated wedding ceremony.
Highly experienced professionals work to ensure your wedding day is a perfect start to your marriage. The venue offers exquisite dishes, and a lot of care and effort goes into ensuring every detail is perfect. If you want peace of mind on your wedding day, consider hiring this venue.
The venue has enough room to accommodate up to 400 guests for the evening. They also have Civil Ceremony rooms that can accommodate up to 200 guests. To top it all off, they have a beautiful onsite church where a couple can take their vows.
Melton Theatre
Melton theatre was open to the public about 40 years ago. Since then, it has supported numerous ventures by colleges and the community. It has also been host to many tourist artists and productions.
The theatre was refurbished in 2009, and the auditorium has proven to be a great asset for the community. This is at a time when many community theatres are under huge financial strain. The theatre has a large stage and an optional orchestra pit.
If you are planning a conference of about 500 people, this theatre is perfect for that. It also has other facilities for small meetings of about eight people.
Hambleton Hall
This venue located in Rutland has been host to many magical events over the years. It was originally a Victorian house, which the owners Stefa and Tim Hart, managed to convert into a hotel in 1979. It is set on a breathtaking estate with beautiful gardens that overlook Rutland Water, a 5000-acre lake.
There are 60 staff members, who are dedicated to making any event a major success. The culinary experience is also worth talking about. The Head Chef, Aaron Patterson has been working here for many years. He is quite good at using local produce to make fine dishes at his award-winning restaurant.
For those that would like to spend the night here after a major conference or a wedding, there are 17 exquisitely designed bedrooms to accommodate them. For honeymooning couples, privacy is guaranteed.
The hotel's largest venue has a capacity of 60 people, making it perfect for an intimate gathering.
East Bridgford Hill
For a conference, this place would be a bit over the top. It is designed primarily to be a site where couples can make lasting memories of the wedding day in a magical setting. The venue is a family-owned business, which has grown over the years to be the fine venue that it is today.
It is located in the pristine Trent Valley, where friendship, bespoke style, and character are values held in high regard. These values apply to every aspect of this venue including the wine and food.
The entire experience of being at this awesome facility is quite unforgettable, no matter the event. It is a place, where you can go to get in touch with nature in its pristine form and relax from all the hassle of the big cities.
At this facility, there are five unique rooms for you to hold a wedding ceremony. The rooms can accommodate from as little as 30 guests to as many as 150 guests in the largest room. Besides that, there is overnight accommodation offered for the guests and the couple.
The Ladywood Estate
This wedding venue in Rutland is the perfect setting for a fairy tale English countryside wedding. The estate only allows 1 wedding per weekend and 25 a year. This gives them ample time to ensure all facilities are always in top shape. Besides that, since each wedding gets exclusive access to the venue, it is the perfect setting to host a quiet ceremony.
This estate has perfectly trimmed formal gardens, lakes, and woods, making for a truly relaxing setting. It has in-house accommodation for up to 14 guests. The estate's wedding pavilion was originally a barn, which has been refurbished to provide the perfect setting for a wedding. This pavilion can be reorganized to host a small wedding or in an open style of 400 guests.
There is also another facility on the estate called The Orangery. This facility is perfect for Hindu Weddings, civil ceremonies or reception of up to 400 guests. The entire south side of this building is glass, which makes for a great outdoor-indoor feel.
Barnsdale Gardens
If you are looking for the perfect setting for your dream wedding, this place offers just that. There are 38 gardens on the estate. Professionals who have years of experience in coordinating major wedding events staffs the estate. Ceremonies are held in the Paradise Garden, which has a beautiful pagoda as the centrepiece. At this garden, there is a conservatory and a stunning water feature. Guests to the estate are welcome to stroll around the other gardens and pose for photos.
The estate's many unique gardens offer numerous opportunities for stunning backdrops, no matter the season. This will allows each couple's unique personality to shine by choosing the many backdrops with which to take their photos.
Whether you are looking for a location for your wedding ceremony or reception, you will always find enough space here. The refreshments and food options are quite numerous. That means you will have more than enough options to choose from, no matter what you have planned.
The facility has the ability to serve a ceremony of up to 100 people, which is perfect for small, magical weddings in the countryside.
The Link Hotel
This modern venue is set in the heart of the Midlands. It has high-quality meeting facilities, which are designed to give the guest great value for their money. The hotel, situated just minutes from the East Midlands Airport, is the ideal place for formal conferences. This hotel has facilities that can hold up to 200 people per conference.
Whatever needs you may have, management is committed to delivering quality service at every meeting. They also have a dedicated point of contact, which allows you to stay in control throughout the planning process. The main aim is to ensure your event runs smoothly.
Belton Woods
This resort is situated on 475 acres of beautiful countryside; it manages to be grand while still being homely. The hotel is a modern facility, which has an elegant charm that is hard to resist. The mouth-watering menus are prepared using local produce.
The staff members at this hotel are professional and have a lot of experience on how to handle any wedding ceremony. Everyone is guaranteed of having a good time while on a visit to this facility. There are also many leisure facilities to relax and enjoy themselves, including the indoor swimming pool, two beautiful 18-hole golf courses, and a 9-hole par 3 golf course.
The surrounding grounds of this hotel offer a classic style, combined with space and flexibility. Whether you are holding a wedding for 2 or 230 guests, you will feel right at home. The grounds are beautifully manicured to be the perfect setting for wedding photos.
Thrumpton Hall
This 300-acre facility is no ordinary venue. It is the ideal setting for small intimate weddings, conferences, meetings, or large events. The venue provides you with the perfect setting, especially for magical weddings. Its majestic manor is the perfect place to hold your wedding ceremony. It boasts of beautiful redbrick architecture coupled with beautiful interiors.
The beautiful Baronial hall and the Dining Room have licensing to host civil ceremonies. This allows both you and your invited guests to celebrate the wedding in this stunning 300-acre estate. With two options from which to choose, you can select one that is perfect for your dream wedding ceremony.
For the reception, there is the Lakeside Pavilion and the Hall, which are both perfect for celebrating your union. The in-house team takes exceptional pride in creating an unforgettable experience for everyone who uses the facility. Towards this end, they ensure that no two weddings are similar at this hotel. Capacity ranges from 150 to 250 guests at the largest facility.
Event Furniture Hire in Melton Mowbray
BE Event Hire has a long history in providing furniture for events and to complement a great venue. We offer a diverse range of furniture, which ranges from casual to elegant chairs and tables in all sizes and shapes.
Getting a great venue is only part of having a great event. When combined with great furniture, your event will be quite memorable. The staff at BE Event Hire work hard to ensure furniture always arrive in good time, and it is of great quality.
For more information on hiring tables or chair hire, check out our table hire guide and our chair hire guide, or contact our hire team direct.
Whatever needs you may have, we have the answers for you. Best of all, our prices, dependability, and variety have no equal.
More Midlands Event Venues
Related Articles