It would be fabulous if there was an event venue made for every sized event. As every planner knows you have to work with expected numbers and these can dramatically differ to the final numbers. Equally you may not have had the option of finding that perfectly sized event venue and the only option was that large venue space. The challenge now is making that event venue feel smaller and more intimate.
Create Rooms
A perfect designer trick to use that makes a generously sized space feel more intimate is breaking up the space into smaller areas. Just like in our homes, even a venue can be set up to create the feel of smaller, more cosy areas for guests. Without using something to block the flow like a wall would, this can be accomplished a few different ways.
Flex Spaces
For events that have a set agenda, like a meal or a ceremony, start by planning out how to use the event location for those primary activities. Instead of focusing the venue only on this activity, think about what guests will be doing before or after the luncheon, sitting for the speaker, or watching a wedding ceremony. Create a flexible area that can have a feel of a lounge, for example, giving guests somewhere to congregate before or after the main event. Hiring furniture that matches the overall aesthetic of the event is easy, so creating a side "room" near or around the main event area further extends the feel of the event and adds to the ambiance, but also takes up visual space in the larger venue. Instead of guests feeling lost in the open space, even a few guest enjoying this flexible space will make all guests feel at home and comfortable in a visibly large space.
Separate Spaces
For oversized venues, spread out the activities into the space rather than spreading out the seating or tables. Guests don't mind walking around a larger space to get to a bar, but make sure that you have created seating near each activity to encourage mingling once they get to that space. Two separate bars can work, too, to make a space feel more intimate and smaller when lighting and furniture are added in to extend the thematic feel of the event.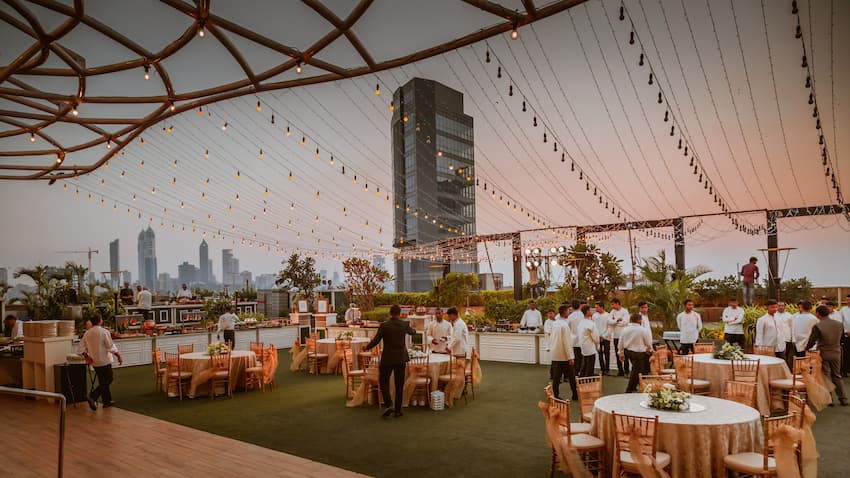 Create a Central Focus
In larger venues, a trick to make sure guests feel connected is to set up the space with an activity in a central location that they will all cross through or visit. Rather than dinner seating or a ceremony location for a wedding, instead put a dance floor or a space perfect for casual guest photographs to draw guests in and through this space. Many larger venues have plenty of open space, allowing planners to work on a layout from scratch to create a focal point for guests.
Change the Perimeter
Some spaces are so large that visually bringing in the scale is a perfect solution to creating an intimate feel for an event. Using live trees or other large greenery is a stunning solution for many events since the presence of living plants or trees enhances the ambiance in a way that arrangements cannot. Situated around the perimeter of the venue or used in selected areas to create a visual wall, trees can add a gorgeously lush feel to an event held in an oversized space.
Lighting with a Purpose
Think of a larger venue like you would a home with regards to having a lighting plan. Some areas should be highlighted with a spot or smaller light while others work best with lower, ambient lighting from candles or smaller fixtures. By breaking up a larger venue with different lighting styles or even colours, a large location visually will feel more personal and intimate to guests as their eyes move from brighter to softer lights around the room. Up lights around the perimeter or near specific areas can also bring in colour schemes to a larger venue, something that might not work in a smaller location. Lower lighting choices, like candles, automatically create a feeling of intimacy, so using those in combination with brighter lights helps to break up the feel of a large space.
Lower the Ceiling
Large venues sometimes come with cavernous, high ceilings. Lowering the feel of the ceiling space helps to create intimacy and the feel of a smaller space. Add in hanging floral arrangements, lighting fixtures, or even decorative displays overhead to shrink the perceived visual space overhead while bringing in design elements to the event. Hanging fabrics can be combined with flowers and lighting for a lush look, while branches adorned with lighting can create an impressive setting for guests to enjoy.
Tall Centrepieces
Just like a lowered ceiling fosters intimacy, tall centrepieces can help shrink the feel of a large space. Counter to what most people might think, a towering arrangement does not simply match its size with a large venue because they are both large. Centrepieces that are thinner or see-through when sitting down allow guests to interact at the table, and the soaring height of the arrangement will make the ceilings seem lower than they actually are. Stretching the centrepiece height is an easy way to take something that was already planned but switch it up to enhance the feel of the venue.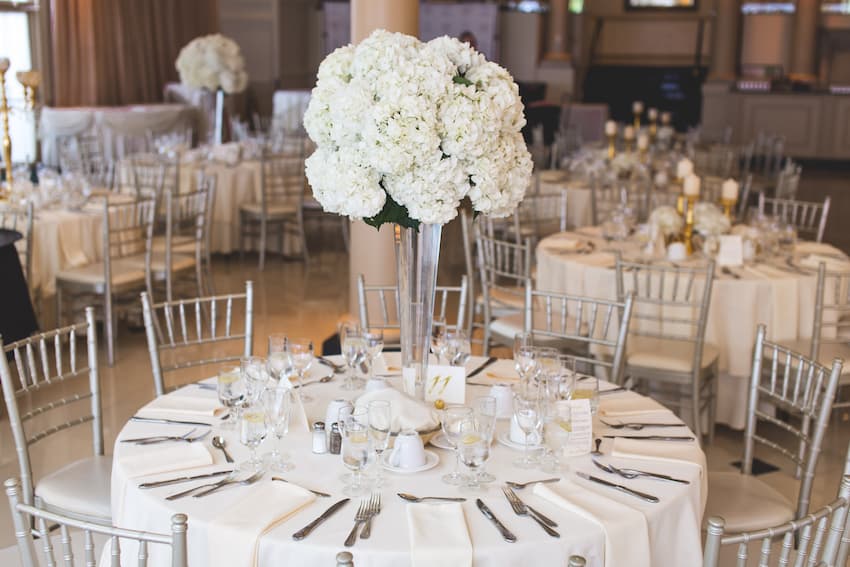 Unique Shapes
Many larger venues are often seen with seating areas comprised of round tables. While this works perfectly when organizers need to seat an abundance of guests, events that have plenty of room can try different shaped table options to give the illusion of a smaller space. Square or rectangular tables necessarily require more spacing in a seating arrangement, so using them instead of round tables will create a larger seating area and at the same time help to shrink the feel of the larger space.
Soften the Space
A simple but often overlooked addition to large spaces is to further define areas within the venue with carpets or rugs. While also providing a lovely colour or texture splash to what is likely a solid, boring flooring, soft flooring additions will create a cosy atmosphere and diminish the feel of being in a cavernous location. When a smaller number of guests are planned for a large venue, rugs and carpeting can help create the inviting, intimate setting many are striving for in a larger-scale event.
It's All in the Details
Taking an oversized, usually blank space and turning it into a more intimate feeling venue can be as simple as adding in fun details to the location. Here are a few excellent choices to use alone or in combination with other suggestions.
Twinkly Lights
Fairy lights or string lights, as they are also called, can make a huge impact on larger event spaces. Strung overhead they can provide the feeling of a shorter ceiling, creating intimacy for guests. Strung through trees or greenery they can strengthen the feel of a barrier or wall, increasing the visual impact of a tree on space size. These versatile lights can be added to tall centrepieces to enhance their towering visual appeal. Hanging vertically down fabric, drapery, or openings can improve the overall vibe of a larger space with minimal financial impact on the event budget.
Fabric
Venues with windows may already have a form of window covering but hanging fabrics or actual draperies can create a more home-like, intimate feel in any event location. No actual drapery rods are needed if creativity with branches, or temporary rods is employed to give the illusion. Similarly, canopies inside a venue, like ones over a dance floor or a wedding ceremony area, can create more intimate spaces within a larger venue. They can also create a central focal point, doing double duty helping to reduce the feel of an oversized venue.
Shrinking Your Space
No matter what strategies used to reduce the feel of an oversized venue, making any changes will impact the overall feel of a perfect venue that is just a little too large. Combine a few strategies for the best effect as you create the plan for the event. Planning ahead is the best way to make sure your event feels intimate and cosy for your guests.
Related Articles