The wedding of your dreams may look a little different in 2020/1. You can still have a lovely wedding or civil partnership ceremony, but it has to be on a smaller scale.
At the end of July, the government announced the measures allowing receptions for up to 30 people have been pushed back until at least August 15. The government will then review their decision as to if wedding receptions can resume at that time. A wedding ceremony or a civil partnership can be held with 30 people or under; the reception is currently restricted.
We've got a few things to remember while you plan your wedding during COVID-19.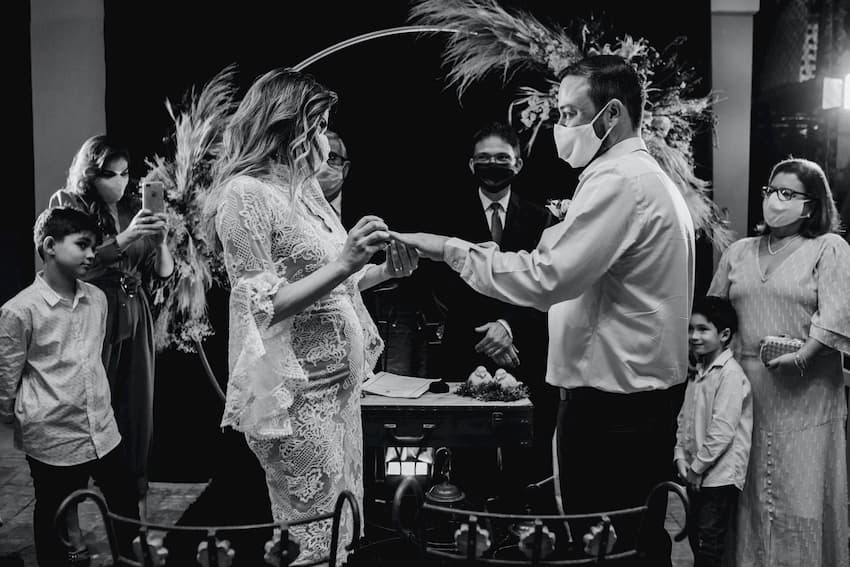 Should I Cancel?
You're probably struggling with decisions regarding your wedding because it might not be what you planned. The best thing you can do if you've already planned for a ceremony in the next month or two is to go ahead with the ceremony but push back the reception if you want a larger version and have the reception at a later stage.
If this does not appeal, you can consider postponing the entire event. Do what makes you feel best. One thing to keep in mind is that no matter what you choose, social distancing measures will impact all weddings this year. You can still have a safe wedding ceremony if you maintain social distancing.
"Rules" Of The Ceremony
A marriage or civil partnership ceremony must follow the guidelines to keep everyone in attendance safe. These services should be concluded in a short, reasonable time.
Staying Safe
Social distancing measures are put into place to keep everyone safe. Guidelines state that you should stand 2m, reduced to 1m away from anyone not in your household to ensure safety. Anyone feeling under the weather should not attend the wedding. It's essential to stay in well-ventilated areas. In England, face coverings are required by law in most settings. From August 8, they also must be worn in places of worship, so if you're getting married in a church, your attendees may need to wear a face covering.
Open Communication To Vendors
It's vitally important to keep the lines of communication open to your vendors and suppliers. They are trying to go along with the flow just as you are, but they also have a business to run. You can work together each day as information flows out. Always have a Plan B. It's important to prepare yourself for anything. Make sure to read your contracts. Ask if they have a contingent plan. The vendors will try to work with you every step of the way. If you stay in open communication, this will be easy as your big day approaches.
Hand Washing
It's so simple. You tell people to wash their hands. Having adequate hand-washing facilities for everyone involved with your wedding is essential. This is the best thing you can do to control the spread of this virus. If you're eating, make sure everyone washes their hands. Place hand sanitising stations throughout your event.
High Risk Guests
As we stated, don't let anyone come into your wedding with as much as a cold. High-risk guests should not risk coming into contact with anyone who could have the virus without symptoms. The best way to approach this issue is to set up a live feed so others can watch from a distance. It's not the same, but it will protect high-risk family and friends.
Minimise Physical Contact
We often see people we haven't seen in years at a wedding. This usually leads to a lot of kissing and hugging. It's recommended to keep physical distance to a minimum of at least two metres apart. This is unless they are of the same household. You probably can't scream at people for shaking someone's hand, but they should avoid physical contact. Everyone will want to kiss and hug the couple, but postponing this show of affection for another time is best.
Seating
Socially distancing doesn't apply when you're dealing with households. Remember, guests from the same family can be seated together. These guests are free to dance together and eat together. For those not in the same household, the seating will need to be socially distanced.
Reducing Your Guest List
Guests will understand that you cannot have a large wedding during this time. Try to start your list with immediate family members and then extended family. Closest friends that you cannot imagine your day without should be next on the list. If you still have room, add in random friends and work colleagues. The catch comes with the "plus one" of some guests. You want the list to stay manageable. People will understand if you cannot invite them. Safety is your number one priority.
Stay Calm
The ebbs and flows of the uncertainty of this pandemic can cause high anxiety. Stay calm through it all. Ensure you've read your contracts and stay in contact with your suppliers. Always keep in communication with your family and wedding party. Stay updated on the latest coronavirus news so you're always aware of information. Remember that after this is all said and done, you and your partner will still be able to get married. That's the most essential part of this journey.
The wedding of your dreams doesn't have to dissolve in the winds of change. You can still have it in a smaller version as you follow guidelines and socially distance your guests.
Wedding Furniture Hire
Related Articles