Event organisers have a tough job. Planning, organising and managing events of any size is no mean feat. Pulling off a successful event takes hours of meticulous preparation, endless checklists, strict budgeting, and many sleepless nights. This is under normal circumstances. Throw a curveball like a global pandemic, and the job becomes even more challenging.
As we learn more about COVID-19 and adjust our lifestyles, the events industry must adapt to new regulations and procedures. The fluidity of the COVID-19 landscape means that you must constantly be aware of requirements from the World Health Organisation and the UK government about events and functions. This ultimately involves additional work for the events organiser, but it is unfortunately unavoidable. The more precautions taken, the safer and, finally, more successful your event will be.
The following checklist is designed to highlight aspects that should be considered when you're planning and managing your next event.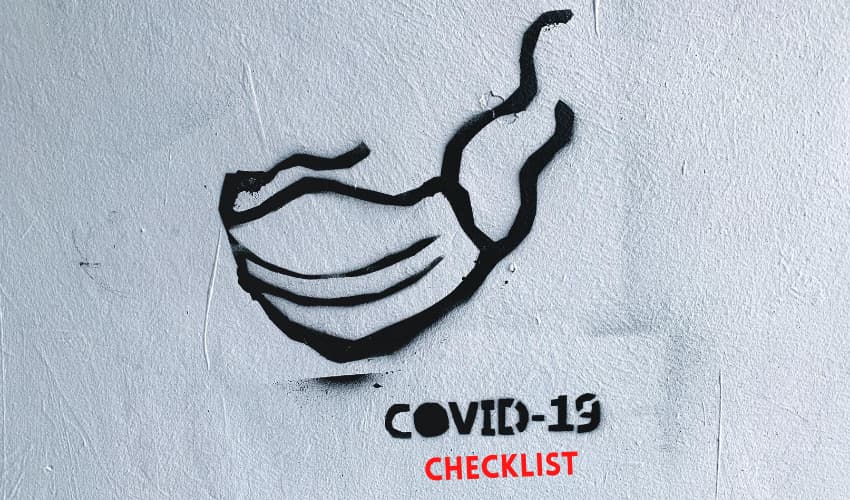 Events Checklist for COVID
Risk Assessment
A critical step in planning any event is to conduct a comprehensive risk assessment. As the organiser, you are responsible for ensuring the health and safety of the attendees insofar as it pertains to the event itself. A risk assessment will help you to identify specific factors that could cause harm to the attendees or facilitate the transmission of a disease or virus, like COVID-19. It is a legal requirement for any business and should consider everyone involved in the event, including but not limited to staff, performers, caterers and guests. If you don't conduct a risk assessment that includes COVID-19 factors, or you fail to implement measures to reduce the risk of the virus, you may find yourself in breach of the health and safety regulations.
The following points should be incorporated into your standard risk assessment document.
Venue Requirements
The venue size should be sufficient to meet health & and safety standards according to the number of guests anticipated. Still, it must ensure enough space to comply with social distancing requirements. Guidelines currently state a two-metre distance should be kept between people at all times and where possible. The type of event will play a part in determining how much space is needed.
For catered sit-down events, such as weddings and banquets, more tables will be required than for similar events pre-Covid because guests must be seated further apart with fewer seats per table. There must also be more space between tables. Thus, more floor space will be needed.
For more casual events that don't require seating, there should be adequate space for guests to mingle while keeping the necessary distance between each other.
Other factors to consider when assessing the venue include:
Restrictions on the number of people allowed at a gathering or function – This will change as the Covid-19 risk lessens. Organisers should ensure that they keep up-to-date with these restrictions and changes.
Ventilation – There is less risk of transmission in the open air than there is indoors. Open doors and windows of indoor venues should be kept open to facilitate the good ventilation of the venue. An HVAC system effectively increases the circulation of fresh, outdoor air, but the re-circulation mode should not be used. If the event is in a marquee, remove or roll up the sides of the structure while the event is happening. The use of ceiling or stand-alone fans should be avoided.
Access points – Having a few points of entry to and exit from the venue will help to alleviate possible crowding.
Ablution facilities – Social distancing should be observed in these areas. Temporary demarcations should be laid out so guests know where to stand when queuing. It could also be effective to restrict the flow of people through these facilities on a one-in, one-out basis. This could be controlled by staff or the appropriate signage outside and inside the facilities.
Staffing
First and foremost, you must ensure that none of the staff working at the event is showing any symptoms of Covid-19. This applies to your staff and any third-party staff, such as caterers, speakers or entertainers. If symptomatic, they must not be permitted to work but rather remain at home. They should be provided with adequate information about the symptoms of Covid-19 so they can advise accordingly.
Staff will have additional responsibilities when it comes to running events during this COVID-19 pandemic, and it is up to the events organiser to determine whether or not more staff is required to ease the workload. Staffing should be considered within the parameters of the risk assessment.
Training – Ensure that your team is up-to-date with current restrictions and requirements as they relate to events and gatherings of groups of people. This also applies to staff of any companies you may have outsourced aspects of the event, including entertainment, catering companies, etc. Everyone should be well-versed in how to minimise the spread of the virus.
Face covering – Staff must be encouraged to wear face coverings throughout the event. They should also encourage the guests to do so, specifically in areas where social distancing may be difficult to maintain.
Sanitising stations – These should be set up at various locales around the venue, particularly at entrance and exit points. Staff members should ensure that the guests sanitise their hands when entering or leaving the venue. Informative signage in bathrooms must highlight the government guidance regarding hand washing, which is to wash for at least twenty seconds. Bottles of hand sanitiser can be placed at other strategic positions throughout the venue: on the bar counter, on tables or in any other breakaway areas. All sanitiser should be at least 60% alcohol. You could have staff allocated to walking through the guests with spray bottles of sanitiser to encourage regular hand sanitising.
Screening – If possible, guests should be screened before gaining access to the venue to determine if they have any COVID-19 symptoms or if they have been in contact with any infected persons. A few simple questions will provide the necessary information and won't be too time-consuming. A record of these questions and answers should be kept to assist with tracing should it be required.
Social distancing – Government guidelines require a two-metre distance be kept between people, or one metre if safe to do so. Staff must try where possible to enforce this among the guests. It won't always be easy, but adequate signage displayed around the venue will also act to make guests aware of this requirement. Announcements can be made strategically during the event proceedings to remind the guests of the two-metre requirement. In areas where guests may need to queue, for example, at the bathrooms, a staff member can be in place to ensure that a two-metre gap is kept between people.
First Aid – In addition to the standard equipment and first aider on duty, there should be an allocated space where any guest or member of staff who shows signs of illness can go to be attended to and isolated.
Food and Beverage
If your event involves catering of any kind or bar service, there are various measures to put in place to reduce the risk of transmission.
Table Service – Staff should serve all food to the guests. Buffet-style meals are discouraged unless a member of staff and guests can man each station and don't help themselves. For more casual events, you could consider pre-packed food that has been individually portioned, thus reducing the amount of contact.
Cutlery – Cutlery and condiments can be provided to each guest when their food is served, rather than being generally available on tables.
Waitrons and bar staff – Waitrons and bar staff must regularly sanitise their hands and must wear face coverings, especially when interacting with guests. Assign each waiter to the area or tables they are to attend for the duration of the event. If there is more than one bar staff, each should have their section of the bar to avoid excessive contact with the counter.
Guests should be encouraged to remain seated at their tables as far as possible throughout the meal service to minimise movement.
Sound and Entertainment
Suppose your event involves live entertainment, speeches or other performances. In that case, there are additional things to consider concerning minimising the spread of the virus and maintaining a safe space for the guests.
Audience participation – People should be discouraged from singing along to the music or cheering. Raising your voice can increase the aerosol transmission of particles and potentially put more people at risk.
Background music – This must be kept within reasonable limits so that guests don't have to shout to be heard.
Sound system – Use a PA system to avoid speakers having to raise their voices to be heard.
Performer placing – Musicians or performers sharing the same stage or floor space should be positioned side-by-side or back-to-back rather than facing each other.
Microphones – Avoid the sharing of microphones, or other equipment. If multiple speeches are to be given, and microphones are limited, sufficient time should be allowed in between speeches to allow for the equipment to be sufficiently cleaned and sanitised.
Equipment handling – Bands or performers should handle their equipment and props where possible.
Hand washing – All performers and speakers should wash or sanitise their hands before handling any equipment that is not theirs.
Social distancing – A gap of at least two meters should be kept between the front of the stage or the area where the performances or speeches are taking place and the guests. Alternatively, a clear screen can be erected between the speakers and the audience if this is not possible.
Ventilation – Ensure that the area of the venue in which the speech or performance is taking place is well-ventilated.
Communication and Signage
Every attempt must be made to educate the event attendees about the requirements around face coverings, social distancing, signs and symptoms of COVID-19, and any other health and safety information relating to this disease that you, as the organiser, deem relevant or necessary. This information can be communicated in various ways, either before the event or at the venue itself. You may want to consider the following for your event:
Communicate with the guests – Do this by email, text message or phone call before the event takes place, reminding guests of the symptoms of COVID-19 and encouraging them to stay home if they feel ill or are showing any of these signs. One communication may not be sufficient. Multiple communications can be used to get your message across effectively. Vary the communication method to ensure you reach all the guests at least once.
Announcements – Make announcements periodically during the event. These should be short, reminding guests to wash their hands, maintain physical distancing and wear their face coverings when possible.
Responsibility – Through your communication with the guests, remind them that they share responsibility for their safety. They should take every precaution to protect themselves and others from COVID-19 by following all the government guidelines and any other requirements specified by the event organiser.
Hand washing – Ensure that proper instructions for hand washing, by government or WHO guidelines, are displayed at all hand-washing stations.
Signage – Display adequate signage at strategic points around the venue, both inside and in outdoor spaces, that highlights the requirements for face coverings, social distancing and any other COVID-19 preventative measures relevant to your event that you wish to include. Ensure that all signage includes all cultures and languages of the guests attending your event.
Record-keeping – For private events, the event organiser must keep an accurate record of the attendees of the venue, including contact details, for at least 21 days after the event has taken place. This will be needed for tracking and tracing when a guest tests positive for the virus within this period.
Cleaning
Having a clean venue is an important aspect of any event, but it's even more crucial now, during the COVID-19 pandemic, to ensure the safety of the guests and reduce the chance of the transmission of the virus. In addition to following your standard cleaning procedures, you should pay special attention to the following areas:
Before the event – Ensure that the venue is cleaned extensively before the arrival of the guests. Advise staff to avoid touching common surfaces that have been cleaned, or if they do, to wipe them down afterwards. You should be confident that the venue is 100% safe for the guests.
Commonly touched surfaces – Thoroughly clean and disinfect items and surfaces that are likely to be touched by many people. This includes countertops, light switches, door handles, taps and toilet flushers.
Spot cleaning – Spot cleaning of all commonly touched surfaces and items should be done at regular intervals throughout the event.
Sanitisers and soap – Ensure that sanitiser and hand-washing stations are stocked at all times throughout the event.
Implementation and Review
Once you have revised your risk assessment document, you can implement any changes that you feel are necessary for your event. As the event draws near, you may find that additional changes must be made to the document. This could be due to new concerns that come to light or because the pandemic situation may be easing and restrictions are becoming more relaxed. You must keep up-to-date and regularly consult the government, county council and WHO websites to determine best practices.
As the event organiser, you need to continually monitor the situation during the event to ensure that staff is carrying out their duties safely and within the guidelines that you have provided them with. Have a checklist that you can use so that you don't miss any essential elements. Make a note of anything that comes up during the event that you may need to change on your risk assessment document before the next event.
If you have applied your awareness and common sense in drawing up a risk assessment, and your staff knows their roles in implementing this plan, there is no reason why you should not have a successful, safe event.
Related Articles