Your wedding day is supposed to be the happiest day of your life, but it can be tough to remember everything you need to do. When it comes to planning for your big day, there is a plethora of things that needs to be done and sometimes things can get lost in the shuffle. That is why we are here today to help to provide you with a checklist of everything you will need to help create your dream wedding. BE Event Hire have created a wedding planning guide and checklist to help keep you organised.
Wedding Planning Guide
Start A Wedding Folder
One of the first things you should do is start a wedding folder. This will help you keep track of all of your ideas, a budget list, and all of the things you will need to complete before the big day. There are also online wedding folder apps if tech is your thing.
Figure Out A Budget
The biggest issues that people can run into when planning for their wedding is going over budget. One of the first things you and your partner should decide upon is how much you are willing to spend and what you want to spend it on. This will allow you to plan better and more realistically for the rest of the wedding from here on out. You don't need a massive budget to make your wedding memorable.
Pick Your Wedding Party
Planning your wedding party should be done early in the process. You will be able to pick the people you want by your side throughout the wedding planning ordeal and with you on your big day.
Start The Guest List
Deciding upon a guest list early is important because it helps you pick what type of wedding you are going to have. Will you have a small intimate affair with a few family and friends? Or will you have a gigantic party with your entire extended families and long lost friends? Or will you find some middle ground and have the best of both worlds? This is the time to decide it.
Pick A Date
Picking a date will be a potentially difficult but important choice. You will need to decide what season you would like to get married and go from there. You should reserve your date far enough ahead of time that you give your guests plenty of notice of when you would like them to attend.
Find and Reserve Your Venue
Finding your venue will most likely take time, so prepare to visit multiple establishments. Deciding what type of wedding you would like is also important. Do you want an outdoor venue? Or would you like an intimate indoor setting? Or would you rather have a gigantic castle? Once you decide and find the venue of your choice, it is best to try to lock down and reserve your date as far ahead of time as possible. This may require putting down an initial deposit on the spot.
Looking for wedding venue ideas in the Midlands?
Throw An Engagement Party
If you would like, now would be the traditional time to throw an engagement party. One important factor to keep in mind for this occasion is that you should not invite anyone to the engagement party that you will not be inviting to your wedding.
Hire A Photographer/Videographer
One thing that always rings true when it comes to wedding photographers and videographers is that their schedule often gets booked up fast and way ahead of time. After researching photographers and videographers, you should book them as far out of your wedding as possible so that they do not potentially get swooped up by another event on the date of your special day.
Book The Entertainment
In a similar vain to your photographer and videographer, you should research and book your entertainment as far ahead as possible. You wouldn't want to wait until the last minute when your options are much more scarce and limited.
Hire Furniture & Caterers
Should your venue of choosing not provide catering or you want alternative furniture, now is the time to start booking wedding furniture hire and discuss menus with a caterer.
Purchase A Dress
If you are the bride to be, then one of the biggest things you will need to deal with is picking out that perfect wedding dress. With this, you will need to find time to schedule at least three fittings, as well as going back out to shop for your veil. At the same time, you should try to decide what type of dresses you would like your bridesmaids to wear.
Reserve Hotel Blocks
If you have guests traveling from out of town to attend your wedding, you may want to reserve and block off hotel rooms near the venue, some hotels do have dedicated wedding booking website pages for your guests to use to book and pay for their rooms.
Register an Online Gift Page
If you want to make it easier for guests you could register a wedding gift page online and share the link with guests. You choose items you would like as wedding gifts and guest can select items from a wide price range of items and you don't have have to worry about where to put the gift during the day.
Send Save The Dates
About six months before the wedding, you should send out your selected save the date notices to make sure your guests do not make any other plans on your wedding day.
Arrange Transportation
Reserve transportation to and from your selected wedding venue. This could be just for yourselves and the wedding party or you could arrange transportation for guests to and from venues and hotel.
Create A "Day Of" Timeline
Create and write down a timeline of how you see your wedding day going from start to finish. This will help you get a better idea of what areas of importance to focus on. If you are using a hotel, they normally arrange this with you, phew one less thing to worry about.
Book the Rehearsal
Rehearsals are normally left for larger weddings and competent ushers can normally get people seated in the correct places without any rehearsals. If you would like a rehearsal and family dinner before the date, now is your time to book.
Select And Order The Cake
Ordering the wedding cake will require a taste test to find which one you enjoy the most, so make sure you make time for that. Once you make your choice, make sure to order your cake for the date of your choosing.
Schedule Hair and Makeup
You will want you and your wedding party to look their absolute best on the day of the wedding, so book your hair and makeup artists ahead of time.
Order Wedding Favours
While optional, one thing you may want to have is wedding favours for your guests. Find the perfect affordable favour for your guests and make sure that you order enough for everyone! This will ensure that your wedding is a memorable and special event for all of those that will be attending.
Make A List of People Giving Toasts
Something that can drag out a wedding is the process of impromptu toasts. The last thing anyone wants is someone grabbing the microphone without permission and droning on and on for twenty minutes. Making a list of people you would like to give toasts is the best way to avoid this from happening.
Purchase The Rings
A crucial moment of the wedding ceremony will be exchanging the rings. Now would be the time to shop either alone or with your partner to choose the rings you will be exchanging during the event. This process should not be rushed and you should take your partner's thoughts into account when choosing the wedding rings.
Review Your Playlist/Set List
If you choose to go with a band or DJ for your wedding, one thing you will want to do is to go over restrictions you may want to make for the set list such as "no foul language." On top of that, you may be more interested in hearing rock songs as opposed to hip hop or vice versa.
Send Out The Invites
You had initially sent out the save the dates, but now it is time to send out the formal invitations. At least two months before your wedding day, make sure you send out the formal invitations to remind your guests of the day and ensure they will be attending. You should then put together an RSVP list and invitations are returned.
Notice of Marriage
Remember to contact the registry office at your county council, if you are currently in separate counties, each needs to be met and registered.
Send Out Final Payments
While you should have been trying to pay down as many costs as you could throughout the process, make sure you are up to date with all suppliers payment conditions at this stage.
Assign Seating
Now that you have the RSVP's returned, it is time to assign seating. It is best to assign seating so that you do not have two people who hate one another somehow ending up next to each other, creating an awkward experience for everyone involved.
Write Your Vows
Write your vows to help create a personalised and special moment with your partner during the ceremony. Take time to write and reflect on yourself and your relationship and the best way to express that in your vows.
Check In With Vendors
About a week ahead of the ceremony, you should check in with all of your hired vendors and services to ensure that everything is still going according the plan. The last thing anyone wants is a last minute surprise of something not being ready.
Delegate Wedding Day Tasks
On the day of your wedding, there will be a lot going on. It is helpful to delegate wedding tasks to your wedding party so that they can help alleviate some of your stressors the day of the event.
Enjoy The Wedding
The last thing on the wedding checklist is to enjoy the wedding. You and your partner have worked tirelessly for months to create this picture perfect day. Make sure you take some time to soak in the fruits of your labor and enjoy the moment because it goes fast. Once the special day is done, it is time to relax and enjoy the honeymoon!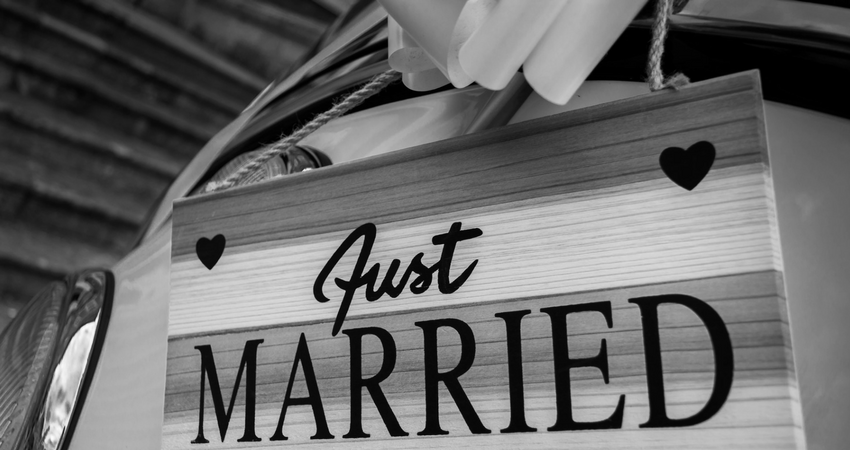 Wedding Checklist
12 Months +
Set your Budget
Choose and Book Venue
Set Date
Registrar or Church
Guest List (Numbers)
Wedding Insurance
9-12 Months
Save the Date Cards
Choose Wedding Party (Bridesmaids, Best Man, Ushers)
Photographer & Videographer
Transport
DJ / Band
Caterer & Menu
Furniture Hire
Refine your Wedding Dress Search
6-9 Months
Finalise and Book Florist
Finalise and Book Cake
Order Wedding Dress
Shoes & Accessories
Wedding Favours
Book Hair & Makeup
3-6 Months
Bridesmaid Dresses
Grooms Attire
Wedding Rings
Honeymoon
Wedding Night Accommodation
Readings, Hymns or Registrar Playlist
Gift List
Start Writing your Vows
Hen Do or Stag Do
0-3 Months
Send Invitations
Dress Fittings
Wedding Party Thank You Gifts
Speeches
Hair Trial
Final Run Up
Finalise Numbers with Venue & Caterer
Confirm Times with all Suppliers
Check all Payments
Collect Grooms Wear (Who is Returning?)
Collect Wedding Dress
Mani & Pedi
Enjoy!
You may experience some bumps and road blocks along the way, but this list will (hopefully) have you covered with all of the major things you will need to deal with.
Related Articles