The look and feel of weddings have definitely changed over the years. Traditional aspects of weddings are certainly shifting. From the wedding venues to the wedding attire, there has definitely been a noticeable change. How many times have you received a wedding invitation only to show up at a different type of wedding? Of course, as an invited guest, you never want to make your thoughts known to the person sitting next to you, but you do recognise differences within the ceremony that make you look twice. Traditionally, fathers have been asked to give away their daughters at their wedding. With the change in wedding trends, this option is becoming a less popular one, as women are becoming more independent. While some people are okay with this scenario, others do question why the bride elected not to have her father give her away in the holy union of marriage.
Other traditions include parents paying for the wedding. It is not uncommon for the bride and groom to pay for their wedding versus the parents footing the financial bill. More and more the dynamic for wedding day traditions have definitely made a drastic shift away from what once was to what now is.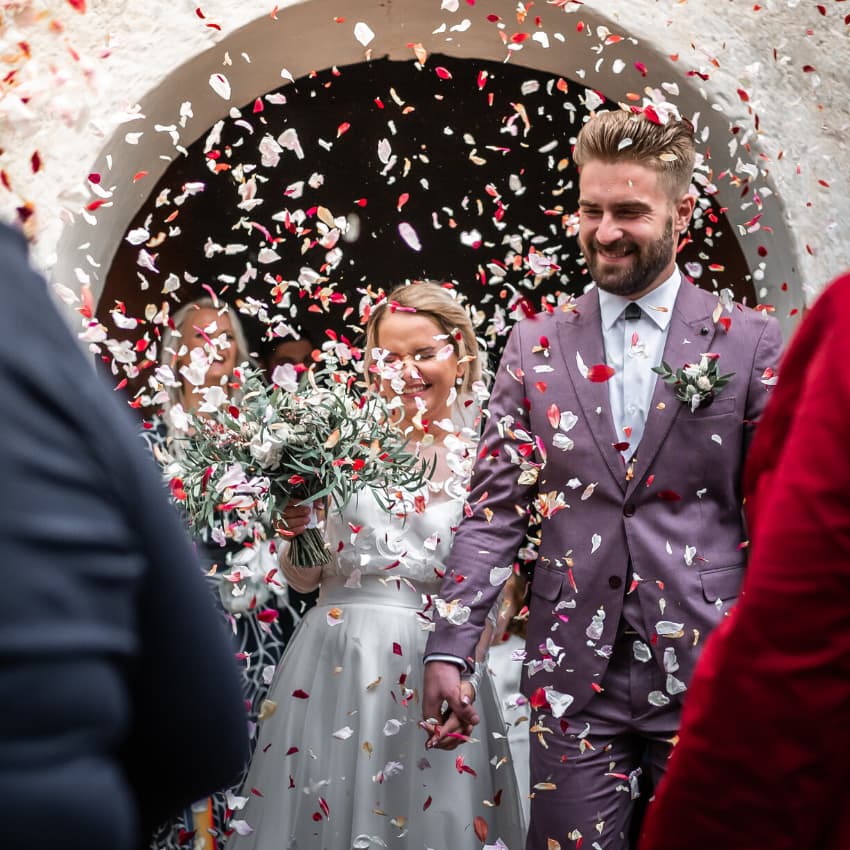 The tradition of not seeing the bride before the wedding
It has been a long-standing superstition that it is bad luck to see the bride before the ceremony. More modern wedding ceremonies have done away with the tradition and the superstition. It is not uncommon for the bride and groom to see each other prior to the wedding ceremony for what is known as the first look. During this time, brides and grooms use this as an opportunity to take photographs with each other or give each other last minute romantic poems or gestures before they become Mr. and Mrs. These private moments give the bride and groom an opportunity to ease their nerves prior to the wedding.
Matching bridesmaids dresses
Gone are the days of bridesmaids wearing the same dresses for the wedding ceremony. More commonly, brides are allowing their bridesmaid to select and choose the style of dress that fits their body type. This helps to increase a bridesmaid's confidence by allowing them to select a garment that compliments their figure. Back in the day, when a friend received an invitation to be a bridesmaid for her best friend, it was almost a kiss of death. The thought of a lime green dress with puffy shoulders and an unflattering silhouette made being a bridesmaid a dreadful task. Now, not all traditional bridesmaids dresses were made this way, but traditionally they have been known to be unflattering dresses. The change in tradition has helped to alleviate the dreaded feeling of being a bridesmaid.
What happened to the church weddings?
Traditionally, most weddings were held in a church or a building with religious significance. While this tradition still remains for modern brides today, most couples are moving away from having an old fashioned traditional church wedding. There are times when couples decide to have their weddings in a barn, warehouses or other non religious buildings. Utilising other "registered" buildings gives couples other options and avoids having to wait an additional amount of time to get married. Using alternative solutions often is done out of convenience. There are times when couples want to do things differently. Holding a wedding service in an unconventional location provides a more unique feel.
Groomsmen attire
Not only has the bride and bridesmaids attire change, groomsmen are wearing different styles for their wedding as well. In the traditional weddings, it was not uncommon for grooms and their groomsmen to wear a traditional morning suit with the long tail. More recently, groomsmen are incorporating a new generation of style with pants that are cut higher at the ankle, wearing colourful socks, having a suit with no tie or even wearing high-cut pants with no socks. These fashion trends have definitely changed over the years. Other changes in groom fashion include the colour of suits or even opting to wear something other than a morning suit. Do you remember the day of powder blue suits with the ruffled shirts? I think many remember and would love to forget. The groom's attire has changed to more modern fashions that include not having a tie or wearing a simple suit in colours other than powder blue and black.
Weddings that have a theme
When you get an invitation in the mail that states this wedding is a themed wedding, you are filled with a multitude of emotions. Fear, quite naturally, is the main emotion. When you receive the wedding invitation stating the wedding is a roaring twenties themed wedding and the bride is requesting all of the guests to dress in 20's attire, you begin to wonder how you do that. You start thinking about your wardrobe, your budget and more importantly the end result of your attire for the wedding day. While you're not going to be the focal point of the wedding, you still want to show up in a respectful outfit appropriate for the occasion. Other themed weddings include cartoon themed weddings or wedding themes that mimic TV shows. Either way, themed weddings have become more popular and tend to make guests a little nervous.
Traditional vows
More and more, couples are opting to write their own vows. Gone are the days when brides agree to love, honour and obey their husbands. For a modern bride, taking a vow to obey someone will certainly return the sound of crickets at the altar and in the audience. It is very popular for brides to incorporate expressions of love and feeling through personal words that are significant to both the bride and groom. In expressing these words, this is their vow to each other versus the more traditional vows.
Throwing rice at the end of a wedding ceremony
The tradition of throwing rice was symbolic of blessings that were bestowed upon the bride and groom from well wishers to signify prosperity and good fortune. This was a way for family and friends to unanimously shower the bride and groom and bless their union. Due to push-back from environment groups, the popularity of throwing rice has become less popular because of its ability to harm birds who eat the rice. More recent alternatives include blowing bubbles, throwing flower petals or tossing glitter sprinkles at the conclusion of the ceremony. Couples are also using more over the top alternatives like pom poms and even bird seeds that are more environmentally friendly for the birds. Streamers and other eye catching options have also become more mainstream for seeing off the Mr. and Mrs. This is an alternative way for family and friends to wish the couples well as they exit the chapel and some of the methods do not require excessive clean up. Every couple wants to have a memorable ceremony and opt to make each aspect as unique as possible. Some couples have chosen not to have anything thrown as they exit the venue.
Sending out the invitations
The evolution of wedding invitations have definitely changed over the years. The days of engraved invitations or calligraphy etched invitations are long gone. Brides are opting for more modern methods for invitations. Depending on who you ask, some of the methods are said to be of poor etiquette. It is not uncommon for a bride to choose to send out a wedding invite via email or text message. The thought of this method, for some, is a treacherous idea that should be done away with immediately. Some brides choose to set up an entire website dedicated to their wedding. For more modern weddings, the bridal registry, wedding announcements and invitations are done through the web portal. Online wedding invitations combine the option of the announcement of the event with allowing guests to send gifts electronically. These online bridal portals are intended to be a one stop place for guests to do it all, but is it really a good thing? What some people view as convenience, others view it as different or down right tacky. More traditional wedding goers would expect wedding invites with cursive styled engravings or some type of calligraphy handwriting. For these guests to receive an email or other electronic forms of communication pertaining to a wedding event is a total shocker for them. Many couples make the decision to use more cost-effective means to invite guests to their wedding and sign up for bridal registry services. The cost of printing invitations and shipping them can be expensive and therefore couples choose to save money and spend it on other areas for the wedding. While some guests understand, other guests still have a preconceived notion of what a wedding should be.
The traditional wedding breakfast
As with all other traditions, wedding meals have definitely changed from years past. With the rising costs of weddings, couples are finding more economical ways to feed their guests. This includes choosing to serve canapes at the reception as opposed to a full two or three course meal. If you're one of the lucky couples, you're able to stick with the steak and lobster meal that many people envy, however, since you have to factor in other costs pertaining to the wedding, food is the area where you could save money for your special day. Some brides and grooms choose a buffet style meal with items that are not as expensive. By serving items on the buffet, this is a great way to keep your guest full and satisfied. A buffet style wedding is more of a traditional type of wedding. Couples have chosen to step outside of the traditional wedding and go with more non-traditional meals such as ramen noodles, potato bars or food 'trucks'. For wedding guests who are used to a more traditional wedding reception, these food selections would make them cringe. For a bride and groom looking to save money on their wedding, these ideas could be considered more creative and budget-friendly.
Wedding cake alternatives
Gone are the days where a five tiered, all white wedding cake is the theme of the day. More brides are choosing different alternatives for the wedding cake. Some brides choose cupcakes or other dessert treats as an alternative to the traditional wedding cake. There are times when brides and grooms use dessert bars in place of the traditional wedding cake table. Desert items such as macaroons, doughnuts or even pancakes are becoming a popular alternative to wedding cake. It is becoming evident that the tradition of having a wedding cake is quickly fading away.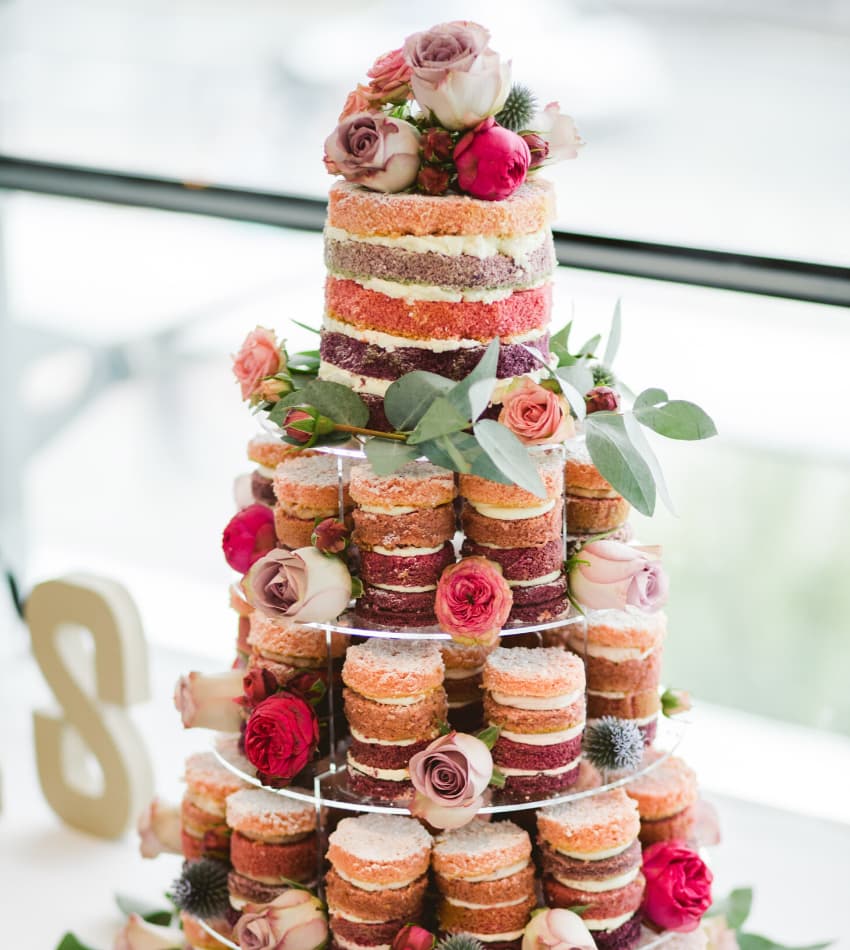 Same-sex marriages
Just a decade ago when you received an invitation, it was automatically assumed you were receiving an invitation for Mr. and Mrs. With the new changes in laws for same-sex marriages, it is not uncommon to receive an invitation for Mr. and Mr. or Mrs. and Mrs. While there are individuals who are against same-sex marriages, there are a growing number of people who favour them and support their loved ones while celebrating their union.
With the ever changing traditions surrounding weddings and receptions, people wonder how many traditions will continue to change. While some people may not understand the changes in tradition, others find them refreshing and evolutionary. There are different expectations people have for weddings and they vary from person to person. No matter how the bride and groom chooses to celebrate their special union, it should be embraced by loved ones. Irregardless of the order of service for a wedding or the food selection for the reception, it is important to respect the choices the bride and groom have selected for their special day. What's even more important is to show support for the people who have decided to share their special day with their guests. While he selections may not be understood by all, show love anyway.
Our wedding furniture hire at BE has kept up with these changes offering both traditional and less traditional options of furnishing your wedding venue.
Related Articles