Spring is a time to get out and enjoy the beauty of your growing garden. The ongoing Covid-19 pandemic gives us the excuse to get creative with our garden areas, so we can entertain in the allure of blossoming plants and flowers. It's a great place outdoors that gives you enough room to social distance while still enjoying company. We've got a few great Spring garden party ideas.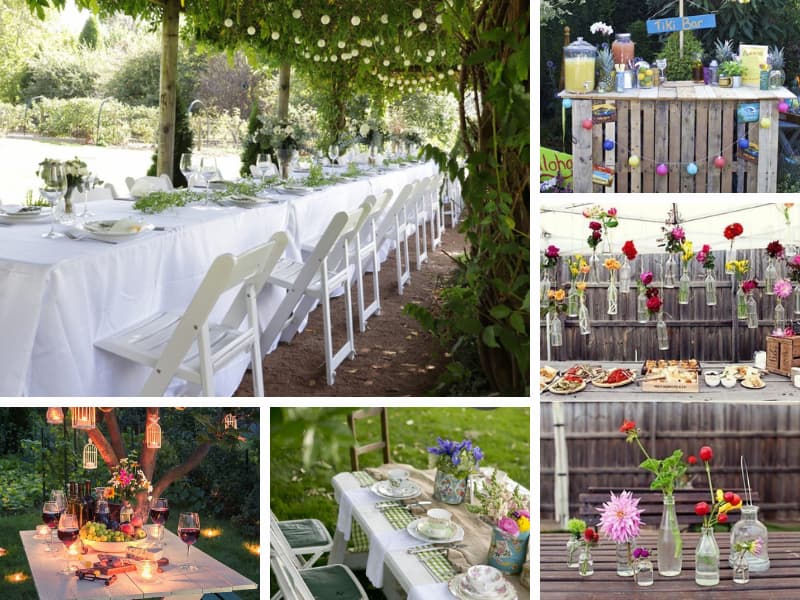 Invitations
Your garden party invitation sets the tone for your gathering. Spring is all about flowers and colour coming to life. You can create your own easy invites by tearing out bright pictures in a magazine of foliage and flowers. You can get options that are already made at shops like The Range. You can go with white invitations then stuff dried herbs and flowers inside the envelope. If you choose to do a virtual invite and save some paper, go for templates full of life and colour.
We have time on our hands at the moment, get creative.
Decorations
One of the best things about having a garden party is that you already have your main decorations. Your garden should be the focal point of your party. Spring foliage provides a radiant natural background. You can place a few blossoming flowering plants around the area for a boost of charm. Some of your flowers may already be blooming giving you perfect accents. You can hang up mason jar lights or small solar lights in the trees. These provide a subtle, cute touch. The decorations all depend on the type of party you choose. Decorations can range from the simple barbecue party type of décor to the extravagant tea party décor.
Table Settings
Your table settings will also depend on the type of party you're throwing. If you're setting up a bunch of picnic tables, you don't need anything special. If you're going setting up long trestle tables with place cards, you can go the extra mile. Using dainty flowers and pink glasses are always a favourite at garden parties. Use light-coloured napkin rings that bring out the colour in the party. If you want to turn up the class, bring out the good dishes. If you're just going for a casual gathering, put out the plastic attire in pastels and pretty prints.
Food
The best part of a garden party besides the beautiful natural decorations must be the food. Spring food is simply fun. An afternoon garden party with a picnic is perfection. You can make cute little finger sandwiches cut into fun shapes. Everyone loves a good cucumber sandwich at these types of parties. Fruit is starting to come into season, so it's wonderful cut and placed into bowls. Spring also means it's grilling season. If your barbecue pit is near your garden, fire it up for some barbecue. A pasta or summer salad is the best side dish in this case. If you're having a sit-down dinner, you can serve a light fish or chicken. Dessert should be light and airy. You can go for homemade ice cream, fresh-baked cookies, or a lemon tart.
Drinks
Spring drinks can be so much fun. You're going from the warm drinks of hot chocolate and dark whiskey to cool spritzers and lemonade. Keep the light, fruity feeling alive with your beverage choices. You can have all kinds of drink choices in a drink station even. If you really want to turn up your party a notch, hire a bartender. If you want to make your own drinks, the sky is the limit. Mint juleps are always a fun choice in the Spring paying tribute to the traditional Derby drink. It's always a safe bet to go with light beer, wine and/or a light mixed drink. You don't have to do alcohol either. Always keep things on hand for people that don't prefer alcoholic beverages. Drinks like ginger ale, lemonade and flavoured water are always a favourite.
Music
It's tough to tell someone the perfect music to play at their own party. Spring is all about coming out of hibernation into the sunshine. There is no room for dreary music at this party. If your party is class, go for light classical music. If you're going for a modern event, try a mix of funky music. If you want the old school barbecue feel, rock or country is perfect. The fast dance tunes can always be broken out if you have room for a little dancing. As people are arriving and standing around to talk, play light instrumental music. This gives people a chance to talk without the music overpowering them.
Party Favours
A good party needs a great party favour. If you're already up and going with your veggies and fruits in the garden, give partygoers some of your homegrown goodies. You can also give each person a packet of seeds for their own garden. Garden parties are a perfect place to gift small birdhouses or cute watering cans. You don't need to spend a lot of money to shower your guests with love.
Things To Do
You don't exactly need a million things to do at your party. A Spring garden party is mainly about hanging out and celebrating life. Many people love to play the classic garden party game of croquet. You could set up cornhole or other outdoor games as well like bocce ball or horseshoes. Some people love to play a little game of badminton. If you're getting together a crafty group, you could all paint your own little flower pots to kick off Spring with growing flowers.
Attire
A garden party is usually a bit more casual, but you can make it dressy if you feel. People are probably tired of being inside without a reason to get all dressed up, so go for it. If you choose to serve burgers and hot dogs on the grill, tank tops and shorts are the perfect attire. You can even chose a theme party, and go with a toga or island theme. Hats are a welcome addition to any attire as they give you protection from the sun while in the garden area.
Always Have A Plan B
One of the biggest problems with an outdoor party in Spring is the unreliable weather.
Spring showers often pop up quickly. Always have a quick, easy backup plan in case Mother Nature sweeps in on your party. You can have an area set up inside or rent a small marquee if you need quick shelter. You'll probably be doing a bit of spring cleaning inside anyway. It's all about hitting two birds with one stone. The indoors can be decorated and ready just in case you need to move the party inside.
Perfect Lighting
You may choose to have a party that goes from the warmth of the new Spring air into the cooler night. It's a great idea to invest in some garden lighting. The solar lights hanging in the trees or spotlights to show off your foliage are great choices. Many people love to have a small bonfire or spark up the firepit. If you want to really make a bang with your lighting, shoot off some fireworks during your party.
A Spring garden party is full of endless options. After a long Winter and the stress of the pandemic, people want a reason to step into light and happiness. They need a way to beat the stress of the year by celebrating a new beginning. The most important thing is to have fun at your garden party. Show off your foliage, your new blossoming plants, and let the sun shine in.
Related Articles