As the season changes to autumn, a chill enters the air, the leaves crackle and fall in burnished colours – yellow, orange, red and brown. From café and home windows waft the scent of cinnamon, mulled wine and spiced cider. The season brings many reasons to celebrate – a new school year, football, Halloween and Christmas.
Thinking of having an autumn event, try one of these autumn event ideas, pairing it with our décor and menu suggestions.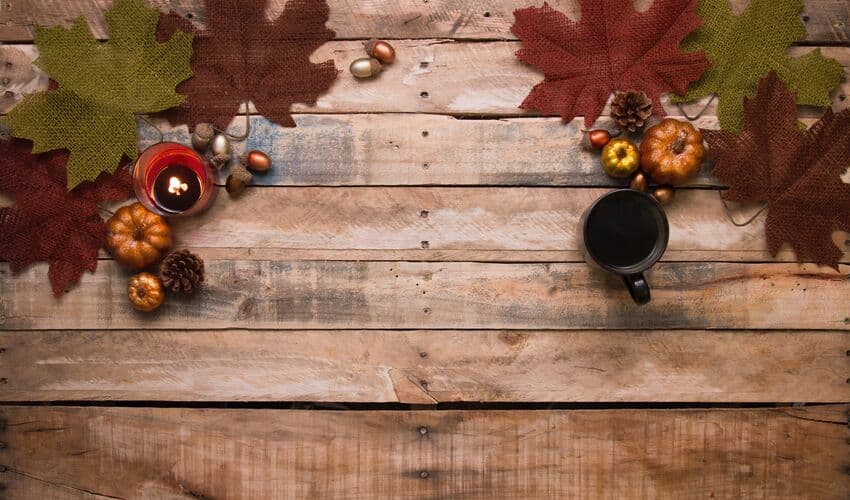 Autumn Event Theme Ideas
Autumn events tend to focus on football, Halloween and Christmas, but you can get far more creative than that. These suggestions focus on the season and its key elements rather than traditional holidays. Except for the two that take place in October, you can use these theme ideas throughout autumn.
Say Goodbye to Summer: Screen a movie set at the end of summer or that celebrates the start of a new school year. For a fun twist, screen it outside.
Bonfire Party: Build the quintessential bonfire and party
Oktoberfest: Celebrate the German holiday without travelling overseas.
Football: Host a watch party for your favourite team's big game or a football themed party to kick off the season.
Harvest: A harvest party celebrates the season with arts and crafts plus fun activities like bobbing for apples and baking.
Wine or Beer Tasting: Have your potential guests RSVP with their wine of choice from the short list you include.
Pumpkin: Everything pumpkin welcomes the autumn season.
Hope For A Cure: Host a Hope for the Cure party in October in Honour of Breast Cancer Awareness month. You can raise money for cancer research by raffling off donated items.
Pumpkin Hunt: Children and adults can get into this autumn take on the Easter egg hunt. Decorate mini pumpkins and hide them outdoors in the bushes, trees and behind rocks.
Autumn Themed Décor Ideas
Decorating for autumn parties might seem limiting if you just buy pre-made decorations. Instead, fashion your own out of seasonal gourds, pine cones and leaves. Items like hay bales make great furniture when grouped and remember to keep a fire going whether your party takes place indoors or outdoors.
Fill your event space with harvest decorations like acorns, pumpkins and leaves.
Decorate your outdoor party with toasty autumn coloured blankets for a festive look that will keep your guests warm.
Light the garden with paper lanterns or kerosene lamps.
Stock up outdoor seating areas with sleeping bags so guests can get cozy and warm.
Display autumn flowers in a hollowed out mini-pumpkin. Make a centrepiece for each table.
Scatter hay bales for extra seating and tables outdoors.
Gather small pumpkins of various colours in a bucket or arrange them in the garden or on the tables. Spray one or two with metallic gold paint and use as accent pumpkins.
Light up the night using hollowed out mini pumpkins as votive candle holders.
Hollow out full-size pumpkins and use as planters for fall greenery.
Add a light, shiny colour like silver or gold as an accent colour to your theme colour scheme. The autumnal reds, eggplant, burnt umber and mustardy yellow of the natural fall palette requires a bright accent. If metallics aren't your thing, try a deep cream.
Think rustic furniture hire, easy to set up and compliments the decor
| | | | |
| --- | --- | --- | --- |
| | 6'x 2'6" Rustic Trestle Table Hire, £8.25 exc. VAT per week | | 6'x 2'6" Limewash Distressed Trestle Table Hire, £9.60 exc. VAT per week |
| | | | |
| --- | --- | --- | --- |
| | Limewash Crossback Chair Hire, £3.25 exc. VAT per week | | Light Oak Wooden Crossback Chair Hire, £4.50 exc. VAT per week |
Autumn Themed Menu Ideas
You can mix and match these for a delicious dinner. Another option is to serve all appetisers and finger foods. Don't forget something tasty to wash it all down with, such as seasonal cider and hot cocoa.
Serve pumpkin, of course. Consider pumpkin soup, pumpkin dump cake and to wash it all down – pumpkin martinis.
Football shaped cupcakes and field goal sheet cakes go great with any watch party.
Pop multi-coloured popcorn. Besides the ubiquitous white, you can find orange and red.
Cider donuts and baked apple pies make for tasty alternatives for sweets.
Sugar-coated donut holes on skewers make for tasty fondue fair. Dip them in chocolate sauce or caramel sauce.
Serve up seasonal brews and wines. You can find both alcoholic and non-alcoholic versions.
Serve apple cider and hard cider. This way everyone has a seasonal drink to sip whether they drink alcohol or not.
Bake leaf, apple, and gingerbread shaped cookies then decorate them with autumn colours of icing using small tipped pastry bags.
Serve caramel apples as well as those dipped in white, dark, and milk chocolate. Add sprinkles or chopped nuts.
Chilly nights deserve cheddar-beer soup served in bread bowls. Cook it over the grill or in the slow cooker.
Serve multi-coloured corn chips in a pumpkin serving bowl. Hollow out a large pumpkin and line it with a napkin or kitchen towel. Set it on top of a bed of autumn berries on stems and twigs for a cute presentation.
Smoky cheese balls make a delicious appetiser.
Stock your bar with whiskies – American, Irish and Scottish. Make sure you have a bar tender who can whip up a delicious hot toddy.
Autumn provides an opportunity to say goodbye to summer, celebrate the harvest and the changing of the season, then welcome the Christmas season. It brings back to school, football season, holidays that reunite families, chilly weather and an excuse to build a fire. Celebrate it with an autumn event or party your colleagues and friends will love.
Related Articles