The truth is that planning a wedding can be tough. Every detail has to be perfect for that day and there are a lot of elements to look out for. In addition to finding the perfect dress, you also need to have the perfect caterer so that your guests can also enjoy themselves on your big day.
Much like every other soon-to-be-bride, no one wants their reception to be dull and boring. Everyone should have a good time on your big day, including your friends and family, which is why wedding bars are so essential.
We dive into everything there is to know about wedding bars – the different bar styles, some of the most unique ideas to consider, and answers to questions you have been dying to ask, including tips on how to set a budget for it and so much more.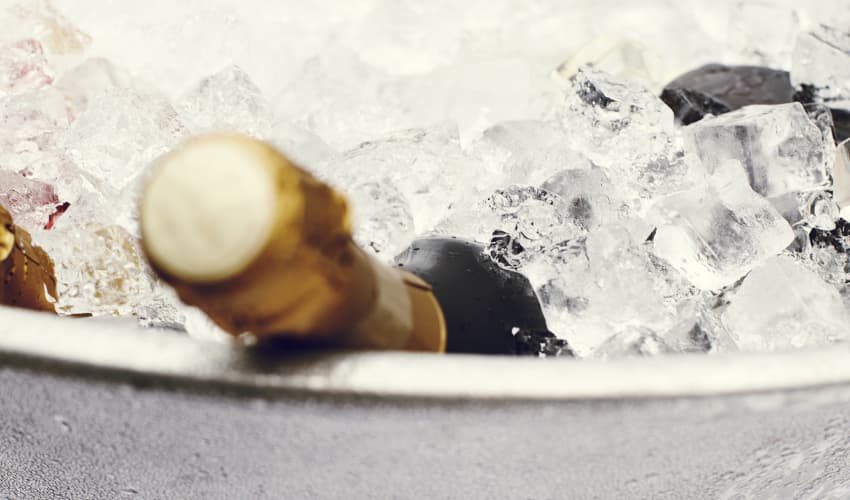 What is a Wedding Bar?
As the name suggests, a wedding bar allows your guests to enjoy a drink or two. They offer a chance for your friends and family to top up their drinks and talk amongst themselves. Furthermore, a wedding bar is an essential element for them to raise a toast to the newly wedded.
Should You Opt for a DIY Bar or a Professional Bar?
Every wedding planner would come across this question – is it better to hire someone to look after your wedding bar on the big day or would you prefer to stock the bar yourselves?
Well, you can pretty much answer this question by reading your venue's guidelines and liquor licence. Nevertheless, there are certain advantages in choosing one over the other. For example, a professional bar is hassle-free as it is already typically stocked and staffed by either a third-party bar service or that of your venue's bar service.
Of course, you have to consider the fact the booze in your wedding bar will include service fees and marked-up alcohol prices. However, this is the price of having a hassle-free wedding reception bar.
On another note, if you don't mind getting into the nitty gritty of it all, you can opt for a DIY wedding bar. Now, this isn't as low-maintenance as that of a professional bar. You would first need to decide the type of alcohol you are going to serve your guests. In addition, you have to figure out how much booze you're going to get, how you're going to purchase them.
If you opt for a DIY bar, you also need to decide whether you'll be hiring a professional bartender to assist in serving the drinks or would you rather have a self-serve bar.
It can be a bit overwhelming, we know! However, the beauty with planning your wedding reception bar is that there are a lot of options to choose from, which makes it very versatile and flexible. By finding the right caterer, you can even find a bar-tending service that only provides what you need. This is the perfect option for those who want to purchase the alcohol themselves, but don't want to be bothered by the micro-managing aspect of it all.
Picking Out the Alcohol
Now, this guide wouldn't be complete if it doesn't include some tips and tricks for picking out alcohol to stock. If there is one thing to take note of when it comes to wedding bars is that a guest will typically consume one drink every hour at your reception (yes there are always exceptions). While some may drink more within the hour and some may drink less, this assumption is a good enough basis that will help you decide how much alcohol to buy.
So, let's consider a five-hour wedding reception with a total of 100 guests, which means that you would need to have enough for 500 drinks.
Easy enough? Let's now proceed to the volume-to-quantity calculations.
A 750 ml bottle of champagne is equivalent to eight flutes. A 750 ml bottle of wine can give you five glasses. A 750 ml bottle is equivalent to 18 cocktails, and a keg, which is 15.5 gallons, will give you 124 pints.
Furthermore, you also need to determine the split for each type of alcohol. To do so, you would need wine to liquor to beer percentages.
Typically, a limited bar, which serves wine, champagne, beer, and limited liquor, will have a split of 20% beer, 30% liquor, and 50% wine. On another note, a soft bar, which only serves wine, beer, and champagne, will have a split of 25% beer and 75% wine.
Do take into account that what has been mentioned above are only guides. You can always switch it up should you feel the need to. If you are at a complete loss as to where you should begin, this would be a great start. However, if you're still unsure, you can try going through your guest list while noting down those you think are heavy drinkers. Furthermore, you can also note down the type of alcohol they usually drink so that you may also add it to your list.
Bottom line, it is better to have a few extra bottles by the end of your reception than ran out of alcohol before the day ends.
What are the Different Bar Styles?
Of course, to ensure that you are considering all of your options, you have to go through the list of different bar styles. Here are the different bar styles to take note of:
1. Open Bar
The open bar may be one of the most common types of bar style in this era. You can rest assured that with this bar style, function meets design. How it works is that the host pays a flat rate and the wedding guests can order as many drinks as they like. The types of alcohol usually served at an open bar include liquor, champagne, wine, and beer.
2. White Bar
White bar, as the name suggests, only serve white wine, beer, and champagne. This presents a kind of limit to the type of alcohol served at your wedding, but it can also be used as a means to set certain guidelines. Plus, it limits the options of the guests, which can be a great cost-effective plan to stick to your budget.
3. Dry Bar
Dry bar, on the other hand, is the perfect option for weddings whose guests don't typically drink. It only offers a mixture of juices, sodas, and flavoured waters. The best thing about this bar style is that you no longer have to worry about choosing the perfect alcohol to serve because it isn't required.
4. Soft Bar
A soft bar, much like a white bar, also presents some kind of limitation as it only serves red and white wine, beer, and champagne. This bar style is often utilised by weddings with guests that don't have a wide range of alcohol preference.
5. Consumption Bar
The consumption bar is the exact opposite of an open bar. Instead of paying for a flat rate, the host will pay for every drink ordered by every guest. Of course, the consumption bar is a bit pricey. However, it guarantees a wide range of drink choices.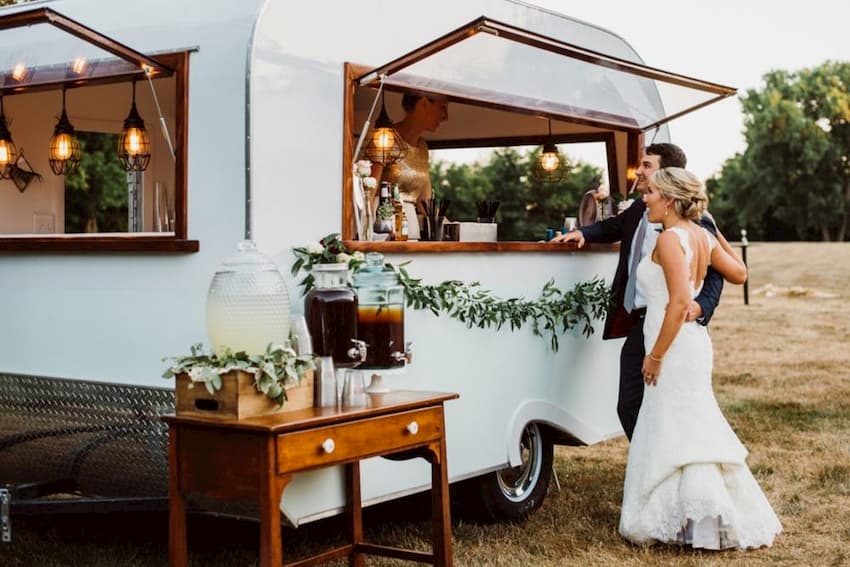 Some of the Top Wedding Bar Ideas
We have done the tedious task of going through all of the famous wedding bar ideas online and have compiled a short but concise list for you. After you have gone through all of the information above, it's time to put everything into action.
One of the most important steps in making your dream wedding reception bar a reality is choosing a theme to go with it.
1. The Classic Cocktail Bar
If you are thinking of a wedding bar, then you must have thought about cocktails. Cocktails are considered as one of the best drinks to get your guests into the party mood. The best thing about serving this drink to your guests is that you can experiment with a wide variety of flavours.
2. Wine Bar
When it comes to weddings, you can never really go wrong with wine. In fact, wine is one of the guest favourites. A rustic wine bar is not only the best way to initiate conversation among your guests, but its decor statements can also be an added bonus to the overall aesthetic of your wedding.
3. Mimosa Bar
You have to ensure that the bride approves of the drinks served at the wedding reception. Furthermore, her women friends at the reception would want something light and fun to drink – something like a glass of Mimosa. This sparkling and fruity drink is a classic choice for weddings in this era.
4. Sparkling Mixers Bar
Stemming from the previous point, light and fruity is a constant theme in most wedding bars today. To make it more personalised, why not try a sparkling mixers bar? Here, you get to set up a booth with fruit juices, mini-bottles of water, and of course, sparkling mixers. This is the best option if you are having your wedding day on a hot summer day.
5. Refreshments Bar
Let's not forget about the main reason as to why we need a wedding bar – to refresh ourselves. If you are planning to go for something simple, a refreshments bar may be the answer you are looking for. Fill your refreshments bar with lemonade, sparkling elderflower, and even ice-cream!
6. The Beer on Tap Bar
Let's proceed to what the groom would want on his wedding day. With men, you can never go wrong with beer on tap. You can even use this as an inspiration for a wedding bar concept. Try to go for a rustic, almost vintage, look when you set up your beer-on-tap bar.
7. Champagne Bar
Nothing spells out a great wedding than a champagne bar. With a champagne bar, it is best to use pre-cut oversized ice so that it can effectively keep your champagne bottles cool. Moreover, add a little twist to the type of glassware your guests will be using. Instead of the traditional champagne flutes, opt for vintage crystal glasses. It's modern and classic at the same time!
8. Cigar Bar
Another one of the groom's favourite is the Cigar Bar. As the name suggests, it's a bar that not only offers a drink but also offers its guests with a cigar. Truly, this will get the boys excited! While you're at it, you can match the design of your bottles to the cigar boxes to make everything personalised.
9. Whisky Bar
It is without a doubt that whisky is a true crowdpleaser. The whisky bottles can also add to the aesthetic of your wedding. Be sure to make a menu of some of the best whiskeys in the market. Don't forget to ask your guests for their drink preference beforehand.
10. Bourbon Bar
Stemming from the previous point, if you feel that a glass of whisky is not a drink preference that your guests will love, maybe you should opt for a bourbon bar. If there is one thing you can be sure of when it comes bourbon is that it will get the men talking. Besides, everyone loves a classic drink!
These are just some of the most unique and personalised wedding reception bar ideas out there. You can still opt for something like a DIY drinks bar, a cider bar, a cold coffee bar, a sangria station, or even shots!
What are the Added Costs to Consider
Let's not forget about the most important aspect of it all – setting your budget for your wedding reception bar. Depending on the type of bar you go for, there are certain costs to be wary about.
1. Liability Insurance
Whether or not you have opted to hire a professional service or would be planning to set up your own DIY wedding bar, liability insurance is still a must. Ask the venue or the caterer that will be serving at the wedding if they have already covered the insurance. If not, you need to purchase liability insurance to make sure that all alcohol-related incidents are covered.
2. Corkage Fee
Should you opt to set up your very own wedding bar, you may want to check up on the venue if a corkage fee applies. Do note that the fee will either be per bottle or per person served, either way, it is an added cost.
3. Cost of a Physical Bar and Glassware
If in case your venue doesn't have an actual physical bar, you may need to rent one, together with the glassware hire. Furthermore, the beauty with setting up a wedding bar is that there are so many options to choose from. Depending on the theme of your wedding, you can easily rent an upcycled cabinet that you'll need to decorate to match the overall aesthetic of the event.
4. Tip
Read your contract and check if there is a service fee included. If not, you may have to tip your bartender 15% to about 20% of the final bar tab. On the other hand, if gratuity is already included, then you are no longer required to tip extra.
All of these are necessary items on the list. Again, remember that these may differ depending on the type of bar you go for. Nevertheless, an amazing wedding reception bar will cost you. The good news is that there are ways to cut back on cost.
How to Cut Back on Cost For Your Wedding Bar
After going through the list of added costs, you may be wondering if there are ways to avoid them. Yes, there are. While these tips don't apply directly to the items mentioned above, you may still find it to be very useful.
1. Limit Your Options
When it comes to a wedding reception bar, take these words into account: "less is more." Be sure to limit your guests' options and don't offer too many choices as to what they can drink.
Set a particular theme, choose a bar style, and decide on the types of drinks you'll be serving. Stick with only two types of wine, red and white, and two types of beer, dark and light. You can even serve two types of liquor, brown and clear, but that's already considered as too much.
2. Avoid Kegs
This is an obvious tip that most people neglect. If you are following a strict budget when it comes to the number of drinks served at the wedding reception, never go for a keg. Instead, buy cans or bottles. In fact, should you end up with extra alcohol by the end of the night, you can save them for future use. This does not apply with a keg.
3. Think About Your Toast
The champagne toast is one of the most classic elements in every wedding. However, this traditional practice can cost you a lot. Whether your reason is to save a little money or that guests are not a fan of champagne, you can cut back on the champagne costs with cava or prosecco.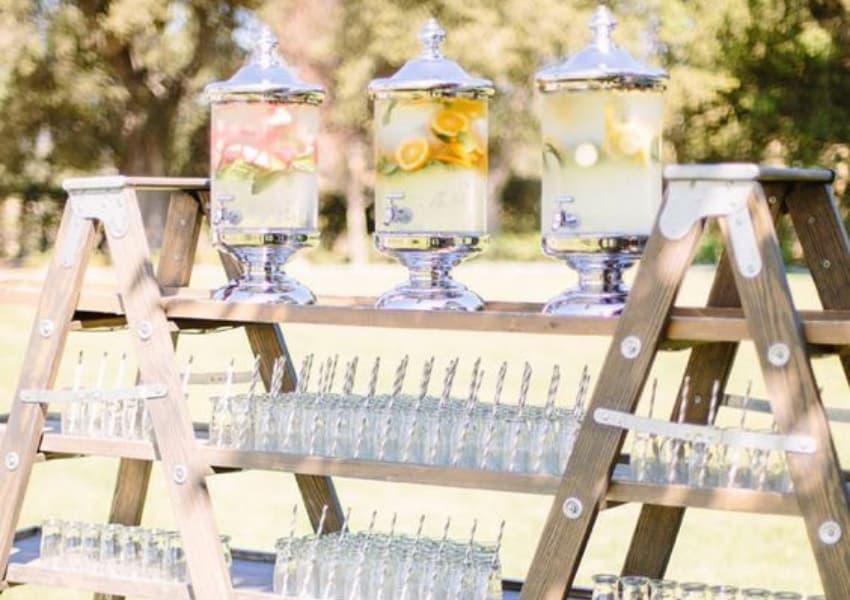 Tips and Tricks to Remember
1. Ask your bartender a few questions
Interviewing your bartender / caterer before the big day is a great way to familiarise yourself with the kind of experience your guests will be having. If you want them to be good at their job, you have to set your expectations. Finding the right bartender that will oversee your wedding reception bar can take the entire wedding guest experience to a whole new level.
2. All about decor statements
One of the best parts about planning a wedding is that you get to leave a hint of your personality in everything that you do. As for the decor of your wedding reception bar, it is totally up to you. You do have to keep in a mind a few things though.
For one, the layout and design of your wedding bar should be easily accessible and hassle-free so that your guests can easily come back without giving it a second thought. Think of it as a functional necessity. You can make a big statement with your bar decor without compromising its practicality.
3. Signature drinks or nah?
Over the past couple of years, there have been a number of weddings that feature signature drinks. Some may think that these are overdone. However, for most guests, signature drinks are an added element that prevents a typical wedding bar from getting dull.
Wedding planners and caterers highly advise that both the bride and the groom agree to serve signature drinks on their big day as doing so can turn your average wedding bar into something more, something wherein the personalities of the newly wedded are highlighted.
Trust us, guests would have a lot more fun trying out various cocktails they didn't even know they like. Just be sure to follow the magic rule when mixing drinks: one should be lighter and one should be sweeter, the other one should be stronger. This balances everything out.
4. Pay attention to the weather
One of the most neglected tips when it comes to deciding for a themed wedding bar is the weather, especially if you are planning to have an outdoor wedding. Do note that paying attention to weather forecasts can guide you into avoiding things that you shouldn't do.
Tip: if your wedding day is on a hot summer day, better serve fruity cocktails that will leave your guests wanting for more. On the other hand, a winter wedding would be better off with mulled wine or hot cocoa to serve at the side.
In the end, all of these are just suggestions and tips. The final word would still come from you. Even when you hire a caterer or an event planner, your decisions on each and every element of your wedding bar would still matter.
Hopefully, this guide was able to help you be more confident when planning the drinks to be served and how they'll be served at the wedding reception.
Related Articles: