Trade shows and exhibitions are powerful platforms to connect with your target market and build brand awareness.  They provide the perfect environment for you to reach out to your existing customers as well as grow your customer base. In addition, you can gain valuable insight into your competitors and developments in your industry.
Exhibiting at a show is not something that can be done on a whim. Getting the best out the experience requires a tremendous amount of planning and organising. You need to have a firm idea of what you wish to accomplish as well as how you're going to set up and manage your stand to achieve those goals.  A checklist is a useful tool to assist you with planning, setting up and managing your exhibition.
Here, we outline some of the important items that you should include on your organiser's checklist for exhibitions.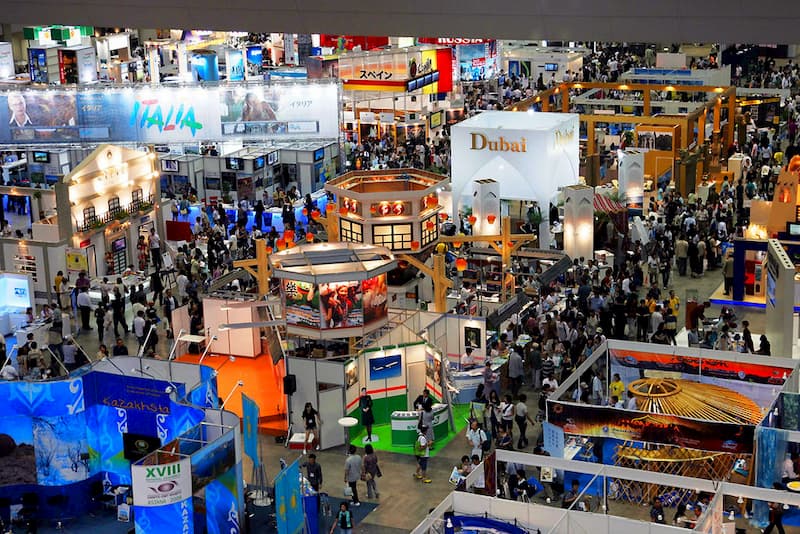 Select the Exhibition
Most industries have a number of exhibitions throughout the year. Exhibiting at trade shows is a costly exercise, and it's simply not viable to attend each one.  By exhibiting at the show that you feel will benefit your company the most, you'll be getting better value for money and are more likely to achieve your objectives. But how do you know which will be the best show to attend? Consider each trade show in terms of the following aspects:
How established is the show – Longevity is a good indication of the continued success of an exhibition. Those that have been going for a number of years have also built up a substantial number of regular attendees and it's this foot traffic that can determine how successful a show may be for you.
Which market is the show targeting – It's essential that the show's target market aligns with your business, and objectives. If your target market is international travellers, exhibiting at a show aimed at the local market may not be in your best interests.
How is the show marketed – The extent to which a trade show is marketed has a bearing on the foot traffic. Minimal marketing won't bring in the crowds, and the exhibitors will suffer. Consistent marketing and promotional activities keep the show in the forefront and ensures better attendance. This should ultimately lead to a more successful experience for the exhibitors.
Which competitors are attending – You can usually request this information from the show organisers. Knowing which of the competition is attending will assist you in setting your objectives, and in selecting your stand location
Book Your Stand Location
Choosing the right location for your stand can have a profound effect on your success at the exhibition.  The best options are the locations with the most passing foot traffic, but you need to be on the ball when booking as these are highly desirable and get snapped up quickly.
You'll either receive a floor plan from the organisers, or you can request that one be sent to you. This shows all the entrances, exits, meeting rooms, communal areas, restaurants, and toilets in and around the exhibition hall, and is a useful tool to have when choosing your location. Popular locations are usually close to the entrances, and those at the end of the aisles. Depending on the layout of the hall, corner stands can also be in high demand.
The size of your stand will also determine the location that you choose, or vice versa. Large stands may be limited to certain locations in the hall, however even if not close to an entrance, by virtue of its size, a larger stand is more noticeable and should still attract visitors. Whatever location you decide on, make sure you're 100% happy with it as you may not be able to change to another.
Pre-Exhibition Admin
There's a lot that goes on behind the scenes when planning your participation in an exhibition. It takes more than just one person to ensure that all eventualities are covered, and preparations can take a few months to complete. Planning should start about four to six months prior to the exhibition date; rather allow yourself too much time than have to rush through jobs at the last minute.
Set Your Budget
As with any event, it's vital that you set a budgeted amount to work with and have guidelines to keep you focused. Your budget should include the following expenses:
Exhibition Stand
Stand space
Type of stand – shell scheme is generally the least expensive as the walls and flooring is provided for you. A space-only stand gives you a blank canvas in terms of the furnishings and graphics that you can use to grab attention. You have more leeway to be creative.
Stand design, including graphics and artwork
Furniture – hire or purchase
Electricity – venues may include this in the stand cost or may charge extra
Catering – beverages and/or snacks for customers
Equipment rental – Items like computers, screens, coffee machines, carpeting etc. may need to be hired in, unless you can provide your own.
Internet access – Many venues set up complimentary Wi-Fi for large events. It's useful to find this out before preparing your budget.
General
Travel expenses – If the exhibition is taking place at a faraway location, make sure you factor in transport and hotel accommodation. For closer events, include petrol costs or car hire.
Food and beverages – Make sure that you budget sufficiently to keep your exhibition team nourished throughout the day and night.
Uniform – Branded clothing specifically for an exhibition, or for staff who haven't been part of the exhibition team in the past
Marketing and advertising, including brochures or flyers for the stand and advertising in event material
Team and responsibilities
As the organiser for your company, it's important to surround yourself with team members that you can rely on, who are efficient and able to work both as a team and independently. The more careful you are when putting your team together, the more smoothly the planning of the event will go, and the more success you'll have.
List the various key responsibilities and assign them to individuals best suited for those jobs. Don't put someone in charge of expenses if they don't have a head for figures, or allocate stand design to a team member who isn't creative. Have regular meetings to keep all members up to date on arrangements. No-one should get left behind and be out of touch with developments.
Set your goals and objectives for the exhibition. Are you exhibiting to grow your customer base, or are you promoting a new product? The planning will revolve around these core objectives and the message that you put across to your customers should align with these goals.
Decide how you'll run the stand
How the stand runs depends to a large extent on your goals and objectives for the exhibition. Launching a new product may require regular live demonstrations, whereas connecting with your existing customers will require meeting space. These are some of the questions to ask to determine how best to manage your stand.
Will your team work in shifts, or will everyone be needed throughout the day?
Do you need the whole team on the stand, or can some members wander through the venue to promote your company and generate traffic to your stand?
Will you hold meetings on your stand, or can you use casual seating areas around the venue?
Is it best to allocate specific tasks to individuals?
Try and visualise a normal day at the exhibition. This will provide you with better insight as to how to manage your space and team.
Marketing
You can split the marketing role into three sections: pre-event, during the event and post-event marketing.
Pre-Event
Communicate your presence at the exhibition to your existing customers, as well to a broader field of potential customers. Use both online and offline channels to do this, such as social media, bulk email campaigns, or advertising in industry publications.
Regular contact with your audience is important. Sending one email advising of your presence at a trade show won't be enough. Ensure that you make regular mention of your attendance, using various methods of communication so that you can reach the majority of your market.
Create a hashtag that you can use in the lead up to and throughout the event. Make it easy to remember and include it on all your marketing material. It's an effective way to communicate with your market, run competitions during the event and generate interest.
During the event
Social media is a great marketing tool for instant publicity. Posting photos and updates to Facebook, Instagram or Twitter maintains a level of engagement with your audience. Make your posts interesting with captions designed to intrigue, interest and excite your followers. There is huge power in social media marketing. The more you post, the more interest you'll generate and the more visitors you'll drive to your stand.
Ensure that you have sufficient marketing material on your stand for visitors to take away with them. Some people prefer to read through marketing material in their own time, rather than feel under pressure to do so.
Post – event
Marketing after the event is more about following up with potential customers, and thanking existing customers. Building and maintaining relationships are vital for business success, and start with the first introduction to a potential client.
Where possible, try and take visitors' contact details at your stand so that you can keep add them to your database. Identify those who are more likely to become customers, and connect with them directly rather than through a bulk email or newsletter. The personal touch goes a long way in cementing your relationship.
Continue to leverage social media after the event, as you're likely to have gained additional followers. Post photos from the show, and messages to thank your customers, to keep the contact flowing.
Post-Exhibition Admin
Before closing the file, meet with your team to review your event. Each team member should have a chance to provide feedback. Different points of view from your staff paint a better picture of whether or not your event was successful. Discuss the following with your team:
Identify weak areas that can be improved for the next event.
What were the main successes?
Did you meet your overall objectives?
Did your marketing have the desired effect before, during and after the event?
Did you forget to include anything in your event checklist?
Consolidate your expenses to establish whether you stayed within your budget. This information will assist you when setting the budget for your next exhibition.
Don't forget to thank your team for their valuable assistance in the event!
There are unique aspects to each trade show or exhibition, so be aware that your checklist may vary from one event to another. With regular review of your event checklist to keep it updated and relevant, there's no reason why you should have anything but successful exhibitions.
Related Articles