Although round tables are considered classic at weddings, there are reasons long tables are coming back. Long tables are often referred to as banquet tables. They are beautiful, romantic, magical and ideal for smaller weddings. You can plan your seating arrangement so much easier since you will not have to decide who sits at which of the numerous smaller tables. If your venue is smaller, a long table will also enable you to seat a few extra guests.
The history of banquets goes back centuries. Banquets were held for both celebrations and weddings. Long tables added a festive feel and a sense of intimacy. You have a lot of different options such as using the tables to create a rustic or regal atmosphere or casually sprawling the tables for seamless decor. Round tables may be classic, but long tables are sensational for wedding receptions, feel more intimate to your family and friends and can add a fairy tale quality to your special day. Long tables at a more intimate wedding simply keep everyone together.
If you are planning a larger wedding, you can set up long tables in rows to take full advantage of the space available at your venue. You can use a long head table with smaller round or square tables for your guests. Traditionally, the bride and groom sit at the centre of the long table with their closest family members and friends sharing the head table. What you choose to place on your table will set the tone of your wedding. You can create a stunning visual effect with flickering lanterns, scented candles, arrangements of your favourite flowers or a combination of all three.
You can show off your personal style with something unique such as using clear glass wine bottles to hold long white candles, decorate with pine cones, sprigs of fresh pine and small china bowls filled with dried berries. Long tables are not ideal for every venue, but they are amazing for many of them. You can use the length of your table to create a mood. You can choose elegance, establish a casual and friendly atmosphere, be exotic or incorporate a specific theme.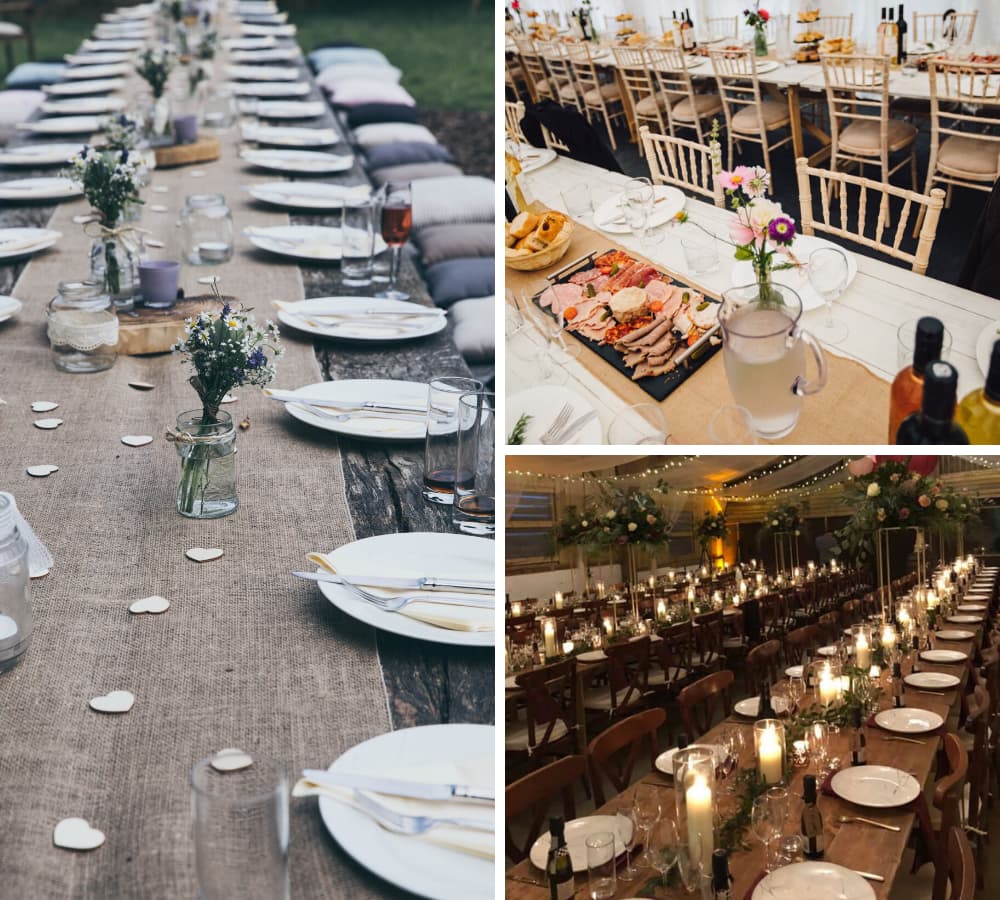 Creating the Ideal Long Table Wedding Venue
If you are getting married during the summer, consider a marquee wedding. The atmosphere is casual and relaxing. You can host your celebration inside of a glorious tent, on a veranda or even in a field. You can choose a place with a special meaning, decorate to your heart's desire and enjoy a gorgeous view. You choose the caterer, florist, decorations, colours and theme. All you need to do is make certain the venue you choose has enough space for all of your guests. You can work within a budget much easier or simply go wild.
Consider an industrial space such as your local town hall or your favourite sports hall. Place your long table beneath twinkling lights for an incredible garden party wedding. An industrial space is like a blank canvas you can decorate however you choose. Your wedding will be more personalised and so very special. Through the use of decorations, lights and flowers, you can make certain your long table draws every eye in the room. Nothing ensures a simple and classic wedding quite like a long table. Consider pure white linen with a white lace runner.
You can continue the white theme with white roses or carnations or add touches of gold, blue, pink, yellow or cream. If you desire a medieval banquet setting, consider having your wedding in a castle. Long tables in a castle are classic. The chances are excellent you have been dreaming about your wedding day since you were a child. You have most likely envisioned the dresses your bride's maids and maid of honour will be wearing, the most magnificent wedding dress in the entire United Kingdom and even the music you wanted wafting through the air.
What you may not have thought about are the seating arrangements for your wedding, the type of tables or how your venue will be set-up. Whether you are having a large wedding or something more intimate, your table, lighting, linens, flowers, music, colours and theme will set the tone. You have the ability to transform your venue into anything you desire. Everything begins with your choice of wedding furniture.
Long Table Formation for Your Wedding Reception
Imagine a long table placed in the ideal location at your wedding. Now picture the bride and groom sitting at the centre surrounded by the groomsmen, bridal party, ring bearer, flower girl and treasured family members. Your parents, immediate family and closest friends will be able to share the table. The flexibility of this type of seating means you can decide exactly where you want everyone to be seated. Unfortunately, every wedding always seems to have a few guests you want to be placed as far away from each other as possible.
You can simply seat them at opposite ends of your table. Everyone will be able to enjoy your special day because the length of your table ensures everyone will be surrounded by the people they enjoy spending time with the most. Your main consideration is the amount of space you have available at your venue. You can have one single long table, rows of long tables with a head table, or a long table complimented by smaller square or round tables. Walk around your venue, use your imagination and creativity and you will be able to determine the best possible set-up.
Long tables offer you a wide range of benefits. You can make your wedding reception romantic and intimate. If you are having a destination wedding with fewer guests, a long table is a perfect solution. You will also be saving a lot of money on linens because you will only need enough for a single table. Due to the seamless appearance of a long table, your wedding photographs will be extraordinarily beautiful.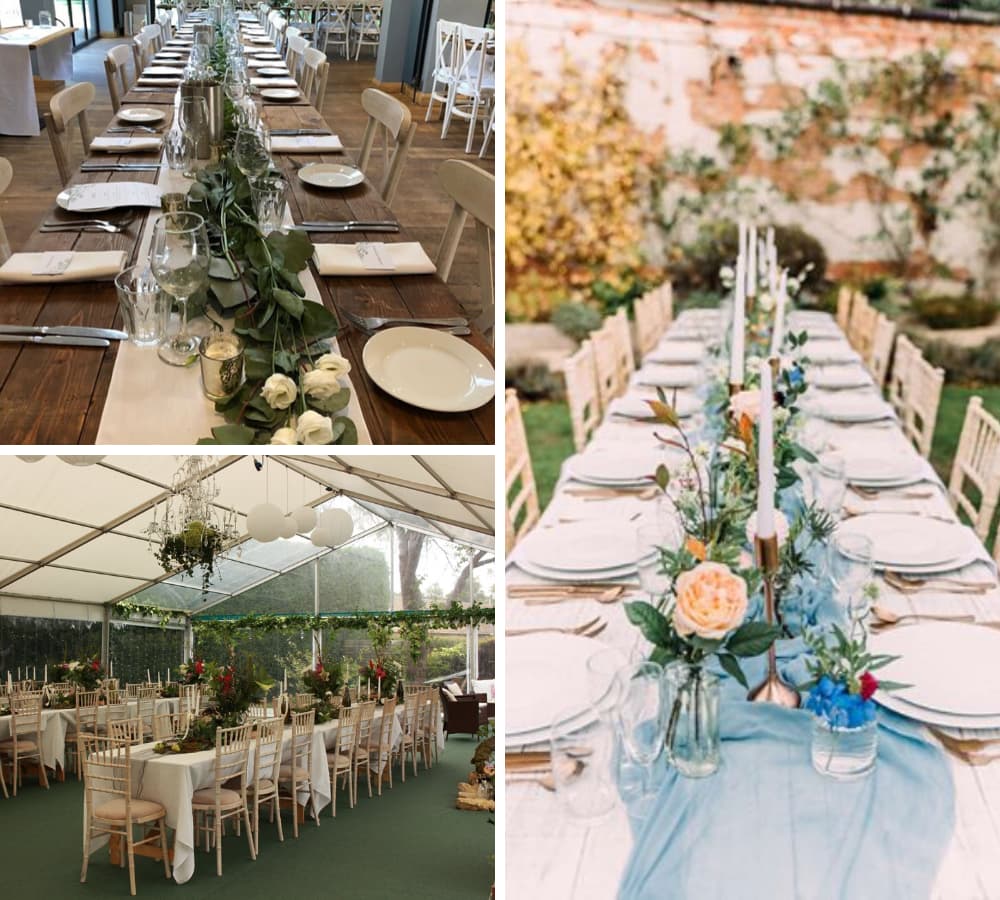 Decorating a Long Table for Your Wedding Reception
You will need to use an entirely different approach for decorating your long table because just one centrepiece will not provide the right look. The beauty is in the wide range of options you have to choose from. You can begin with a lovely table runner stretching from end to end. Floral arrangements in all different heights are a beautiful addition. Use candles or small lanterns for ambience. You should make sure everything is selected in moderation to avoid a cluttered or overdone feeling. Take care with height to ensure your guests can see each other easily and talk.
Achieving symmetry provides you with an elegant, chic and practical masterpiece. You can create a layered effect through the use of runners in floral, solid or geometric patterns. You can mix different colours, motifs and patterns for a sensational and personalised look. Use different fabrics for your runners to match your themes such as colourful prints for a modern feel or light and airy for a minimalist and intimate affair. You can set the tone of your table with velvet, lace, macrame or silk runners. You can use a fantastic runner with no tablecloth at all for a softer look.
Creating ambience is simple with bowls of delicious berries and fruits for edible centrepieces, flickering candles or crystal champagne flutes. You can make your table look even longer by choosing a runner that drapes all the way to the floor. You can even use a floating decoration above your table to match your runner and centrepiece for a stunning appearance. All of these options and so many more are simple to achieve with a long table.
The Secrets of a Perfect Wedding Reception
Whether you are hosting your wedding at a fantastic resort with oversized windows and high ceilings or in a sensational marquee, you can fill the space beautifully with a long table. You may have a view of a field dotted with wildflowers or that of a lush green forest. You can use your venue to create a magical and personal sense of style. The best place to begin is by balancing out your space. You can use a long table to offset your venue by creating vibrancy and depth. If you are decorating a larger room, you can place your tables in a U-shape or in rows to create texture and colour.
You can make your table appear longer by concentrating on the centre. The combination of a solid tablecloth and layered runners adds texture. For something simpler, create a country feel with a green runner of forests, trees or lush grass. Consider the type of plates you are going to use. You can use classic round plates or make a statement with rectangular or square plates to further enhance the shape of your long table. Think of your glasses, napkins as lovely and practical accessories. Add dimension to the length of your table with the decor in all different heights.
Switch between thin tapered candles, porcelain or ceramic vases, tall vases, little hurricane candles, votives and small to medium height flower arrangements. You can decorate using anything that feels right. Keep in mind, there is a lot of space to fill on a long table. Remember, you do not want to have every single inch completely covered. Your best option is choosing a few strategic areas along the width of your table. You want to have fun, but do not detract from the regal look of a long table with too much clutter. Consider decorative place cards and tall, majestic candlesticks.
Types of Long Tables
Typically two types of table choices depending on the style of wedding you are trying to create.
Plain Wood or Varnished Wood – Theses will have table cloths
Lime-washed or Rustic Tables – These will be used without table clothes
Long Table Size Guide
Trestle Table Size
Seating
Tablecloth
6′ x 2'6″
6
3 each side
70″ x 108″
6′ x 3′
6 – 8
3 each side + head & foot
70″ x 108″
6′ x 2′
6
3 each side
70″ x 108″
5′ x 2′
4 – 6
3 each side
70″ x 108″
4′ x 2'6″
4
2 each side
54″ x 54″
4′ x 2′
4
2 each side
54″ x 54″
The amount of seating around a table will depend on the table layout. You can also substitute a 70″ x 108″ tablecloth for two 90″ x 90″ tablecloths.
If you are unsure of the amount or sizes of tablecloths required for your table layout, please do speak to us.
Related Resources