Getting married is no longer just a case of picking the right dress, flowers and cake. Today's brides are opting for innovation and individuality. Whether its making the wedding a multi-day affair, complete with outfit changes or including special loved ones in the ceremony, today's brides are crafting their love stories from scratch. Individuality is the name of the game in 2020, and every element of the wedding is a showcase of the bride's style, creativity and imagination.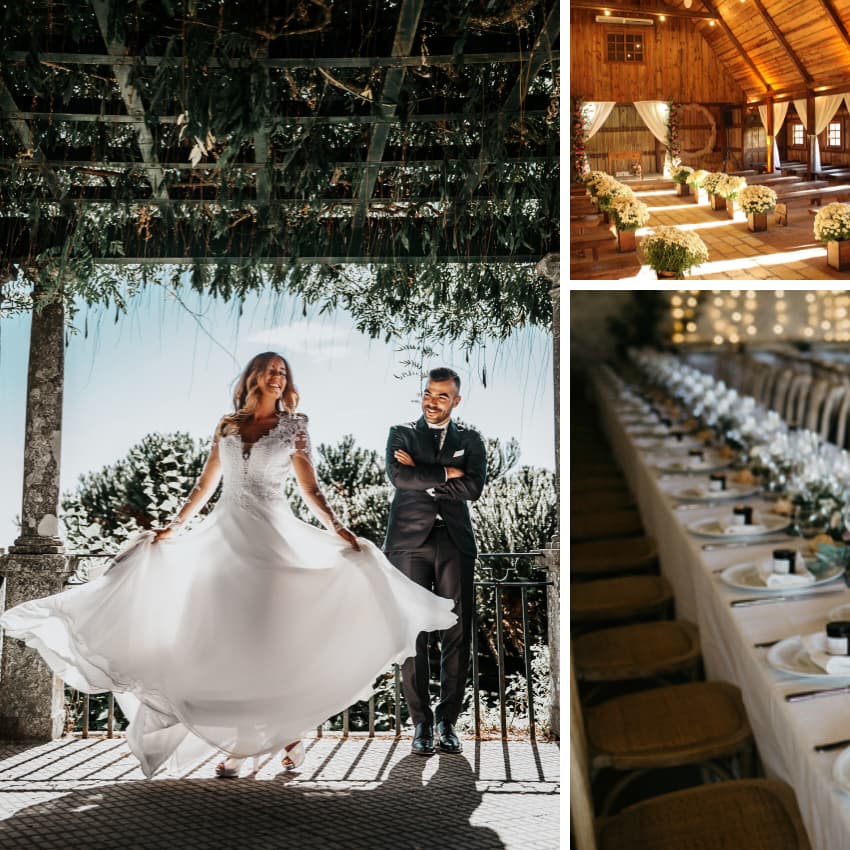 Wedding Dresses That Don't Scream "Wedding!"
Many brides dream of a traditional flowing gown that will make them look absolutely bridal on their big day. For those brides, there is no shortage of designers—from Vera Wang to Alfred Angelo and more. Some brides, however, are forgoing the white frilly dress for simpler, more toned-down looks. White pant suits, gold gowns and short dresses are quickly becoming the trend with brides this year. Fuss-free dresses, suit separates and mini skirts are all making their way down aisles in 2020.
Custom Rings
There was a time when a man gave his bride-to-be a ring that he picked out alone. New brides are ditching that tradition, opting to select and often design their own engagement and wedding rings. Today's brides don't want the same ring that everyone else has. They want something that has meaning and depth, something that is unique to their love story and that speaks to them as a person. Hand cut diamonds, rose and yellow gold bands and personalised inscriptions are all the rage with the modern bride.
Customised Veils
The veil has long been a staple of the wedding day attire, and brides are personalising this aspect of the big day as well. The newest trend is veils that feature statements, much like Hailey Beiber's "Till Death do Us Part," statement on the train of her flowing veil. Today's brides are seeing their wedding attire as something long-lasting that they can pass down to children or that tells a story. The veil has become less of an accessory, and more of a small part of a larger story of the wedding day and the couple's love.
Low Maintenance Hair
Bridal hair used to be all about fuss and muss. Dramatic updos took hours to create, and a bride could not be truly bridal without a team of stylists to make every strand perfect. The new trend, however, is with simple hairstyles. Even the Duchess of Sussex chose a subdued bun for her big day. A simple tousled style, loose, flowing curls or a sleek ponytail has replaced the overly coiffed hairstyles of the past.
Wedding Cakes that Double as Art
Brides are going to have their cake and eat it too. Only now, the cakes look more like works of art than after dinner pastries. Gone are the fondant and flower confections of the past. The new trend is towering tiered cakes adorned with edible gold leaf, dripped icing, hand etched flowers and hand crafted edible florals. Bespoke cakes are all the rage, and brides compete to have the best, most Instagrammed cake of their friends. The Duke and Duchess of Sussex even got in on the trend, skipping the traditional wedding fruit cake and opting for a lemon and elderflower creation instead.
Micro Weddings
The traditional wedding has a guest list of 150 people with a budget to match. The newest trend for 2020 brides is micro weddings, with a guest list of 40 people or fewer. This trend allows for a more personalised experience. The couple can spend more time with each guest instead of having to try to greet more than 100 people in a few hours. The smaller guest list also allows to the couple to spend more per guest, allowing for a bespoke experience. Tasting menus, personalised favours and photos with each guest is standard. Micro weddings are popular with couples who want to share their occasion with only their closest friends and family. They are also popular with introverts who don't want to be responsible for hosting a huge soiree on their wedding day.
Custom Menus
Good food has always been an integral part of the wedding, but today's brides are taking things a step further. Brides are creating menus that include every guest, from gluten free selections to vegetarian and vegan dishes. Others are bringing in special mixologists that can create beautiful and refreshing non-alcoholic drink options. Still others are crafting their wedding day menus based on their guests' preferences, polling their guest list before the event and planning from there.
Sustainability
The new trend for 2020 is being earth-aware and creating sustainable weddings with a small carbon footprint. Couples are incorporating recyclable materials, using plants instead of cut flowers and cutting back on paper products. They are hosting their weddings outdoors in order to cut back on the use of electricity. Brides are ditching floral foam, fireworks and single use plastics. They are also cutting food waste by donating uneaten food to local charities after the event. One bride re-purposed the table cloths from the wedding and used them as curtains in her new home. Brides are using fresh fruits as centrepieces and sourcing their wines from local wineries. Couples today are more earth-conscious than ever, and this is a trend that is only going to become more popular in weddings in 2020.
Healthy Options
The sweets buffet of candy and doughnuts are out for 2020 and healthy food is in. Couples are offering charcuterie boards with fresh cheeses, smoked meats and nuts in lieu of sweet buffets. Couples are getting creative by offering salad bars with an array of toppings, farm to table cooking, and more vegetarian and vegan options. Couples are intentionally choosing caterers that source local produce and dairy, and provide a range of healthy, yet tasty options. Fresh fruits, vegetables and seeds are all on the menu, replacing the traditional cakes, pies and other high calorie, low nutritional value food offerings.
New Colour Palettes
Brides have always incorporated their favourite colours into their big day, but now they are creating entire themes around the hues and shades of their choosing. Brides are going for earth tones over pastels, incorporating the colour schemes into everything from the food to the decor and invitations. Brides are opting for tropical colours like papaya, salmon, honey and clover for spring weddings. Sea mist, berry and lace are all trendy favourites for springtime nuptials. For the summer soiree, the trendy bride is outfitting her wedding in sea mist, pinot noir, coconut and glacier. Winter brides are finding hues beyond the traditional blue and white. They're going for matte copper, steel, parchment and ash rose. Autumn brides bring warmth to their cool weddings with spun sugar, nutmeg, cactus, berry rose, hazelnut and butter pecan. With beautiful new colour themes, the new 2020 bridal trend is definitely custom touches and bespoke palettes.
Long Table Seating
The top trend in reception seating for 2020 is the long banquet table. Instead of the traditional individual round tables, couples are choosing long banquet tables that extend across the length of the venue. These tables make for stunning photography. Long tables spread with dazzling floral centrepieces and food as far as the eye can see creates an amazing first impression. This table style is especially striking for outdoor weddings when set up on a rolling estate or in a barn. For 2020, round tables are out and long trestle tables are in.
City Weddings
Couples are looking to save on costs for 2020 weddings, so many are choosing to host their event in local restaurants, pubs and bars instead of traditional wedding venues. Some are hosting theirs in city parks or in front of treasured landmarks. This trend follows an overall move to save money on the wedding venue and spend more on amenities for the guests, favours, food and decor. Expect to see more city weddings in 2020 as couples move away from elaborate weddings in the country.
Gender-Mixed Wedding Parties
In the past, the bridal party consisted of bridesmaids who were all gal pals with the bride and groomsmen, who were friends of the groom. Today's weddings are mixing things up, with the bride's guy friends standing up for her alongside her girlfriends. Gals are also coordinating outfits with the groomsmen, and being welcomed into the bridal party with the groom's entourage. Expect to see less of the traditional "bridesmaid/groomsmen" set up and more mixing of genders in wedding parties. With the rise of gay weddings and an overall move toward more secular and non-religious ceremonies, it won't be uncommon to see these new lineups.
Self-Service Bars
Another fun trend in weddings in 2020 is the self-service bar. Now guests can pour their own drinks, make their own sundaes and indulge their way. Couples who are going for a rustic theme use wheelbarrows, buckets and antique bath tubs to offer self-serve bottles of beer, wine and spirits. The self-service bar doesn't have to be expensive. You save on the cost of a bartender, and there are a lot of bars that will sell you kegs at a discount. Expect to see a lot more self-service bars at weddings in 2020.
Maximalism
In 2020, a lot of couples with be taking their weddings to the max. Over the top centrepieces, patterned groomswear, big hats, five piece bands, orchestras and chef prepared, multi-course meals. Some couples are opting for an opulent show for their big day, and this is a trend that will only continue throughout 2021. Couples are hosting multi-day affairs complete with multiple wardrobe changes. They are serving multiple cakes and hiring the experts to craft a day like none other. Expect chintz, bold patterns, crockery and whimsy. The trend toward maximising this day will only increase.
When it comes to the top trends in weddings in 2020, expect couples to take individualism to the next level. No more cookie cutter weddings for 2020. Expect a mishmash of patterns, styles and overall attitudes about celebrating this big day. Couples are crafting their own wine bars, stepping out of the white dress and into bold colours, changing up the traditional table setups and becoming more environmentally conscious. This year will definitely be the year that couples are creating never before seen weddings.
Related Articles