As pop culture phenomena continue to captivate audiences worldwide, the platforms that celebrate them have evolved and become prominent. One platform is Comic Con, an exhibition dedicated to comics, movies, science fiction, fantasy, anime, manga, video games, and more.
Originally named the "Comic Book Convention," Comic Con has expanded to encapsulate a more comprehensive range of pop culture and entertainment elements. These conventions serve as a marketplace for comics and other memorabilia, a space for fans to interact, creators to showcase their work, and industry professionals to discuss trends and unveil new projects.
Comic Cons have become significant cultural events where the lines between creators and consumers blur, facilitating a shared celebration of pop culture. They're not just about comics anymore; they're about community, and they've come to embody a certain kind of culture that embraces diversity, creativity, and passion.
With its rich history of arts and culture, the UK has been included in this global trend. The first UK Comic Con was held in Birmingham in 1968, focusing primarily on comic books. Since then, UK Comic Cons have become large-scale pop culture events, attracting local and international fans. These events' diverse and inclusive nature has made them a staple in the UK's exhibition calendar, uniting fans from all walks of life in their shared love for various aspects of pop culture.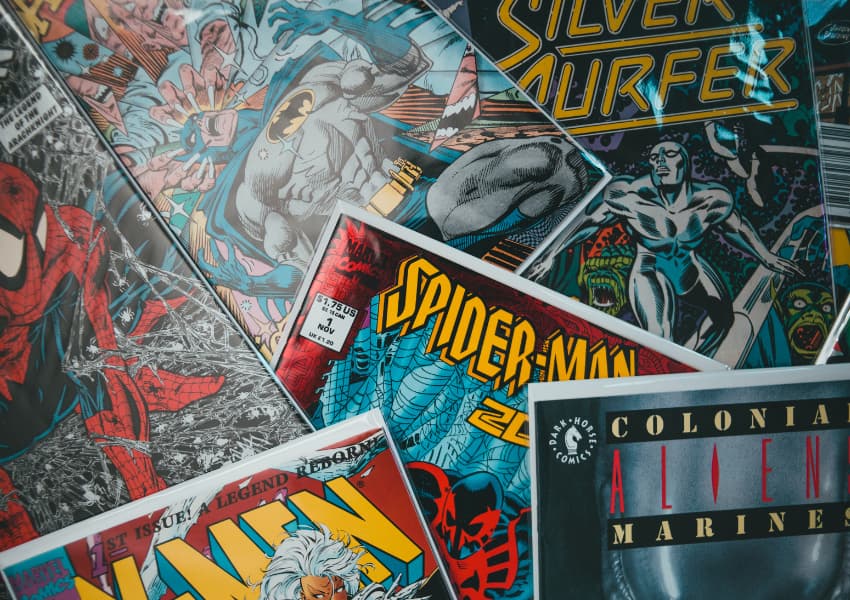 Growth and Evolution of UK Comic Cons
Over the decades, the growth of Comic Cons in the UK has been both consistent and impressive. Since the inaugural event in 1968, UK Comic Cons have sprouted in cities nationwide, including London, Manchester, Glasgow, and many more, catering to a growing fan base. The escalating attendance figures over the years attest to their increased popularity. The exponential growth is undeniable, from a few hundred attendees in the initial years to over 130,000 recent visitors at the MCM London Comic Con.
In tandem with the growth in numbers, the nature of these Comic Cons has also undergone a profound transformation. Initially, these events centred around comic books and catered to a niche audience of comic enthusiasts. They provided a space for fans to buy and sell comics, meet comic book authors and artists, and participate in discussions about their favourite characters and story arcs.
However, as the nature of pop culture evolved, so did the focus of Comic Cons. The scope broadened to incorporate an expansive range of interests. Today, UK Comic Cons are inclusive pop culture festivals, celebrating everything from blockbuster films, cult TV shows, video games, cosplay, anime, and manga, to collectables, merchandise, and indie arts. They have become more interactive, featuring panels with celebrities and industry professionals, autograph and photo sessions, previews of upcoming films and shows, cosplay competitions, and art exhibitions.
Another significant evolution in Comic Cons has been the growing recognition of the value of diversity and inclusion. The once male-dominated scene now actively encourages participation from all genders, age groups, and backgrounds. This inclusivity is also reflected in the content, with a broader representation of characters and stories from various cultures and perspectives. This evolution has made Comic Cons a true reflection of the vibrant, varied, and inclusive world of pop culture.
As we trace the journey of UK Comic Cons from niche gatherings to massive, inclusive festivals, it's clear that they have become a significant part of the UK's cultural landscape. They are more than just events – they are community-building platforms that unite diverse groups of people bound by their shared passion for pop culture.
Epic Comic Cons and Pop Culture Exhibitions in the UK
MCM London Comic Con
MCM London Comic Con is one of the UK's largest and most significant pop culture events. It offers an immersive experience for fans, encompassing all aspects of entertainment, from films, TV series, and comic books to cosplay, video games, and anime. This event typically features a stellar line-up of guests from various entertainment domains, exclusive screenings, and interactive panels. Cosplay is a prominent part of the convention, with many attendees dressing up as their favourite characters and participating in the famous MCM Masquerade.
London Film and Comic Con
London Film and Comic Con (LFCC) is another major event in the UK pop culture calendar. With a strong focus on film and television, LFCC brings together actors, directors, producers, and scriptwriters, offering fans a unique opportunity to engage with industry professionals. It also features a comprehensive array of comic book artists and writers, making it an excellent event for enthusiasts. The event is known for its grand autograph and photo session areas, where fans can meet and interact with their favourite celebrities.
Birmingham Comic Con
Birmingham Comic Con offers an energetic and enjoyable celebration of pop culture. This event is known for its guest panels featuring stars from various entertainment domains, including comic book authors, film and TV celebrities. It also hosts an impressive comic village showcasing the work of top comic creators. The event welcomes cosplay, and there are also plenty of stalls selling merchandise, collectables, and of course, comic books.
UK Games Expo
The UK Games Expo, while not a Comic Con, is a significant event in pop culture exhibitions in the UK. This event is a paradise for board game enthusiasts, offering a massive selection of games, from classic favourites to the latest innovations. It also features game designer workshops, live role-playing games, and game tournaments, providing attendees a thoroughly interactive and engaging experience.
Comic Cons and the Economy
Comic Cons and pop culture exhibitions contribute significantly to local economies, attracting many local and international attendees. This influx of visitors directly results in increased revenue for local businesses, such as hotels, restaurants, and retailers. During the event days, there is a notable rise in occupancy rates of local accommodation providers, while restaurants and cafes see a boost in customers.
Moreover, attendees often engage in tourism activities apart from the event, exploring local attractions and supporting the local tourism industry. The spending continues beyond there. At the event, attendees often invest in merchandise, artworks, exclusive releases, and more, which goes into the pocket of local vendors, artists, and businesses.
In addition to the economic benefits, Comic Cons and pop culture exhibitions also contribute to job creation and stimulate the tourism sector. These events require a large workforce for successful execution, creating temporary and permanent jobs. Numerous roles must be filled, from event planning and management to security, customer service, and venue maintenance.
Furthermore, these events serve as a significant draw for tourists. As they have grown in popularity and scope, they have begun to attract international attendees, effectively putting their host cities on the global pop culture map. These international visitors often extend their stay to explore the city and country further, boosting tourism outside the events.
The Future of Comic Cons
The future of Comic Cons and pop culture exhibitions in the UK is bright, with several emerging trends promising to take these events to new heights.
One significant trend is the integration of digital experiences. As technology advances, so does its use in events like Comic Cons. Interactive displays, augmented reality (AR), and virtual reality (VR) are becoming increasingly popular. These technologies offer unique ways for attendees to interact with their favourite comics, characters, and universes in a way that traditional exhibitions can't.
Another trend is the push for more diverse representation at these events. Comic Cons are making strides to ensure representation from a broader range of creators and fandoms in response to growing calls for inclusivity. This includes spotlighting independent artists, creators from marginalised communities, and content from less mainstream genres.
As Comic Cons adapt and evolve, their influence on the UK's pop culture scene is expected to grow even further. With their broadening appeal, these events will continue to be a hub for pop culture enthusiasts, drawing in new audiences and fostering a community of shared interests.
Furthermore, integrating cutting-edge technology and commitment to diverse representation will ensure that UK Comic Cons remain at the forefront of global pop culture events. By continuously redefining the convention experience, these events will continue to shape the pop culture landscape, impacting not just the comic and entertainment industries but broader societal trends.
We Love Comic Cons at BE Event Hire
One of the highlights of our work at BE Event Hire is undoubtedly the opportunity to supply and set up for Comic Cons. As premier events that pull together diverse crowds and celebrate the best of pop culture, Comic Cons are a spectacle like no other. And being a part of creating that spectacle is something we relish.
Over the years, we've had the pleasure of supporting numerous Comic Cons across the UK. We've seen first hand the magic these events bring and the joy they inspire in attendees. Providing the right exhibition furniture and layout to ensure a smooth and enjoyable event is our key mission, and it's always rewarding to see it all come together.
Some of the Comic Cons we've been involved with include:
Make the Most of Comic Cons or Exhibition
Whether you're an attendee seeking to immerse yourself in the magic of pop culture or an exhibitor looking to connect with an enthusiastic audience, Comic Cons offer a wealth of opportunities. Here's how you can make the most out of these vibrant events.
Plan Ahead: Comic Cons often feature a packed schedule of panels, meet-and-greets, showcases, and more. Review the programme to prioritise what you want to take advantage of.
Cosplay with Comfort in Mind: If you plan to cosplay, remember that you'll be in your costume all day. Comfort is as important as accuracy.
Pack Essentials: Bring water, snacks, a portable phone charger, and cash for vendors who might not accept cards.
Engage with the Community: Comic Cons are all about community. Don't avoid conversing with fellow fans – it's part of the experience.
Exhibitors
Stand Out: Create a visually appealing and memorable booth. Use branded banners, displays, and merchandising to attract attendees.
Engage Attendees: Interactive displays or activities at your booth can make people stop and take notice. Consider contests, raffles, or demonstrations to draw a crowd.
Know Your Audience: Tailor your offerings and your pitch to the interests of the Comic Con attendees. Do your research on the fandoms that will be present.
Network: Comic Cons are a great place to make industry connections. Take advantage of the opportunity to network with other exhibitors, event organisers, and influencers.
Related Articles