Trade shows are a great place to showcase your company and its services. With more trade shows, today's market has many opportunities to make a big impression. Exhibiting at a trade show for the first time can be scary, and it's easy to worry about all the things that could go wrong. Thankfully there are many ways to prepare, avoid problems and make your experience as smooth and successful as possible. With some preparation, you can ensure that your first time exhibiting at a trade show is a huge success.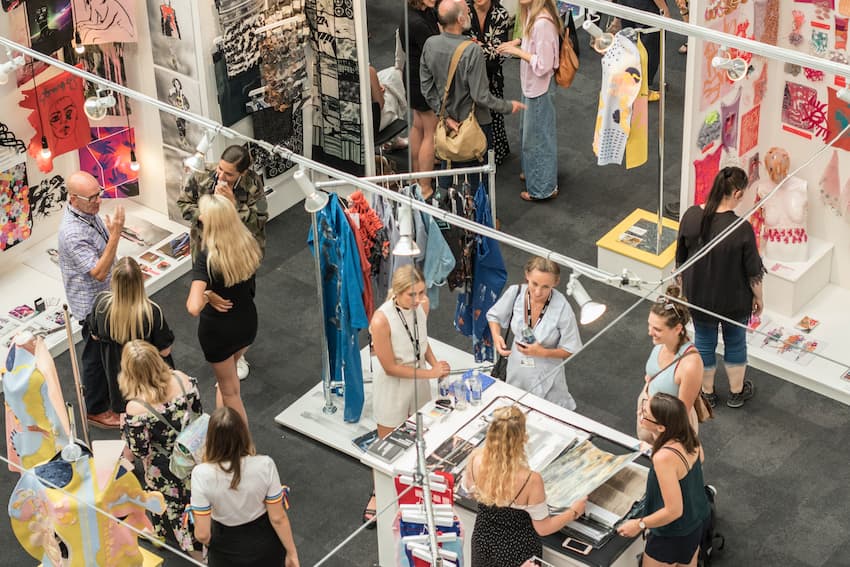 10 Trade Show Tips for First-Time Exhibitors
1. Find the Right Trade Show
The first step in preparing for a first-time trade show experience is to find the right show to participate in. Some shows are better suited to companies of all sizes, while others cater primarily to larger or smaller firms. Before signing a contract or purchasing booth space, be sure that this is the right trade show for your business and its objectives. If you want to build brand awareness, ensure you are exhibiting at a show with a lot of foot traffic. Otherwise, a large booth may cost you more than it's worth.
2. Be Prepared with a Plan
Even if your goals are short-term and general, you should have some plan before heading to the trade show floor. It includes what you want to accomplish during the trade show and the logistics of your booth space and setup. Set aside time for your research about the fair so that you know what to expect on arrival and where you can find everything. Find some time to get acquainted with your booth space so you can plan for its setup.
3. Pack Right
It is a big day for your business, and the right trade show supplies can make all the difference. You'll want to pack off-site and bring everything with you unless your booth space is provided with a bare table top. Pack extra pens, display materials, brochures, and signs so you won't run out in the middle of the fair. It is essential to exhibit in a crowded convention center or hotel. It will be hard to get supplies on-site at short notice.
4. Double Check Your Supplies
Double-check your supplies before you head to the show floor. Allow extra time for printing, and make sure that your brochures, signs, and advertising materials are in working order. Prints can still be an essential marketing tool even if you use digital media to promote your services. The wrong materials could limit your trade show participation or damage your reputation with exhibitors and attendees.
5. Prepare Your Booth Space
You only have one chance to make a first-time trade show impression, so take the time to prepare your booth space accordingly. Prepare a low-maintenance, high-traffic area where you will stand or sit most of the time. You won't have time to spend on setup when you are there to meet new customers and promote your products and services. It's worth spending some time on your booth space to look professional and inviting when you arrive.
6. Consider an Exhibit Staff
Consider hiring an exhibit assistant if you are exhibiting by yourself or with a single person. They can ensure everything is running smoothly and your booth is clean, with all sign postings, displays, and supplies ready. If you have many people from your business to organize at the show, appoint a staff member who will oversee the setup and other duties before the trade show starts.
7. Market Your Participation
The main reason for exhibiting at a trade show is to generate leads and promote your business. However, this can be difficult if potential customers don't know you are there. Before you arrive at the fair, prepare some advertisements to let people know that you are participating in the fair. It could be an ad in local papers or magazines or a flyer that attendees can pick up on arrival. Taking advantage of social media to help promote your participation and services is also essential.
8. Give Early Feedback
Another reason for exhibiting at a trade show is to get early feedback on your company and potential product or service. If you are unfamiliar with the fair, allow time for booth set up so that you can meet the exhibitors and attendees in your industry, provide them with a flyer about your participation and likely ask them what they thought of you and your service or product. This way, you can gain valuable insights into how others view your business and the type of tradeshow success you want.
9. Attend Power Networking Events
As well as speaking with exhibitors and other attendees, you can take advantage of your time at the show to the network. These events are held in the evenings and are attended by exhibitors and attendees. Gain an understanding of what others are doing in your industry and what is working. Attend networking sessions, business seminars, and presentations, giving you a better chance to speak with potential partners, clients, or customers.
10. Encourage Exhibitors to Spread the Word
All trade shows have a large and dedicated audience. Whether they contain your competitors, there will be many exhibitors with similar products or services to yours. Encourage them to refer their customers to you at the show, and ask them if they would be willing to talk about your company with their clients or partners.
Benefits of Participating in Trade Shows
1. Give Your Products and Services a Boost
There are many ways for your company to get noticed by both potential customers and industry leaders. Trade shows are one way to do this. When you exhibit at a trade show, you will have an opportunity to connect with both visitors and potential customers. They can do this through the booth or networking sessions, providing you with new leads or business partners.
2. Gain Brand Recognition
Trade shows are a great way to boost your brand recognition. Your customers and potential customers will remember your presence at the show, so even if you don't get a direct sale, you may be able to attract new business through referrals.
3. Increase Your Product and Service Awareness
Attendees at the show can see the quality of your products and services, which will help them make an informed decision about whether or not to purchase. It also allows you to explain a product or service in person instead of relying on brochures and marketing material.
4. Build Long Term Relationships with Customers and Partners
Trade shows are more than just a chance to make new business contacts. They can also help foster existing business relationships and help you build long-term relationships with customers and partners. You'll be able to speak with them directly and learn more about their needs, enabling you to provide them with better products or services in the future.
5. Meet New Customers and Potential Partners
Trade shows are attended by many people, from small business owners who need products or services to large corporations who require your expertise. As you exhibit, the fair attendees are an excellent opportunity to meet new customers and potential partners.
6. Become More Conversant in Your Industry
Trade shows are held in many different industries and can provide an excellent opportunity to learn more about your industry. Attendees at the show can speak to experts in your area and understand the latest trends, which will help you avoid making costly errors.
7. Gain Recognition as a Professional
Attending trade shows also allows you to become known as a professional within your industry or market. If you exhibit at a wide range of performances, your name will become well known, which will help to build your reputation.
8. Build Your Network
Attending trade shows is one way of building your network and connecting with other people in your field. You may find that you have someone who has similar products or services to yours and will be able to benefit from their expertise or experience.
The benefits of exhibiting at a trade show are clear. However, to achieve the best results, you must be prepared to put in the hard work and effort it will take to effectively exhibit your products and services at a fair. Attending trade shows is about showing your customers and potential customers that you are a reliable and worthy business partner. They should know that they can trust you to provide them with quality products and services, which will help build long-term customer relations.
Related Articles