Large Events
At BE Event Furniture Hire we have the capacity to cope with large national events. We can supply up to 30,000 folding chairs and over 10,000 trestle tables plus many more items in large quantities, delivered in our articulated Lorries which have their own Moffett rough terrain truck mounted forklifts. We can provide staff for setting up to your detailed plan.
We will deliver and collect 24 hours a day seven days a week and our hire prices are a flat rate for up to a week including one weekend.  We can give excellent long term hire rates or even the option to buy large quantities of new or ex-hire furniture.
We have supplied furniture to prestigious and large events from Buckingham Palace to Glastonbury; we are big enough to cope and experienced enough to deal with all situations and types of venue from back gardens to setting up the whole of the ExCEL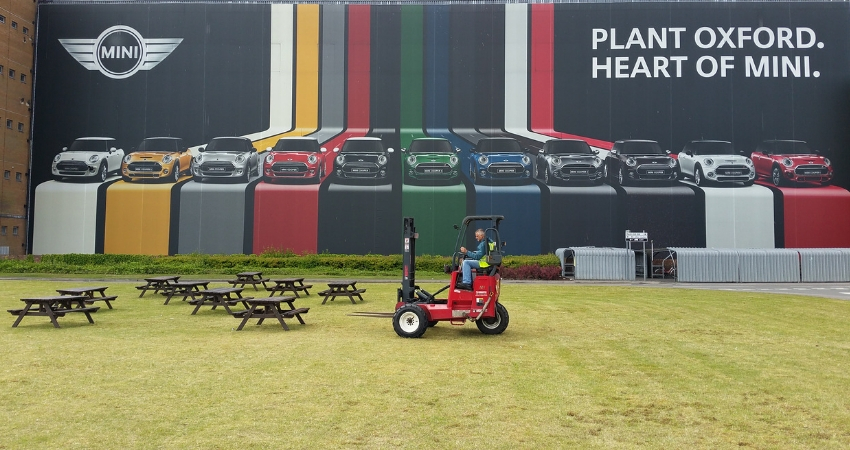 Smaller Events
Even though we can cater for the large national events, a great deal of our work comes from small local events such as family celebrations, parties, weddings, barbecues etc. We supply many local authorities and businesses on a regular basis.
We are happy to deliver as little as one item of furniture to anywhere although the further away you are from our East Midlands headquarters the more transport costs can mount up. This is where you may wish to consider the option of self collection. Many of our items can be collected in a van or even a small car and not only will you save on delivery charges. We are open between the hours of 8am-4.30pm Monday to Friday. Another option you may wish to consider is delivery by courier. We can deliver most of our items by courier in smaller quantities, however at this point the option to buy may become more attractive. We often find customers are amazed that they can purchase and receive delivery of items from us for less than they can hire for from more local companies.
Whatever you are considering, feel free to ring and talk through the options with our experienced and friendly staff.
Contact our office on 01664 812627 between 8am and 4.30pm Monday to Friday or drop us an email to info@beeventhire.co.uk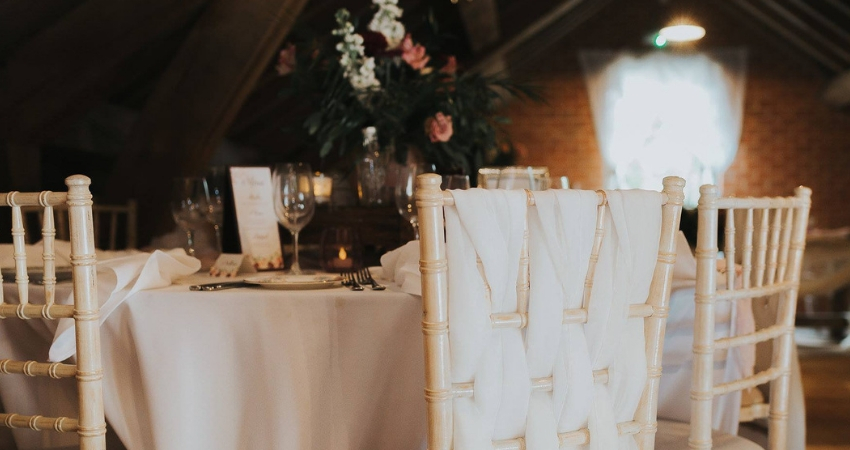 Event Furniture Hire for Every Occasion
Whether it's a large corporate event, a magical wedding or a small community barbecue, BE have chairs and tables for hire and sale for every type of customer.
Table Hire for Large & Small Events
BE Event Hire offers an extensive range of tables for hire. Select from trestle tables, round banqueting tables, picnic tables, bistro and cafe tables, poseur tables (high tables) and all miscellaneous items related to table hire.
Trestle Tables for Hire

Trestle tables are hired year round for all manner of festivals , craft and antique fairs and memorabilia shows. They are used as exam desks at national venues as well as University fresher fairs & career fairs. They are often used for wedding and dinner events as well as water supply tables at marathons and other sporting events.

Whilst the varnished and blowmold trestle tables are very popular at election times to be used for ballot counting tables.
Round Tables for Hire

Our selection of round tables range from banqueting tables in all standard dimensions, aluminium and acrylic bistro tables to poseur high tables.

Our tables can be hired for exhibitions, corporate dinners, functions, weddings as well as that extra Christmas table for when its your turn to host the family.
Picnic Tables for Hire

These extremely strong picnic tables are made here in Leicestershire and are dark oak in colour.

We have over 600 in stock , they seat 3 on each side. The hole in the middle for a parasol is 5 cms diameter. They come fully built on delivery.
Bistro Tables for Hire

Our bistro tables come in various styles and colours so can often be chosen match to corporate colours and specific requirements for the space allocated. They are ideal for bars as well as exhibition and conference venues.

Bistro tables are available in aluminium, acrylic, wood and powder coated metal. Our table hire is available across the UK, to suit every type of event.
We also offer children's table, exam tables and a range of miscellaneous tables for hire.
If you cant locate the tables you are looking for, please contact our hire team.
Chair Hire for Large & Small Events
BE Event Hire offers seating hire for all types and styles of events. Select from a range of seating options from sofas and reception chairs, table seating includes formal and informal seating both indoor and outdoors. Bar stools bistro sets and picnic benches.
Whether you have a wedding, red carpet event, exhibition, corporate meeting or a few extra guests over for dinner, our chair hire provides an affordable, efficient service across the UK.
Chairs for Hire

BE Event Hire stock and hold many different styles of chairs to suit every event from weddings, exhibitions, functions to small family events.

Styles of chairs to hire vary from Chiavari chairs, folding wooden chairs, banqueting chairs in a range of colours, stacking plastic chairs to crystal resin Chiavari chairs.

Our outdoor chairs range from aluminium and wooden garden chairs, benches and picnic benches, to wooden folding chairs in a range of colours.
Chiavari Chairs for Hire

Limewash Chiavari chairs provide a rustic elegance to formal occasions, such as weddings and functions.

Crystal resin Chiavari chairs are ideal for formal or informal occasions and would look great at any evening event.

Gold Chiavari chairs offer elegance for an array of formal events. They are certainly suitable for weddings and banqueting events.

Silver Chiavari chairs have a silver wooden frame with a choice of black, ivory, gold, green, blue, black or red seat pads.
Outdoor Chairs for Hire

We have several chair hire ranges that are ideal for outdoor use. These are used widely from festivals such as Download and Glastonbury to birthday and garden parties at home in the garden as well as barn and outdoor weddings.

Our outdoor seating hire covers a range of materials and styles from benches, picnic tables to folding chairs and garden bistro chairs.
Bar Stools for Hire

Our bar stools are used extensively for on sets of TV game shows as well exhibition stands and also parties where space is at a premium.

Our bar stool hire range comes in a variety of materials and styles from, aluminium, wood, powder coated steel, chrome and acrylic. These bar stools can be used by themselves or with our high tables.
We've got your Event Hire Covered!
We've hired across the globe but that doesn't mean we ignore our local businesses. BE have supplied tables and chairs since the 80's and we continue to look after the little guys.
BE Event Hire have years of experience and a wealth of knowledge in furniture hire. Your order will arrive in perfect condition and on time. Every time. For more information on chair hire, check out our chair hire guide, or contact us direct to discuss your requirements.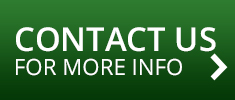 Related Articles