Summer parties are the year's highlight for many, bringing together friends and family under the sun's warm glow. The laughter, the barbecue aroma, the clinking of glasses, and the lively chatter all contribute to unforgettable moments. However, careful planning is essential to ensure your summer party is memorable for all the right reasons. From choosing the perfect venue to preparing a menu, each detail plays a vital role in the success of your event.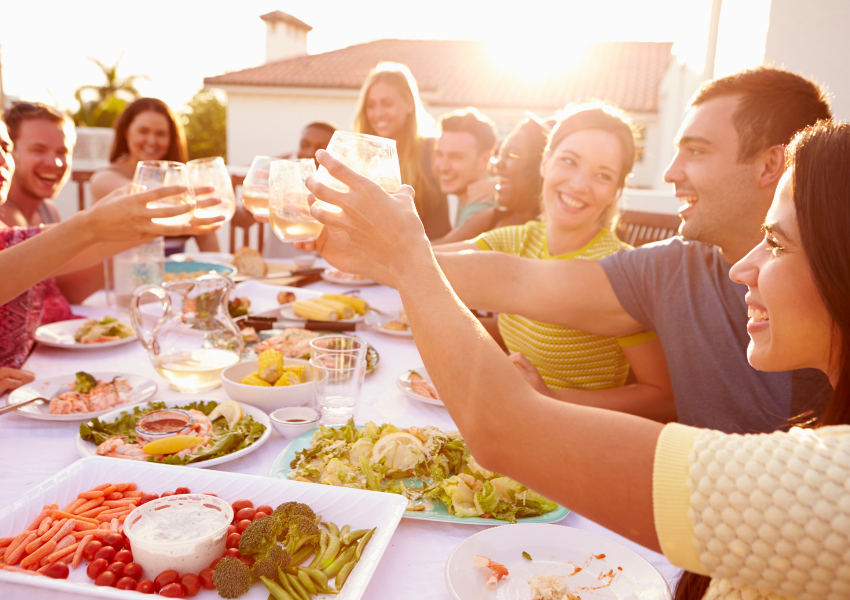 The Venue
Finding the right venue is the cornerstone of successful summer party planning. It sets the backdrop for your event and influences many other decisions, from decor to activities. Consider factors like the size of the space, the available facilities, and the location when making your choice.
Firstly, think about your guest list. Too cramped, your guests may feel confined; too large, and the party may lose its intimate vibe. It would be best to have a spacious venue to accommodate everyone comfortably.
The facilities on offer are another crucial aspect. Do you need a kitchen for food preparation? Are there suitable restrooms? What about indoor space in case of unpredictable UK summer weather? It's essential to ensure your chosen venue can cater to these needs.
Location, too, is vital. Ensure it's easily accessible for your guests, with ample parking or good public transport links. If you're planning a late celebration, you may also want to consider noise restrictions in the area.
Choose a venue that resonates with your party theme and personality to create a memorable event. Traditional venues like gardens, patios, or local parks work wonderfully for summer parties. Consider a beachfront location, a rooftop with a view, or even a boat hire for a unique twist.
The Theme
Choosing a theme for your summer party adds a fun and festive element and sets the tone for the entire event. A well-chosen theme can guide your decisions on decoration, food, drinks, and entertainment, ensuring a cohesive and immersive party experience.
Popular summer party themes run the gamut from laid-back to extravagant. A beach-themed party, for example, invites casual attire, beachball games, and seafood barbecue, while a tropical luau could call for Hawaiian leis, tiki torches, and fruity cocktails.
A garden tea party, on the other hand, calls for elegant decor, finger sandwiches, and a variety of teas. A 'white party', where all guests wear white, offers a chance for chic decor, refreshing white cocktails, and light summer cuisine.
Would you like to transport your guests to another country with a themed party? For instance, a Mexican fiesta, an Italian piazza party, or a French Riviera soiree can provide rich food, decor, and entertainment inspiration.
Remember, the best theme will depend on your audience and location. Choose something that will excite your guests and make your party memorable.
The Menu
The food and drinks at your summer party can be a conversation starter, a comfort provider, and a crucial element of the overall experience. It's essential to offer a menu that appeals to various tastes and caters to dietary requirements.
When planning your summer party menu, the focus should be on variety. Offer a mix of dishes – from savoury appetisers to mouth-watering main courses and delightful desserts. For instance, grilled kebabs, refreshing salads, and fruit-based desserts can make for a well-rounded menu.
Keep seasonality in mind while planning the menu. Summer provides a bounty of fresh fruits and vegetables which can be incorporated into your dishes. Seasonal produce not only tastes better but is also usually more cost-effective.
Be mindful of dietary requirements among your guests. With veganism, vegetarianism, and gluten-free diets becoming more common, it's essential to have options that everyone can enjoy. Label dishes clearly to avoid any confusion or discomfort.
Now, let's talk about drinks. Refreshing beverages are a must for any summer party. Keep your guests hydrated with various options, including water, lemonade, iced tea, and alcoholic and non-alcoholic cocktails. Check out our post here for a comprehensive guide on setting up your summer party bar.
Good food and drinks satisfy hunger and thirst and add to the party's festive mood. So, take the time to plan your menu well and watch as your party becomes the talk of the town!
Barbeque
No summer party is complete without a nod to the beloved tradition of barbecuing. A barbecue menu can cater to various palates, and grilling often becomes a fun focal point of the gathering.
When planning your barbecue menu, consider a mix of proteins to ensure something for everyone. Traditional options like burgers, hot dogs, and steaks are crowd-pleasers, but remember barbecued chicken, grilled fish, or even BBQ tofu for a vegetarian option.
Vegetables also take on a deliciously smoky flavour when grilled. Marinate them in your favourite herbs and spices for added flavour. Corn on the cob, bell peppers, aubergines, and courgettes make excellent choices.
Accompany your grilled items with a range of sides. Classics like coleslaw and potato salad pair wonderfully with barbecue. Add a leafy green salad and fresh fruit for balance, and your barbecue feast is complete.
Regarding barbecue beverages, consider pairing your grilled foods with suitable drinks. A zesty beer or a chilled white wine could go nicely with grilled seafood, while a robust red may pair well with a steak. For non-alcoholic options, fresh lemonade or iced tea works great.
Barbecuing provides not just delicious food but an interactive experience for your guests. So fire up the grill and let the good times roll!
The Entertainment
Entertainment sets the energy and atmosphere of your summer party. It helps create shared experiences, keeps guests engaged, and often becomes the event's highlight.
Consider outdoor games that take advantage of the summer weather for daytime parties. Classic lawn games like croquet, badminton, or frisbee are always fun. Water volleyball or a friendly competition of inflatable pool races can keep guests entertained for a beach or pool party.
A live band or DJ can set the right mood for evening parties. Alternatively, a curated playlist can keep the party going with a mix of summer hits, classic tunes, and guest requests.
For a more relaxed setting, hire a local artist for a live painting session or organise a group stargazing session if the location allows. Interactive entertainment, such as a mixology class or a DIY pizza station, can also create memorable experiences.
If children are part of your guest list, have kid-friendly activities. A dedicated play area, a magician, or a balloon artist can keep the little ones happy and engaged.
Remember, the goal is to facilitate fun and shared experiences that will make your summer party a memorable occasion for all.
Comfort
An unforgettable summer party is one where every guest feels comfortable and at ease. As you plan your party, consider the elements contributing to your guests' comfort and work them into your arrangements.
Providing ample and comfortable seating is essential. Depending on your theme and venue, this could range from garden chairs and picnic blankets to stylish outdoor sofas or hammocks. For a detailed guide on choosing the perfect summer party furniture, check out our dedicated post here.
Summer parties often mean battling the elements. Ensure there's plenty of shade available for guests to escape the sun. This could be natural shade from trees, or you could set up parasols, marquees, or gazebos.
With the heat of the summer, consider ways to keep your guests cool. Setting up fans around the venue, providing ice-cold refreshments, or even offering a small pool or misting station can make a big difference.
Lastly, remember bug control. Citronella candles or bug-repellent sprays can keep pesky insects at bay and ensure guests enjoy the party without discomfort.
Clean-up
A summer party can be a fantastic event, but it's equally important to consider the aftermath – the clean-up. Additionally, in today's eco-conscious world, incorporating sustainable practices into your party planning is not just responsible but also a selling point for guests.
Plan the clean-up by having plenty of bins around your venue for easy waste disposal. This helps keep the area tidy during the party and facilitates clean-up.
You can make your party more sustainable by being mindful of waste management. Encourage recycling by providing labelled bins for general, recyclables, and food waste.
When choosing your party decor, consider environmentally friendly options. Opt for reusable or recyclable decorations rather than single-use items. For instance, cloth bunting can replace plastic streamers, and LED lights can be more energy-efficient than traditional party lights.
Even in catering, you can make sustainable choices. Use reusable plates, glasses, and cutlery, or if you need to use disposables, choose compostable or recyclable options.
Related Articles