Hire companies provide furniture for corporate and social occasions for large and small groups. When you're planning your wedding, you want every detail to be perfect, including the chairs that you hire for your wedding breakfast or reception.
Add a Creative Touch to your Wedding Chairs
Wedding chairs are one of the details that are overlooked by a lot of brides; yet with the right creative touches, they can be a focal point at your reception. Your wedding chair decor depends on the style of chairs you choose. Here are some of the wedding chair styles that are most in demand:
Traditional, folding chairs in a brown, wood finish or a white finish are ideal for use with trestle tables, especially for outdoor, rustic-style weddings. The seat pads come in an array of colors including gold, ivory, white, blue, green , red or even black.
Crystal Resin or Ice Chiavari Chairs are designed with a resin frame. The seat pads are available in colours including red, blue, black, gold, ivory, and green. Limewash Chiavari Chairs look elegant placed around round tables for a formal reception.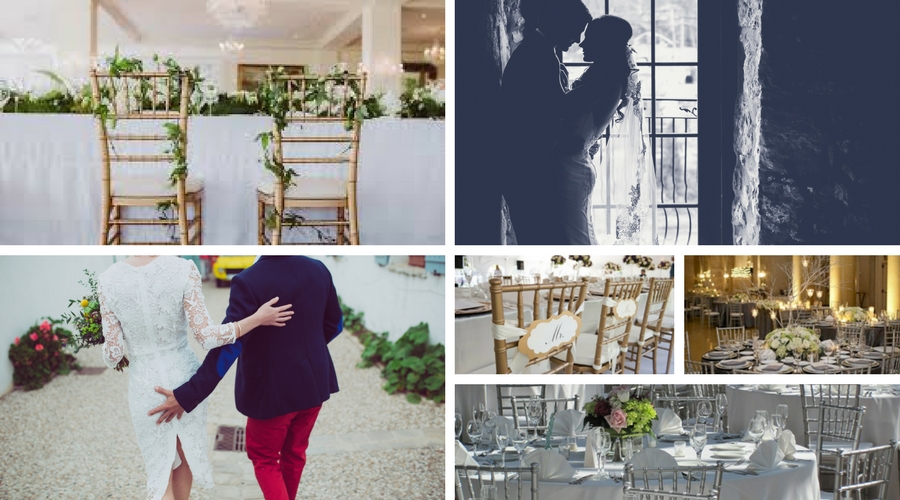 Bistro chairs in aluminium are the ideal choice for indoor or outdoor receptions. The chic design is inspired by chairs at sidewalk cafes in Paris. The style is attractive, and the chairs are easy to transport.
Banquet Chairs are available in gold, steel frames with padded seats and backs. We have provided this style of chair for events attended by HRM Queen Elizabeth and the Duchess of Cambridge at Buckingham Palace.
The Location of the Wedding
The location you choose for your ceremony and reception will determine the style and décor of the chairs. The wedding may include a traditional ceremony held in a church with the reception in a nearby hotel. The couple may want to host their celebration in a location that holds a special significance for them, or they may choose to have a destination wedding.
Traditional or Trendy
When the wedding is formal, the traditional white coverings with flowers may be your choice. If your celebration is a destination wedding or an outdoor ceremony and reception, your decor may be more whimsical and fun.
Innovative Chair Decorations For the Ceremony
Share your memories with your guests and display photos of you and your groom on the side of the chairs facing the aisle.
Decorate the last row with greenery or garlands over the chair backs.
An idea for aisle seats is crystal vases with white roses and baby's breath and coordinating ribbons.
Whimsical Pinwheels are a fun choice for a casual, backyard wedding.
Fill cornucopias with colourful flowers and hang them by ribbons on each aisle seat
Reception Chairs With a Wow Factor
Covers with gold enhancements add elegance to an evening reception.
Autumn weddings have a rustic atmosphere with apple garlands.
A Hawaiian lei draped over each chair with coordinating floral arrangements on the tables is ideal for a beach wedding.
Draped chair covers and tall vases on the tables filled with seasonal blooms offers a warm, inviting atmosphere to an autumn wedding.
Place metallic sunbursts in gold or silver at the centre on each chair.
Create a floral ball with colourful ribbons. Mistletoe balls or greenery with tiny ornaments give a festive look to a Christmas wedding.
An eyelet banner embroidered with flowers and trimmed with white, satin ribbons are charming for vintage style weddings.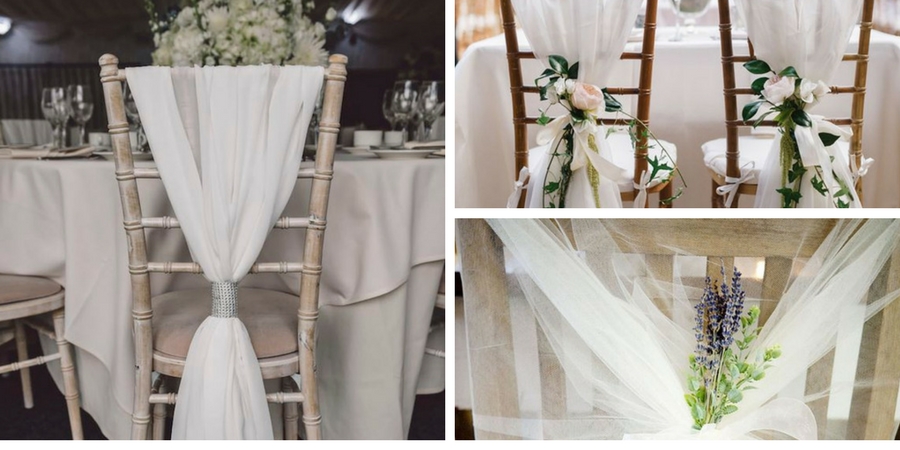 New Treatments For Traditional Fabric Covers
White fabric is traditional for chair coverings for wedding receptions, but today's brides want a look that reflects their taste and personality.
Brightly coloured bunting gives a touch of colour to a white chair covering. Choose bunting in the colours of your wedding or according to your theme.
If your chairs have rungs, the fabric can be weaved in and out to create an unusual design. For the bride who wants the glamorous Hollywood look, use chiffon or satiny fabrics and decorate with Swarovski Crystals or pearls.
A sheer, ruffled train in a seasonal colour is romantic, especially for a summer wedding. Choose a neutral or light pastel. Czech crystals in coordinating colours can be added to the fabric for a lovely glowing effect. Brides who want a modern, structured look can use a satin sash draped diagonally across the chairs.
Create Stunning Effects With Ribbon
A lovely visual effect can be created using the ombre style. Decorate your chairs using different hues of the same colour ribbon. Use the darkest colour first. Ribbons are tied at the top of the chairs from the side. Continue down the sides of the seats. Wrap the ribbons, so they meet at the centre of the chair in the back. Let the long ends of the ribbons cascade down the back.
Add Bling For Elegance
Delicate fabrics like lace, organza, and chiffon are a lovely alternative to white linen covers. Organza table covers with coordinating, lace trimmed chair covers enhance any venue. Add pastel bows to the chairs and candlelight for a romantic effect. Satin sashes in bright colours with a touch of bling create a trendy look for traditional chairs. Satin ribbons in your wedding colours or calico prints for summer weddings can be attached to the back of the chair at the centre with a puffy fabric flower.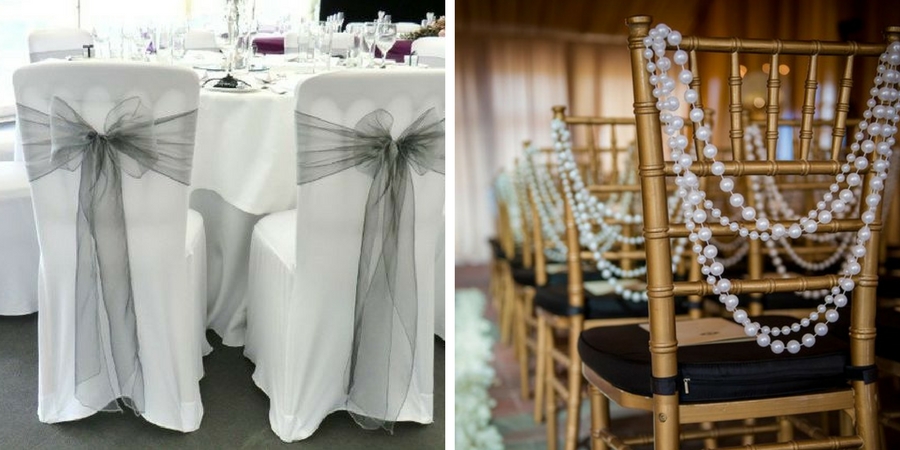 Decorating With Organza and Satin
Chairs with coloured seat pads can be decorated in matching or coordinating ribbons or fabrics. Organza bows in vibrant colours or pale pastels with coordinating table runners in satin make a beautiful statement.
Stunning Floral Decor
Flowers are an important feature of any wedding. Some brides prefer traditional white floral arrangements, but more are leaning toward bright, vibrant colours and modern arrangements. Pink and white roses against dark greenery are lovely for an outdoor wedding. Alternately, a rose nosegay trimmed in delicate lace with long, streaming ribbons can be inserted into the top of a natural, green wreath.
A single rose in white, or a pastel shade is a timeless decoration for wedding chairs. Roses can be attached to the pews on the aisle at the church or to chairs at an outdoor ceremony. Attach tulle ribbon in complimentary shades and attach tiny silk butterflies to the ribbon.
If you're undecided as to what flower to choose to for chair decor, different combinations of flowers in the same shade look stunning. For example, tiny peach carnations and peach roses look gorgeous for summer weddings.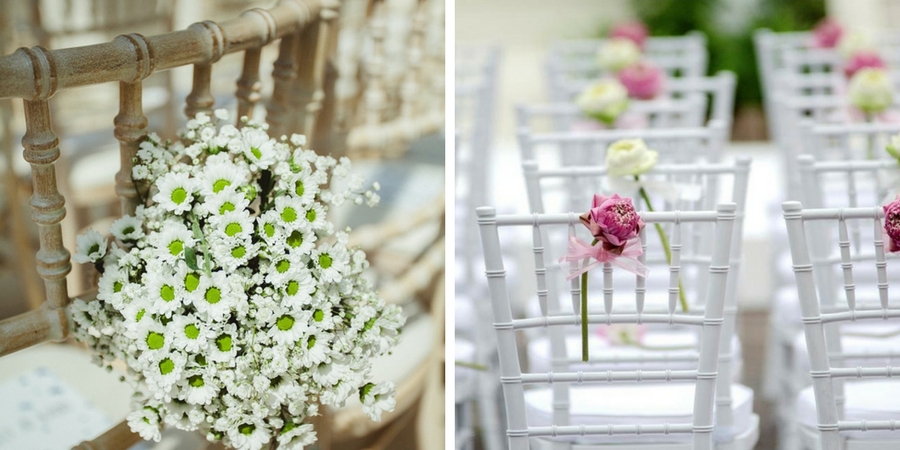 Decor For the Bride and Groom Chairs
You can go for a simple or an elaborate look with the bride and groom chairs. A natural, rattan wreath can be decorated with azaleas or rhododendrons and foliage. Bride and groom signs in an elaborate script can hang from the centre of the wreath. A spray of Cymbidium Orchids and pink and white roses can be draped over the backs of the chairs. Simple, rustic wood signs can have Mr. and Mrs. etched into them. A small bouquet of seasonal flowers can be attached to one side of the sign at the top.
BE Events Hire have provided a diverse selection of hire furniture to events attended by heads of state including HRH Queen Elizabeth. We've supplied chairs to events at Sandringham and prime ministers and provided hire chairs for events that have been held at The Hague and in Moscow. Check out our chair hire guide, or contact us direct to discuss your requirements.
Related Articles