In the early days of the event hire side of our business one of our first big jobs was hiring tables to the Birmingham NIA (National Indoor Arena) for the largest vote counting venue in the country.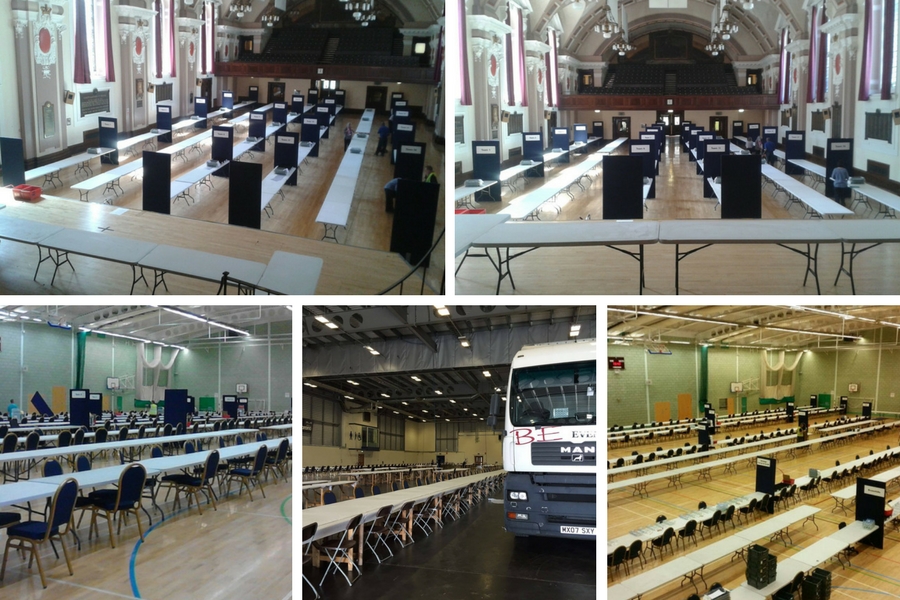 Election Tables & Chairs Hire
Either our varnished six foot top tables with metal legs or our six foot plastic blowmold tables are the most popular tables for vote counting.
Our six foot trestle tables are cheaper to rent but the tongue and groove wooden top can have very slight ridges which can impede the rapid sliding of the voting slips across the table so may be suitable for polling stations but not as ideal for the counting stations as the smoother topped tables.  So the choice of hire tables is important even for the general election results.
Another thing to consider is the people who will be doing the count as they will be sitting there for a long time.
Our Samsonite style chairs are the cheapest option at just £1.00 each = VAT and are surprisingly comfy, however for not much more cost we can supply polypropylene stacking chairs or for real luxury our banquet chairs are probably the comfiest option.
Many centres also like to use our exhibition panels or  office partition screens  to help block out some of the general noise and make the rooms more organised into areas
Upcoming Elections
Police and Crime Commissioners elections will be taking place in May and BE Event Hire will be all go with furniture being delivered all over the Midlands to polling stations and then to central counting stations from which results will be announced.
We have 1000's of our varnished wooden tables and plastic tables being delivered to Leisure Center's and counting stations in Leicestershire, Nottinghamshire, Cambridgeshie, Derbyshire, Lincolnshire and the West Midlands ready for use in a few days time.
BE Event Hire delivering  hire furniture across the country for the elections.
Related Articles