Within 15 minutes of UK Prime Minister Theresa May announcing plans to call a snap general election on 8 June, the first councils are already emailing in their table and chair orders.
Best Tables for Vote Counting?
Most councils prefer a smooth surface table that allows for easier ballot paper skimming as their preferred choice of election tables.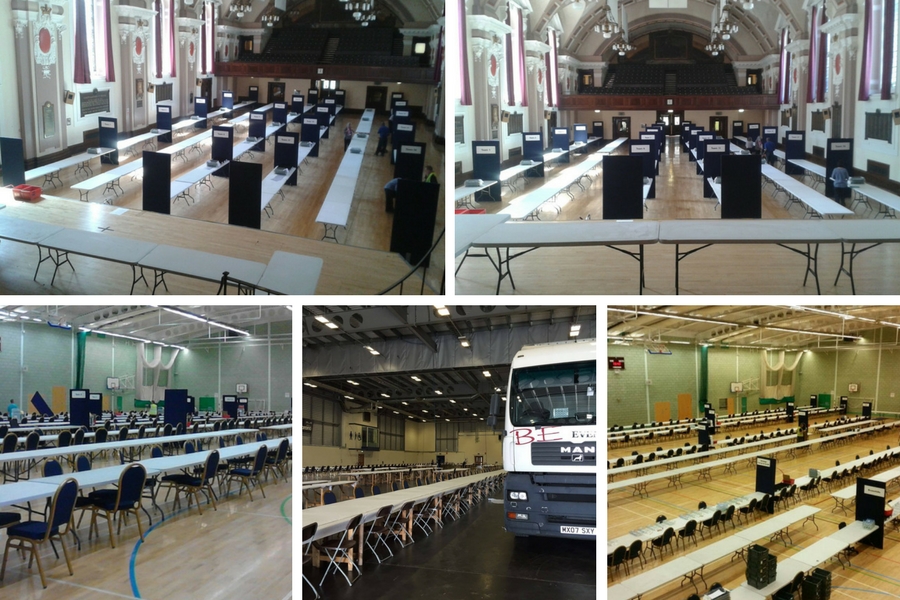 Tongue and groove wooden top tables can have very slight ridges which can impede the rapid sliding of the voting slips across the table so may be suitable for polling stations but not as ideal for the counting stations as the smoother topped tables.
Election Tables & Chairs Hire
Either our varnished six foot top tables with metal legs or our six foot plastic blowmold tables are the most popular tables for vote counting.
Our Samsonite style chairs are the cheapest option at just £1.00 each = VAT and are surprisingly comfy, however for not much more cost we can supply polypropylene stacking chairs or for real luxury our banquet chairs are probably the comfiest option.
Many centres also like to use our exhibition panels or  office partition screens  to help block out some of the general noise and make the rooms more organised into areas.
For more information on hiring tables, check out our table hire guide, or contact our hire team direct.
Related Articles