The global corporate event industry is rebounding from COVID-19 in full force. In the face of new challenges paved with fresh opportunities, the events industry is gearing up for an exciting 2023.
Despite a worldwide pandemic that completely shut down our industry, rising inflation costs across the supply chain, and several other obstacles standing in the way, a sense of excitement and anticipation is whirling in the air surrounding the events industry in the year ahead.
From technology and data collection to sustainability and experience-first events, significant shifts in the industry are expected this year and in years to come. Based on in-depth research and conversations with industry executives and insiders, we've identified several corporate event trends set to emerge and continue in 2023.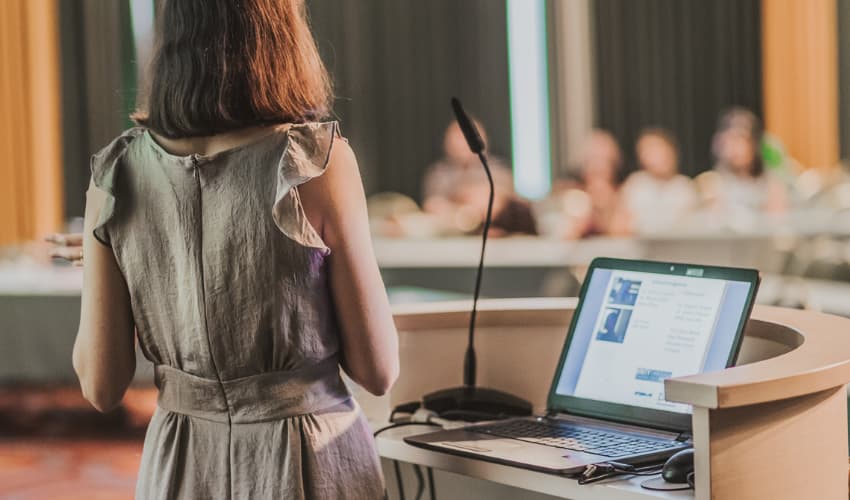 Re-Emergence of In-Person Events
The most apparent corporate event trend of 2023 will be the re-emergence of in-person events. Rebounding from over a year of lockdowns, quarantines, and other pandemic-era social distancing measures, in-person events did increase in 2022. However, they look to increase even further in 2023 as 71 per cent of exhibitors and event organisers report preferring in-person events to virtual ones.
Whilst virtual events did play a critical role in helping to avoid a complete contraction of the corporate events industry and will still take place in 2023, Meeting & Group Business magazine believes in-person events are set to boom this year. It has stated 2023 will be the "strongest year ever" for the in-person events market. This sentiment is echoed in the 2023 AMEX Global Event Trends Forecast, which reports "booming optimism and focuses on in-person meetings and events."
According to several sources and our own experiences, the desire to come together in person is higher than ever before. Even amidst the growth of hybrid events, the demand for in-person events seems to be at an all-time high, and it will only continue to grow as long as the need for shared in-person experiences exists.
Continued Growth of Hybrid Events
Virtual events took off like gangbusters in 2020, witnessing a 100x increase over the previous year. However, while virtual events are likely here to stay, people are also craving in-person elements.
This is where hybrid events have come into play. Combining the best of both worlds, hybrid events will continue growing in popularity and become a significant industry trend in 2023. In fact, according to research from Bizzabo, EventMB, and several other event industry companies, an overwhelming majority of industry professionals consider hybrid events the wave of the future and expect to see more of them going forward.
Why have hybrid events become so popular? The answer is obvious: hybrid events combine the safety, reach, and flexibility of virtual events with the engagement and connection of in-person events. When done correctly, the result is an immersive, seamless experience that leaves attendees awed, inspired, and, most importantly, satisfied.
Increased Investment in Event Technology
Thanks to the pandemic and the abrupt need for virtual events and technology, years' worth of change was condensed into months, resulting in a technology gap with event tech lagging far behind industry demands. Fortunately, it is catching up.
While many businesses struggled or folded completely during the pandemic, the event technology sector thrived. Billions in funding led to several notable event and technology start-ups with huge valuations.
For instance, the event networking app, Gripp, raised $13 billion during a single month in 2021. This is just one of several event start-ups fetching millions in funding and billion-dollar valuations from 2020 to the present day, and the trend will continue heating up in 2023.
In addition to a slew of new virtual and hybrid solutions, event tech companies will continue making their current products easier to use. Some are even introducing voice technology and artificial intelligence (AI) to make real-time enhancements and elevate the event experience.
Investors will continue pouring millions into event technology solutions from no-code solutions and mobile event apps to virtual reality and advanced event registration tools throughout 2023.
Enhanced Emphasis on Data Collection
A significant driving force behind "Big Data" and data collection is the ongoing struggle for online engagement. After living virtually for a couple of years, hours upon hours of virtual communication have led to mental exhaustion and "zoom fatigue."
According to current research, only 42 per cent of attendees watch an entire virtual session. This won't do, and the industry knows it. Real-time data collection will play a crucial role in bridging the gap and bringing events from where they are to where they should be.
Events are one of the last remaining sources for collecting first-party data. In fact, according to an Accenture poll, 83 per cent of attendees are willing to share personal data to help create a more personalised and enjoyable experience.
Data collection will play a key role in helping companies stay a step or two ahead of customer wants and needs. By collecting data to understand attendees better, event organisers gain valuable insights into their target audience and what they want.
Tracking clicks, which users interact with, how long they remain in presentations, and more is a must for anyone organising a corporate or another event. There are now several different mobile apps, and event platforms companies are using to measure huge amounts of data, including:
Attendance rate
Engagement rate
Number of registrations
Returning participants
Session popularity and more!
To take full advantage of this and other event data, you need set clear objectives and goals for your event and measure your success against them. Just make sure to disclose what data you are collecting to limit liability and remain compliant with data collection laws and regulations.
Creating Sustainable, Eco-Conscious Events
With the climate crisis in full swing and its effects on display, sustainability and lowering our collective carbon footprint will surely be at the top of everyone's agenda this year. As COP26 Technical Director Mark Banister, recently shared at an EventLab talk, there is plenty of support for making events and the industry more sustainable.
Venues, organisers, and suppliers are all reviewing the current processes from the ground up to make them more environmentally friendly. That's right; "sustainability" and "eco-friendly" are no longer just keywords, buzzwords, or nice-to-haves. The entire industry is taking giant steps towards making events more sustainable and eco-conscious, and this will continue throughout 2023.
Despite its focus on sustainability, the events industry isn't transitioning as quickly as it would like. According to the latest annual ICE report, 59 per cent of respondents see sustainability as a significant challenge for event organisers and businesses going into 2023. Organizing sustainable, earth-friendly events is no easy feat.
That shouldn't stop you, though, and it certainly isn't stopping everyone else. Here are some actions you can take to make your events more sustainable and eco-conscious in 2023:
Use recycled materials
Prioritise alternative energy sources
Encourage sustainable transport
Employ locals
Use locally sourced food items
Another way to minimise your carbon footprint this year is to join the many others who continue to organise virtual and hybrid events. Whatever you do, making your events more sustainable will show attendees you care about the health and wellness of both them and the world. Of course, sustainability is also a unique selling point to help your events stand out from the rest.
A Year of Transformational Experiences
In addition to the return of in-person events and everything else discussed above, 2023 will also be a year filled with transformational experiences. Content, which ruled the roost for several years, is no longer king. Instead, companies are focused on delivering larger-than-life event experiences.
This is known as experiential marketing, and it will play a significant role in the event industry in 2023. Keep this in mind as you plan this year's corporate events. Using events to sell or communicate information about your product or business is no longer enough. This is the year to give attendees what they want after months of living virtually: personalised experiences they will enjoy and remember for years to come.
When people recall your event, you want them to remember the sights, sounds, and moments of the day. You want them to place a larger-than-life event that changed their life or how they see things in at least some way.
From hiring actors to offering immersive activities, there are plenty of ways to provide these experiences, and the continued development of event tech is making it easier than ever. Regardless, know that experience-first events will become the norm in 2023. People expect more in these post-COVID years, and meeting or exceeding their expectations is a must.
Which Corporate Event Trends Will You Implement in 2023?
The corporate event landscape is evolving more dramatically and quickly than ever before. As the gap between virtual and physical experiences continues to dissipate, the future is bright for the events industry.
75 percent of event professionals are highly optimistic regarding 2023 and the future of the events industry as a whole. Now is the time to capitalise on this excitement by riding the trends to success this year and the next.
Related Articles