As the leaves turn golden and the crisp air sets in, an undeniable magic engulfs the landscape. It's no wonder that autumn weddings have gained immense popularity as couples look to capture the enchantment of the season on their special day.
Autumn in the UK offers a mosaic of colours – a tapestry of reds, oranges, and yellows- creating the perfect backdrop for romantic unions. But more than just the allure of nature's paintbrush, there's a certain charm to the cosy evenings and cooler days. It evokes feelings of warmth, intimacy, and nostalgia, making it a time for love stories to be celebrated and cherished.
And when it comes to setting the scene for an autumn wedding, think rustic elegance intertwined with romantic nuances. Imagine barn venues adorned with twinkling fairy lights, tablescape designs with pinecones and pumpkins, and pathways lined with lanterns leading the way. The blend of rustic elements with the season's romance ensures that every autumn wedding is a heartwarming spectacle of love and celebration.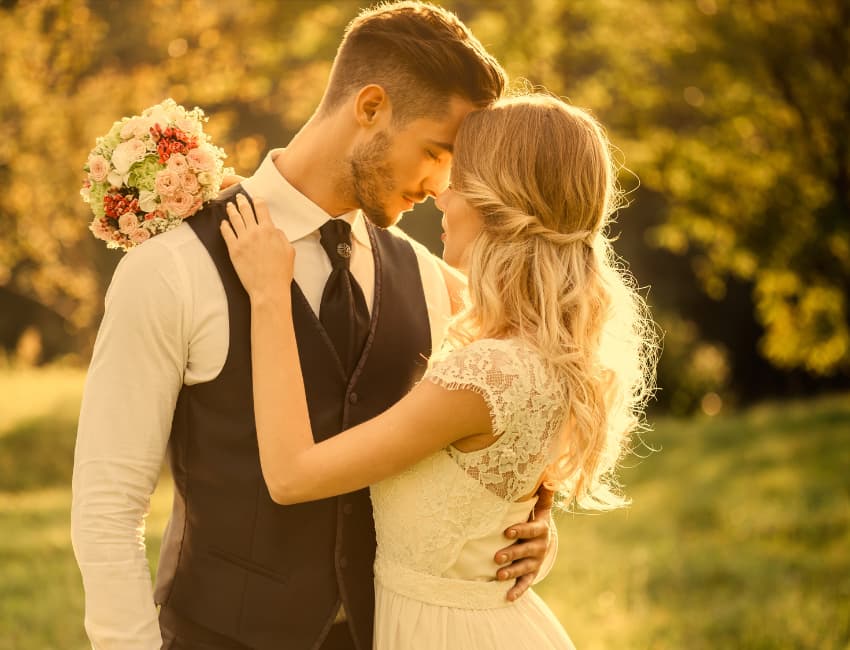 Colour Palettes for Autumn Weddings
One of the defining elements of any wedding is its colour palette. The chosen shades set the mood and ambience of the event and play a crucial role in weaving the wedding theme seamlessly. Given the season's intrinsic vibrancy and richness, the colour palette becomes even more pivotal for autumn weddings.
Autumnal Hues:
Autumn naturally graces us with deep, warm, and inviting colours. From the fiery burnt oranges that mirror the setting sun to the deep reds reminiscent of ripe apples and fallen leaves to the golden yellows that echo the harvest season, these shades have depth and warmth. These hues reflect the essence of autumn and carry with them the emotions and sentiments of the season—celebration, gratitude, and love.
These colours are incorporated into wedding décor, attire, and floral arrangements, creating a festive and intimate atmosphere. Imagine walking down an aisle strewn with golden leaves or having centrepieces with deep red berries and burnt orange chrysanthemums. The visual impact of such a palette is both striking and soul-stirring.
Balancing Rustic Charm with Romantic Tones
While the rustic charm of autumn is undeniable, it's essential to strike a balance to ensure the romantic essence of the wedding isn't overshadowed. Here's how you can do it:
Subtle Blends: Consider integrating softer shades like blush, sage, or taupe with the dominant autumnal colours. This blend can provide a delicate contrast, adding a touch of romance amidst the rustic.
Metallic Accents: Bronze, gold, or copper accents can be used in table settings, décor pieces, or even invitations. These metallic tones complement the autumnal palette and add a layer of elegance and sophistication.
Textures Play: Incorporate textures like lace, velvet, or chiffon in your décor and attire. While they bring in the rustic feel, their inherent softness and flowiness add a romantic flair.
Natural Elements: Think beyond just colours. Use elements like pinecones, dried flowers, and wood slices. While they scream rustic, they can evoke a deeply romantic ambience when paired with soft candlelight or draped fabrics.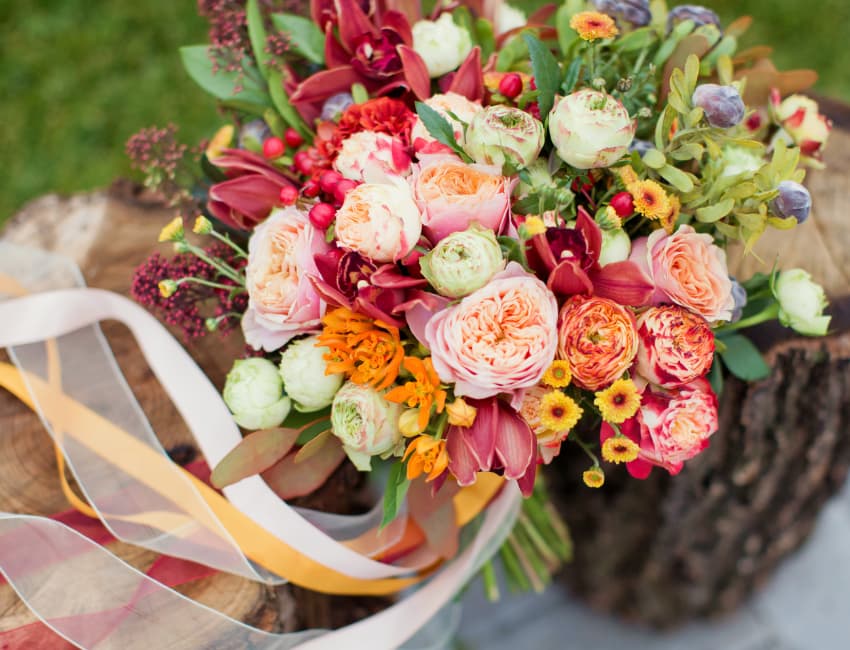 Decorating with Nature's Best
Autumn weddings allow couples to embrace the natural splendour of the season, creating an enchanting environment that captures the heart and soul of fall. The trick is to harness the raw beauty of nature, combining it with personal touches to create a setting that's both authentic and memorable.
Autumn Leaves: These are the season's jewels, offering a rich palette of reds, oranges, and yellows. Scatter them along the aisle for a picturesque entrance, or use them as table scatter for an added touch of autumn magic. They also make beautiful backdrops when hung from string lights.
Pine Cones: A symbol of the changing seasons, pine cones can be utilised in various ways. Consider them as place card holders, or dangle them with ribbons as part of your venue decor. You can also spray-paint them in gold or silver for a hint of festive sparkle.
Seasonal Flowers: Like dahlias, chrysanthemums fully bloom during autumn. Integrate these into your bouquets, boutonnieres, and table arrangements. Their rich colours and varied textures naturally evoke the warmth of the season.
Creative Centrepiece Ideas
Pumpkin Vases: Hollow out medium-sized pumpkins and use them as vases for your floral arrangements. This unique twist captures the essence of fall and serves as a delightful conversation starter.
Gourd Assortments: Various gourds, unique shapes and muted tones, can be assembled on a wooden tray or rustic cloth, surrounded by candles or lanterns, making for a charming centrepiece.
Pumpkin Candle Holders: Carve out small sections from mini pumpkins to hold tea lights. They cast a soft, golden glow when lit, encapsulating the romantic spirit of autumn evenings.
Candlelight Ideas
As the days grow shorter and the nights draw in, autumn offers the perfect opportunity to play with lighting.
Lantern Walkways: Illuminate the path to your venue with lanterns. The flickering flames and the crisp autumn air create a magical entrance for your guests.
Candle Cluster Centrepieces: Group different-sized candles in the centre of your tables. When lit, they'll provide varying levels of light and shadow, enhancing the intimate feel of your reception.
Autumn Fashion
When it comes to autumn weddings, fashion takes a delightful turn. The soft, breezy styles of summer transition into warmer, more layered looks that reflect the rich tones and textures of the season. Let's delve into the captivating world of autumn wedding fashion.
Bride:
Autumn beckons for materials like velvet, satin, and heavier lace, ensuring brides stay warm and comfortable. Consider gowns with long sleeves or high necklines for a timeless, seasonally apt look.
This is the season to play with dramatic, cathedral-length veils or even ones adorned with autumnal motifs like leaves or subtle golden embroidery. Consider floral crowns made of dried flowers and twigs for a rustic touch.
Embrace the season with gold and copper-toned jewellery, which beautifully complement the autumn palette. Don't avoid bold statement pieces, especially if your dress is more simplistic.
Groom:
Think deep navies, rich greens, and classic greys. Tweed and wool suits can also make a statement, nodding to the traditional while being entirely seasonally appropriate.
Opt for ties in burnt orange, burgundy, deep gold, or patterns incorporating autumn leaves. They add a touch of colour and celebration to the ensemble.
Leather shoes in deep browns or blacks and matching belts complete the look. Don't forget the boutonniere – consider using dried flowers or small twigs for that rustic charm.
Bridesmaids:
Move away from the light pastels of summer and embrace the deeper, moodier tones of autumn. Think burgundy, forest green, mustard yellow, and deep plum. These colours resonate with the season and look flattering on various skin tones.
Longer dresses with sleeves, whether full, three-quarter, or cap, can be stylish and seasonally appropriate. Materials like chiffon can still be used, but layering with pashmina shawls or boleros for added warmth.
Chunky, earth-toned jewellery, closed-toe heels, elegant ankle boots, and even velvet clutches can complete the bridesmaid look.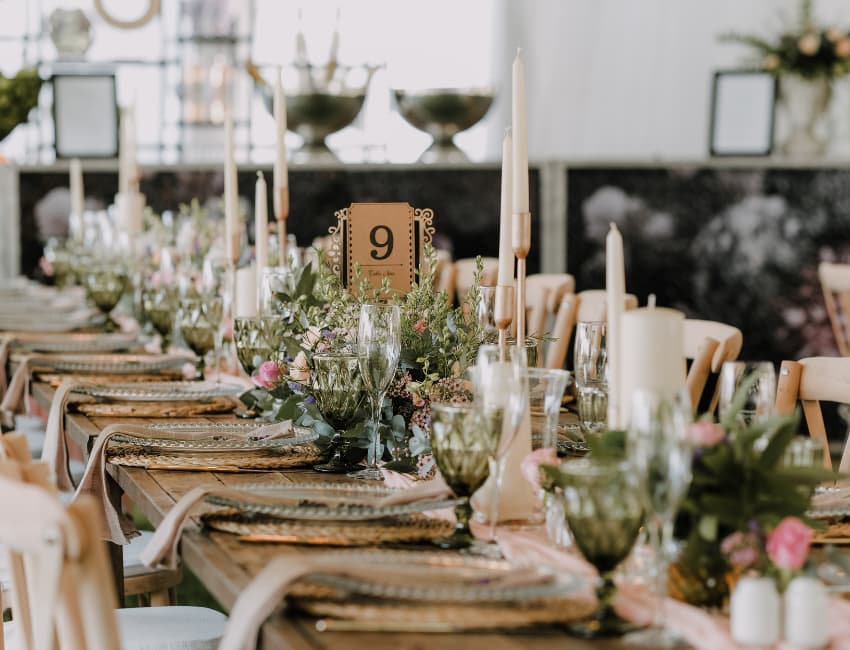 Furniture Hire Ideas
Autumn weddings invoke a sense of rustic charm, inviting the cosy warmth of the season into every detail. One significant aspect where you can genuinely integrate this feel is in your choice of wedding furniture. Here's how to effortlessly infuse function with aesthetics, ensuring your venue feels inviting and on-theme.
Tables:
Rustic Trestle Table: This elongated table provides ample space for your guests and is the ideal canvas for your autumnal table décor. Its simple, rustic design evokes images of traditional countryside gatherings, making it perfect for a fall wedding.
Distressed Table: Vintage is always in vogue, and this table adds a touch of antiqued charm with its deliberately aged finish. Pair with vintage cutlery and crockery for an added touch of yesteryear.
Seating Options:
Rustic Wooden Bench: Benches encourage guests to come together, creating a casual yet intimate atmosphere. Drape with throws or cushions in autumnal colours to enhance comfort and style.
Light Oak Wooden Crossback Chair: This classic chair, with its elegant crossback design, seamlessly fits into any rustic setting. The light oak finish feels warm and welcoming.
Limewash Crossback Chairs: Taking the crossback design a notch higher, the limewash finish on these chairs introduces a subtle elegance. They're versatile enough to complement both rustic and more refined table settings.
Limewash Chiavari Chairs: A favourite in the wedding world, these chairs offer timeless beauty. Their design and finish add a touch of sophistication to your rustic theme.
Table Accents:
Hessian Table Runners: Nothing screams rustic like hessian. These table runners provide texture, a natural touch, and a beautiful contrast against wooden tables.
Rustic Wood Barrel: Whether you're looking to create a unique drinks station, a corner for floral arrangements, or just an attractive focal point, these barrels serve as a versatile decorative piece.
Rustic Wood Slices: These are the epitome of multipurpose. Use them as bases for your centrepieces, and cake stands for a truly rustic feel.
Rustic Wood Barrel 6″ Bar Table: Elevate your drinks corner with this bar table. It effortlessly fuses function and form, allowing guests to mingle while sipping their autumn-inspired beverages.
Food & Beverage Ideas for an Autumnal Feast
When you think of autumn, images of golden-hued forests, crisp air, and the rich bounty of the harvest season come to mind. This season is a culinary delight, offering many ingredients that inspire warmth, comfort, and celebration. If you're planning an autumn wedding, here's how to treat your guests to a memorable and seasonally-inspired feast.
Harvest-Inspired Menus:
Starters: Begin with hearty soups made from butternut squash or roasted pumpkin. Add in a touch of cream and herbs for that luxurious feel. Another great option is a beetroot and goat cheese salad sprinkled with walnuts.
Mains: Think comfort food with an elegant twist. Pot roast, lamb shanks, or even a roasted turkey could be the centrepiece of your main course. Accompany these with sides of roasted root vegetables drizzled in herbed butter, creamy mashed potatoes, and maybe a rich stuffing made with autumn fruits like cranberries or apples.
Desserts: Apple and blackberry crumble served with vanilla custard, or ice cream is always a winner. Alternatively, consider pumpkin pie, pecan tarts, or spiced carrot cake.
Drink Inspirations:
Warm Ciders: There's something incredibly comforting about a mug of warm cider on a chilly evening. Add a cinnamon stick or star anise for that extra kick of autumn flavour. For an alcoholic twist, consider adding a splash of dark rum.
Spiced Cocktails: Think of drinks infused with cinnamon, cloves, nutmeg, and even a hint of ginger. A spiced whiskey sour or a cinnamon-infused Old Fashioned can be the perfect cocktail for the season.
Pumpkin-Themed Drinks: Whether you opt for a pumpkin-spiced latte for those non-drinkers or a pumpkin pie martini for those looking for a little kick, there's no denying that pumpkin is the flavour of the season. Embrace it wholeheartedly!
Non-Alcoholic Options: Apart from the pumpkin-spiced latte, consider warm apple juice infused with cinnamon and cloves or a rich hot chocolate topped with whipped cream and a sprinkle of cocoa.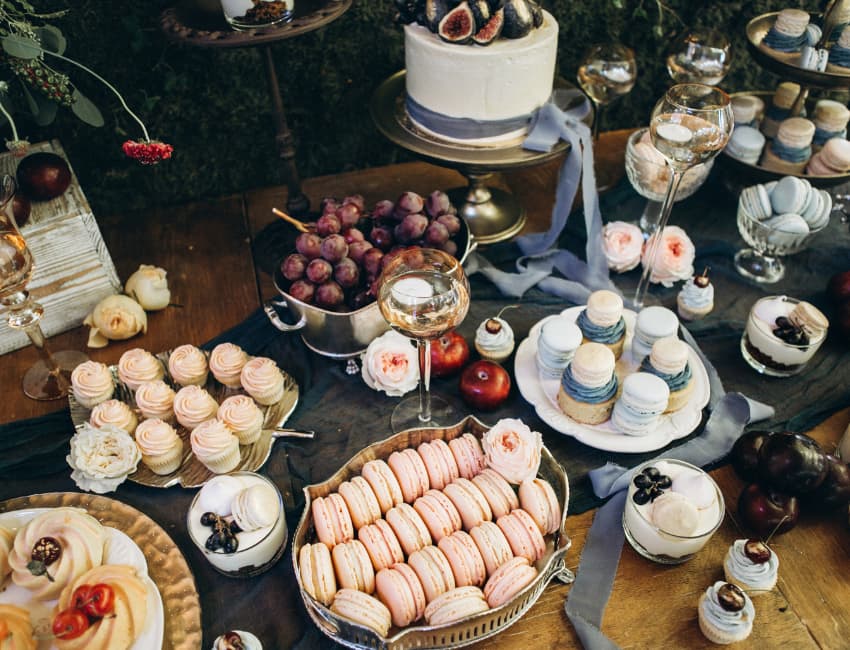 Entertainment Ideas
An autumn wedding evokes a sense of nostalgia, warmth, and rustic charm. In line with this, your entertainment should perfectly encapsulate the season's spirit, ensuring guests are engaged and transported to a world reminiscent of heartwarming fall memories. Here are some entertainment options to consider for your autumn-themed celebration.
Music:
Folk or Country: A folk band's organic and soulful sound perfectly complements the rustic vibe of an autumn wedding. Whether it's traditional tunes or modern songs with a folk twist, the musical strings and harmonious vocals will add a touch of warmth and authenticity to your special day.
Acoustic Artists: Consider hiring a solo acoustic artist or a duo to serenade your guests during the cocktail hour or dinner. The intimate sound of an acoustic guitar or a soft piano combined with soulful vocals can create a cosy, laid-back ambience, perfect for a crisp autumn evening.
Autumnal Nostalgia:
Apple Bobbing: A classic autumn game, apple bobbing can be a delightful and entertaining activity for guests of all ages. Set up a large tub filled with water and float some apples. Guests can try to catch the apples using only their teeth. It's fun, playful, and ideally in line with the theme.
Firepits: As the evening chill sets in, light up a bonfire where guests can gather around, share stories, and enjoy the warmth. Provide blankets or shawls for added comfort. To elevate the experience, set up a marshmallow station, allowing guests to roast marshmallows and create their delicious treats.
Hayrides: If your venue has the space and the means, consider organising hayrides for guests. A tractor-pulled wagon filled with hay bales can give rides around the property, providing a nostalgic touch and allowing guests to enjoy the beauty of the surrounding autumn landscape.
Pumpkin Carving or Decorating Station: Set up a corner where guests, especially kids, can carve or decorate small pumpkins. Provide carving tools, paints, brushes, and other decorative elements. It's engaging and allows guests to take home their pumpkins ready for Halloween.
Autumn weddings are undeniably memorable with their charm, deep colours, and crisp air. They encapsulate a unique blend of warmth, intimacy, and nostalgia, offering couples a canvas rich in natural beauty and emotional depth. The season whispers tales of love and togetherness from when leaves start their graceful descent, turning the landscape into a tapestry of reds, golds, and browns.
Yet, as magical as the backdrop is, the true beauty of an autumn wedding lies in the personal touches each couple brings to their celebration. The season, in all its splendour, simply sets the stage. It's the laughter, the tears, the stories, and the shared moments that breathe life into the setting.
Personalise, cherish, and, most importantly, enjoy every step of planning and celebrating your autumn wedding. After all, love is fleeting and timeless, much like the season. Make the most of it.
Related Articles