Most brides dream of their weddings long before the big day arrives. But no matter how long they have been planning it, they still want it to feel fresh and in style. So, in addition to using the wedding dream board that she's been building for years, the modern bride will want to know the hot wedding trends for 2019.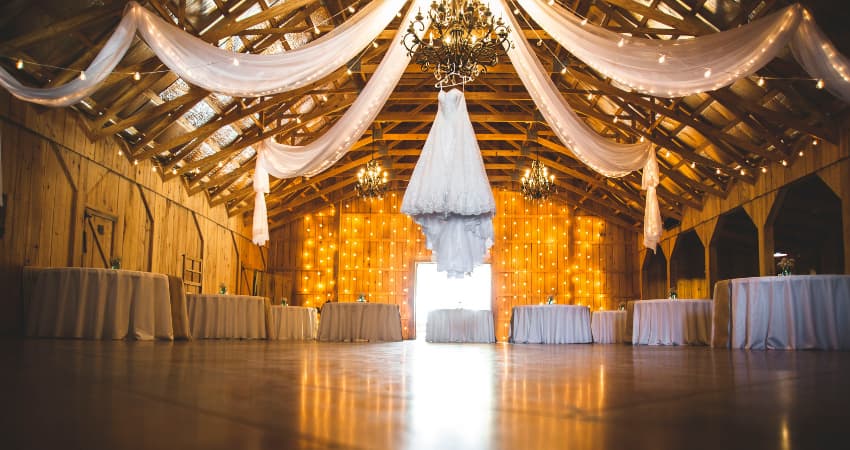 Wedding Trends to Keep an Eye On
Rustic Event Locations
Location, location, location! One of the biggest decisions in preparing for a wedding is where to have it. Some couples opt for destinations abroad, while others choose locations close to home with special meaning. For 2019, rustic locations are all the rage. The cabin / barn feel of rustic hotels are popular with today's couples. Some choose industrial spaces and add flair and style by bringing in rustic wedding furniture, outdoorsy flourishes. Even outdoor event locations can be given a rustic edge by adding a campfire, rustic chairs or picnic tables.
Ball Gowns are Back
No bride has dreamed about her wedding without imagining her perfect dress. This year, big gowns are back in. But rather than heavy, old-style dresses, ball gowns with poofy skirts, but a light airy, ethereal feel win the day. Additionally, statement bows are a hot trend. Some dresses feature a large bow on the front, while others have their statement bow on the back, but both are totally on trend. And of course, every year, brides look to the latest celebrity wedding for inspiration. Meghan Markle's 2018 gown remains the beauty standard for dresses in 2019. Kate Middleton similarly inspired brides after her wedding 7 years ago. Dresses that mirror Markle's boatneck-style dress are finding their way into bridal shops all across the country.
Purple or Burgundy
Every year seems to have an "it" colour. This year, deep tones rule. In particular, purple and burgundy are very hot. Couples love the richness of these colours, and they don't feel as tired as pink or other pastels.
Eco-Friendly Flowers
Eco-friendly weddings have been popular for several years and are gaining steam for 2019. This year, floral arrangements are going green. Brides are opting for no foam (traditional floral arrangement often used styrofoam cores to stabilise the flowers) because of its damaging effects on the environment. Couples are also opting for local, seasonal flowers, which are not only cheaper, but they reduce pollution that comes from shipping in exotic flowers. Some couples that want to carry that rustic, woodsy feel into their floral arrangements are even choosing berries, grasses, and leaves for their bouquets. Centrepieces can be eco-friendly, too. Plants or herbs in potted planters that can be planted after the reception add a beautiful, green touch. Finally, those signature deep colours of 2019 are popular for flowers, too. Burgundy, orange, and dark red all give a warmth to the decor.
Favours
Continuing with the eco-friendly theme, many couples are choosing potted plants as favours for their guests. Alternatively, in 2019, brides and grooms love location-themed favours. Whether they are getting married in Italy, or at the beach, or in their hometown, they are searching for favour that give the festivities some local flare.
Some couples are skipping the favours entirely in favour of welcome baskets. Over the past few years, welcome baskets have become increasingly popular and often, lavish. Depending on their budget, couples may opt for a few select items, again including some location-specific tokens, or may offer overflowing baskets with luxury items, spa accessories, and items with local flavor. There is no need to be extravagant, but couples can decide how big or small to make the welcome baskets. Either way, the baskets are a lovely way to welcome guests into town for the big day.
Floral Hair
This year, hair is going natural. Though classic updos will never go out of style with brides, in 2019, half-up and half-down hairstyles are the most popular. Additionally, many brides are adding floral accents to add some whimsy and again incorporate that rustic, outdoorsy feel that is so hot right now. Some brides are even adding flowers into the hair of all of their bridesmaids as well.
Sundays
Interestingly, Sundays are becoming increasingly popular for weddings. Most venues do offer cheaper rental prices on Sundays, and since it's still part of the weekend, most guests are still able to attend. On Sundays, couples may want to begin their ceremony earlier in the day and begin the reception earlier as well to give guests the option to get a jump start on their trip home as the event wraps up in the early evening. Sundays come with an added bonus of having most guests in town the previous day, so many couples are scheduling optional activities, such as a golf outing or a luncheon, on Saturday in order to spend more time with their guests.
Natural
Right now, natural is the queen of style. This year, everything about the wedding is going for a natural, laid-back vibe. From a natural hair style for the bride to a comfortable, down-home atmosphere to home style, rustic decor, everything is made to feel very authentic to the couple. Couples are generally not choosing overly formal or stilted receptions, rather they want guests to be comfortable and they want to enjoy an unforgettable evening while being true to themselves.
Drinks
An open bar is a classic staple of weddings that will never go out of style. But couples want to add a little fun and uniqueness to their party by having a signature drink. It can be a drink that the couple discovered on a vacation or one that they both have loved forever or even a special cocktail that the venue has created just for their wedding. And a signature cocktail should have a signature name, so couples love to come up with some cute name that has significance to them. Some venues will also give the couple a discount on the sale of these drinks since it is cheaper for them to make a drink in bulk.
Hashtags
Wedding day hashtags are still in vogue. They are a great way for couples to collect wedding photos taken by other guests throughout the ceremony and reception. They are also a great way for friends and family who could not attend to catch a glimpse of the couple's big day. Many couples still spend lots of time wracking their brains to come up with the perfect hashtag.
Personal style continues to reign when it comes to weddings, but 2019 does offer some hot trends for brides and grooms to keep their eyes on. Adding some trendy flavor to a wedding can make it feel extra chic and refined.
Related Articles