The direction wedding planning is taking in 2018 is that couples are planning small, intimate weddings or all-out, elaborate celebrations. There's no middle of the road with weddings this year. Whether you're planning a quiet, family affair or a big, festive occasion, make it momentous.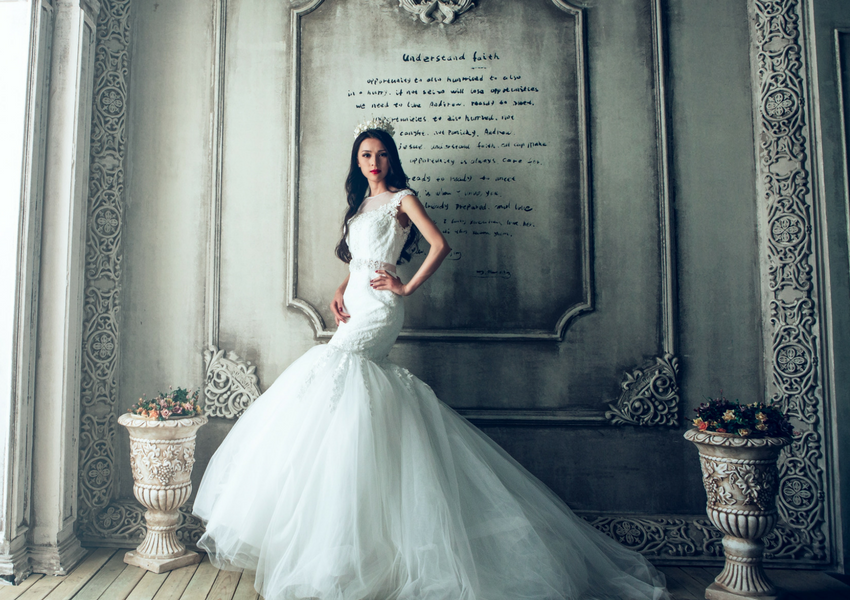 Simple Weddings
When the guest list is limited, you have the opportunity to spend more time with each of your guests. A small reception means that the tables are closer together than at a large, elaborate venue, and the atmosphere is like that of a personal dinner party.
Elaborate Ceremonies and Receptions
By contrast, some couples view their wedding as the most colossal party they'll ever host, and they want to make the most of it. The festivities may include:
Parties with out-of-town guests
Pre-wedding luncheons
Rehearsal dinner
Parties after the reception
Next day brunches
With a grand wedding, you still want to create a warm atmosphere for your guests. A palatial space can offer the illusion of cosiness so the furniture, lighting, and flowers can be arranged in a way that suggests intimacy. Tables of different sizes can mix the guests into small groups. As hosts of your celebration, you can visit with each group of people rather than having a formal receiving line.
Diverse Venues
Deciding on the perfect venue takes considerable time. When you choose the venue for your special day, it can make planning your theme easier. Here are some inspiring ideas for wedding venues.
City venues
Sports venues
Coastal locations
Historic sites
Landmarks
Countryside
Outdoor
Elegant homes
Barns
Castles
Need event venue ideas in the Midlands?
Wedding Themes
This years wedding themes seem to be in line with:
Garden
Rustic
Vintage
Woodland
Christmas
When you plan a themed wedding, you and your partner should be on the same page. If you have different ideas, find a way to make a compromise. Keep the whole wedding day in mind when you're planning a theme to make sure everything goes smoothly. Plan details like the seating first, then add the details of your theme. Choose a theme that fits your venue. One theme that's trending for 2018 is minimalist with a lot of natural light in an industrial setting like a warehouse.
A formal wedding calls for a venue like an estate or manor house. A barn venue is ideal for a rustic or country-style wedding. You may hire a marquee if the setting is a garden in the country.
Garden weddings should have one or two colours as the focal point. It's not necessary to go overboard with colour. The flowers should be in complementary colours and placed in areas where important events of the day will take place.
The rustic look works well in venues in the country when you want a casual setting. Boho or vintage-inspired attire is ideal for the rustic wedding. Vintage weddings can recall a particular era or simply have a few details incorporated into the decor. A woodland theme is a perfect opportunity to integrate candlelight, lanterns, and fairy lights. Floral headpieces are lovely for a woodland setting and flowers are a big part of the decor, so choose oversized floral bouquets.
Glitz and glitter are ideal for weddings during this year's holiday season. Decorate with holly, wreaths, and red bows for a rustic look. You can get festive and decorate with metallic and white satin ornaments, set the tables with faceted, crystal glassware and sparkling china, and have an all-white wedding cake. Roses with deep green foliage are perfect for winter weddings. Burgundy and purple are trending colours for winter, bridal bouquets.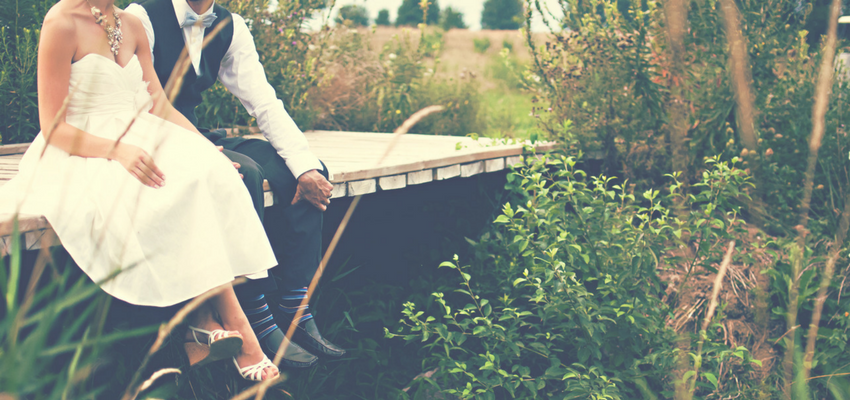 Reception Menu
The formal, three-course dinner or buffet is one option for your reception with starters, an entree, and dessert. A lot of couples are choosing alternatives to the traditional menu for their wedding. If your venue doesn't have an on-site caterer, you're free to choose any caterer to serve the food at your reception. Here are some alternatives to the traditional reception menu.
Tea, sandwiches, and cakes served on vintage china plates, served on tables covered in lacy tablecloths is a delightful choice for a small wedding. One innovative caterer has come up with a unique idea for venues that don't feature a bar. He serves guests drinks at receptions from a mobile bar. Another type of mobile catering service serves American smokehouse barbecue, a great favourite for summer weddings.
One of the most inventive trends in wedding food is serving pizza; a delectable option for casual weddings with a lot of guests. Homemade ice cream and sorbet is a delicious treat to serve with the wedding cake, especially for country weddings. For outdoor weddings, paella is a pleasant alternative to the traditional meal.
Another suggestion is English-style pies made with fresh meats and produce, along with canapes, sharing platters, drinks, and dessert. A tasty vegetarian option is a travelling deli. Interactive food stations placed around the reception venue are a fun way for guests to try a variety of foods and socialise at the same time.
Wedding Cakes
The cutting of the wedding cake is still a highlight of the festivities. Even if you're serving a dessert, a wedding cake is a must for the reception. The classic white cake is making a comeback with textured buttercream icing and floral toppers, white fondant with faux pearls and opulent swirls, or lacy, floral patterns.
Trending for this year are pearls and elaborate patterns on all-white cakes, accents in black, and fresh, seasonal flowers. Cakes that are marbled feature floral arrangements created from organic sugar. Cakes with metallic icing in gold, silver, or bronze are ideal for a contemporary wedding theme. A cake with pastel pink icing, roses, and gold metallic details are lovely for a vintage or garden wedding.
Some couples are choosing two wedding cakes in different flavours, usually one of a chocolate variety and the other in a fruit flavour. Carrot cake is a favourite for daytime weddings while salted caramel is the top choice for evening weddings. Ivory frosting with one tier of metallic rose gold is a perfect choice for a rustic-themed wedding.
Ceremony and Reception Decor
Instead of tall floral arrangements for the tables, table wreaths featuring colourful flowers and foliage are the rage for table decor. Geometric, metallic candle holders make a statement for the evening, especially with a metallic wedding cake. A festoon of balloons in the wedding colours adds a whimsical touch to the entrance of the reception venue. A wedding arch created entirely of flowers is beautiful for an outdoor wedding.
Bright colours are making a comeback for table settings, backdrops for photos, flowers, and invitations. Popular colours for this year are pinks, corals, purples, blues, and jewel tones. Bold combinations like bright red and aqua, tangerine orange and lemony yellow, and emerald green and flamingo pink are stunning. Black trim is gracing invitations, runners for tables, bouquets, and wedding attire.
Trendy Invitations and Ceremony Programs
Illustrated floral designs are still popular for invitations and programs, but a new trend is toward pressed flowers. Another new option is an invitation printed on plexiglass or felt. Customized, painted designs are still popular, along with watercolour designs, calligraphy, and foil stamps. One of the new concepts that's getting the attention of brides and wedding planners is metallic invitations. Rose gold and metallic copper are two of the hottest shades. The text is printed in the metallic colour on a black or navy background that makes it stand out.
Watercolour and gold foil are stunning on invitations for formal weddings at an estate, manor house, or posh hotel. The watercolour designs are soft and muted while the gold foil lettering gives it a touch of elegance. Marble is popular in all forms of decor and is an ideal choice for contemporary wedding invitations. A swirling design combined with gold foil is elegant and can complement the wedding colours or the venue. Marble invitations are available in a variety of shades including dusty rose, orchid, blue, and evergreen.
Wedding Flowers
Blush, pink, and muted shades have been the dominant colours for bridal bouquets for the last few years. This year, a lot of brides are choosing white bouquets with touches of color and a lot more foliage. Rather than the formal style bouquets of the past, bouquets are freestyle and flowing. Wreath styles and spheres are in vogue for the bridal party.
Brides are choosing smaller, floral tiaras instead of flower crowns that have been popular for a few years. Instead of corsages, many mothers of the bride and groom and flower girls are wearing flower bracelets, held in place by ribbon. A variation of the flower bracelet is a cuff adorned with flowers. Choker-style floral necklaces are being requested by more brides, complementing the bouquet.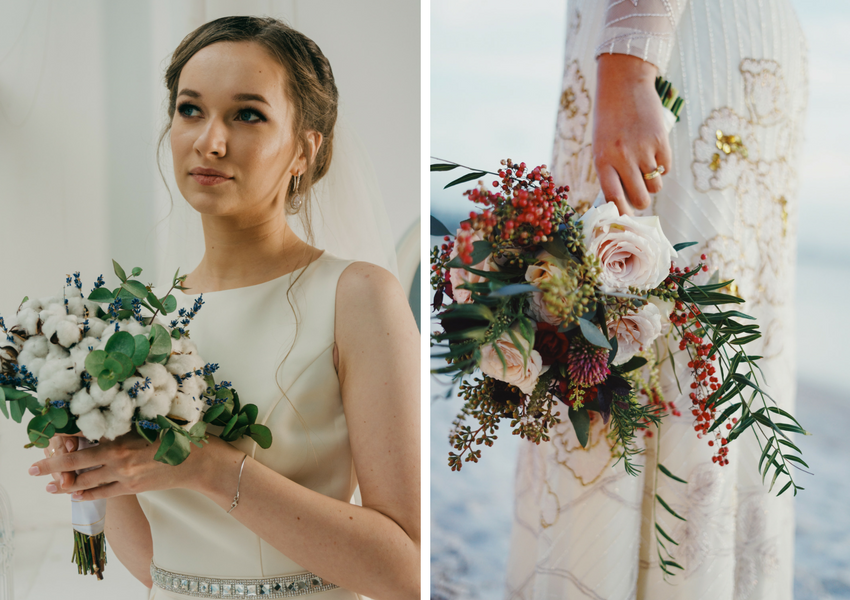 Reception Experience
Photo booths are a fun way to create instant mementos of the occasion for your family and friends. Guests can choose filters to place over their portraits to make flip books and scrapbooks. Digital music is becoming more popular at wedding receptions. You can get customised playlists for DJs to play for dancing. Strolling musicians, a local jazz band, a dance troupe for a local dance academy, or cabaret singers are exciting options for the dinner hour. Currently the "in" flower colours are magenta, blue, and burgundy.
Bridesmaids Dresses
Halter styles in chiffon or clingy fabrics are popular for bridesmaids this year. Colours range from white to deep, jewel tones. Sheath styles with a flouncy bodice are ideal for if you want elegance without a lot of adornment. Dresses embellished with lace are lovely in a sheath, or long, flowing styles.
Hair and Makeup
As far as makeup trends for this year, brides are using minimal foundation and instead are going for a dewy complexion and rosy cheeks. Skin that glows is the look for this year. A lot of red lipstick is used to complement the minimal face makeup and subtle eyeshadow.
Wedding Dresses
One of the newest trends for brides is the princess cape that replaces the long train and veil. Princess capes were the talk of Fashion Week in long, mid-length, or short styles embellished with lace or crystals. Black details on wedding gowns are the most talked about trend this year.
Beading on lace created from pearls is used to adorn rather plain dresses. Pearl enhancements will be significant this year, and brides are once again wearing pearl necklaces. Layered skirts are popular in tulle and organza. Form-fitting, mermaid styles are delightful in silk and satin with lace adornments.
Designers are taking their cue from the lovely gown worn by Kate Middleton when she married Prince William, and this year with another royal wedding this spring, are designing wedding gowns with sleeves. Poet, bell, and cap sleeves are featured, but a lot of brides favour illusion sleeves with lace adorning them. Many of the top designers are featuring lace this year.
Not all wedding gowns are white. Designers are featuring collections with light pink and blue wedding dresses. Light shades of purple and even gold are featured on many designer gowns. Another trend is coloured dresses with delicate, floral prints. A lot of brides had stopped wearing veils as they seemed to go out of style. However this year, more brides have been choosing to wear veils. The most popular styles are long, cathedral-style veils with a lot of embroidery and lace.
Wedding Trend Updates