Let's be honest. For the most part, 2020 has been a write off for the events and travel industry. Amidst the panic of the pandemic, private individuals, corporates and non-profit organisations cancelled numerous events outright, and put any in the pipeline on hold indefinitely.
While the global community waits for life to settle into a post-Covid "new normal", events companies and venues are trying to salvage the year by coming up with new and innovative ways for events to go ahead. Technology has played a large part in how events have evolved in recent months, with many companies opting for online conferences, presentations and meetings. Even book launches and awards ceremonies have been broadcast virtually. While there is still very much a demand for face-to-face functions and conferences, it's likely that fewer of these will take place, particularly in the short term.
So what can we expect from the events industry in 2021? Here are some of the emerging trends that we can look forward to.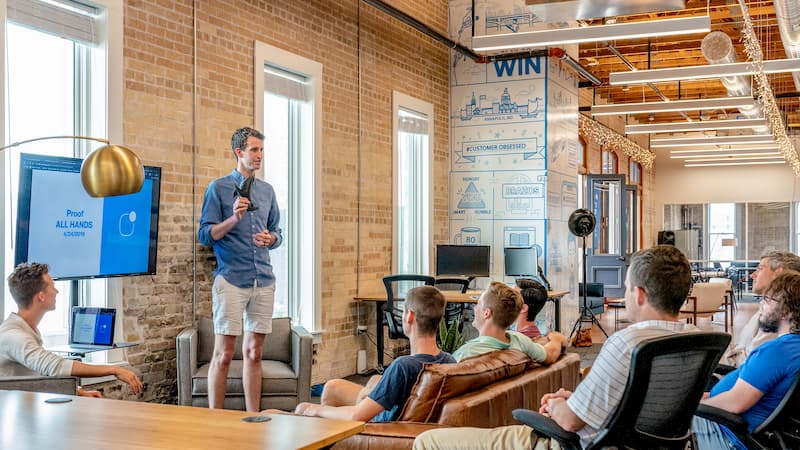 Screening and Safety Measures
We've become used to the strict protocols implemented at public facilities to minimise the risk of transmission of Covid-19, and it's clear that these will remain in place for a while. For venues to return to a landscape of face-to-face events, health screenings are likely to be enforced to ensure that delegates and organisers remain safe. All or some of the following may be incorporated into the event:
1. Health questionnaire
Upon arrival, delegates sign a register and provide their name, and contact information. Should any tracking and tracing be required in the days after the event, the organisers will have their contact details easily available. Delegates may be required to answer YES or NO to a series of basic questions relating to their current health. The questions will determine whether or not a delegate is experiencing any of the common symptoms of Covid-19.
2. Temperature Checks
Attendees will undergo temperature checks on entering the venue. Their temperature should be noted in the register, along with the delegate's contact details. Some larger venues may invest in thermal scanning which will negate the need to physically check temperatures. These systems also speed up the entry process, and make delegates feel less targeted.
3. Sanitising & Face Masks
Attendees can expect the wearing of masks to be enforced when indoors at venues. It would be advisable for delegates to provide their own masks, however some venues may keep a supply of spares should anyone forget.
Sanitising stations will be set up at entrances and others may be strategically placed throughout the venue. Delegates should be encouraged to sanitise or wash their hands regularly, and to avoid physical contact with others where possible.
Hybrid Events
While physical meetings gave way to online or virtual meetings early on in the pandemic, organisers have since found a way to merge the two in hybrid events. A hybrid event is one in which both a physical and online audience participates.  Members of the online audience can still participate through chat channels such as Twitter or online chat. These channels encourage interaction and a sharing of information between both audiences and the facilitators.
Hybrid events have proven to be highly effective in broadcasting a message to your target market. This has been hugely beneficial in terms of allowing planned conferences and presentation to continue. There are other far-reaching advantages of this type of event that will continue to benefit businesses in 2021 and beyond.
Increased reach – the nature of a hybrid event allows many people from all corners of the world to "attend" your event.
Better audience engagement – online chat facilities enable virtual attendees to engage in conversation, view their thoughts, and ask questions.
Sponsorship opportunities – Hybrid events are attractive sponsorship opportunities for corporates mainly due to the increased reach that can be obtained. It makes more sense to sponsor a hybrid event reaching 500 delegates, than a physical event reaching only.
Lower travel costs – Live streaming your event allows you to keep travel costs down as it's not necessary for large numbers to be physically present. Even when full-capacity events are able to resume, corporates will still look to reduce their costs, and there are likely to be some individuals who are still reluctant to travel.
Better return on investment – Thanks to technology, it's easier to measure data from a hybrid event. At a live event, you can do a head count or scan attendees in, but there's always room for error. At a hybrid event these metrics are automatically tracked, showing organisers and sponsors trends, attendance, participation and engagement.
Outdoor Events
Although not always possible due to weather conditions, we might well see an increase in outdoor events in 2021, particularly private events like birthday or engagement parties, baby showers and weddings. Outdoor events allow for better social distancing, while also providing natural ventilation and thereby reducing the risk of transmission of the virus.
The use of open-sided tents and similar semi-permanent or permanent structures is also a better option than hosting an event in an enclosed space. As long as there is sufficient space, and good natural air flow, the event will pose a lower risk than if held indoors.
Smaller, Exclusive Events
Companies might choose to move away from large-scale events, opting for smaller events with more personal touches.  While large events enable you to reach a wider audience, smaller events can be just as effective in getting your message across. They allow for greater audience participation, and more one-on-one interaction.
Smaller events in this COVID-19 era are safer for many reasons.
It's easier to comply with social distancing guidelines
Fewer people mean less risk
It's easier to keep on top of health screening, sanitising and enforcing wearing of masks
A smaller group means no-one should have to raise their voices to be heard, reducing the risk of transmitting saliva particles
While many of the above precautions may fall away sometimes in 2021, we have no way of knowing when, or if this will be case at all. It's best at this stage to err on the side of caution and assume that we'll be taking these risk measures for the foreseeable future.
Replacing one large event with a few smaller ones, allows you to adjust your message for each group, putting it across in a way that is on par with their thinking. Effectively, you are addressing each group as an equal, rather than an outsider. By doing this, you're more likely to achieve a better reach and acceptance than using one message for a large audience.
Lower Capacity
Social distancing is here to stay, at least for the near future, and possibly for even longer. In addition, restrictions on group sizes may also continue well into 2021. The large events that we've become used to will make way for smaller events with social distancing.
Large venues won't be able to accommodate the number that they previously could. Room layouts will need to change to accommodate the required distance between delegates and more tables will be needed. Allowance must also be made for screening and sanitising stations, and the possibility of queues should also be considered. All of these factors contribute to lower capacities at venues that in the past might have catered for double the current numbers.
Final Thoughts
While it may seem like the events industry will continue to flounder under this pandemic, it won't. The industry will recover, although it will take some time to get to the levels of success that it enjoyed pre-pandemic.
Some inspirational out-the-box thinking and proactive energy from companies and events planners alike will go ailing way in reviving the events industry. Events will always be necessary, but it's up to us to make sure that we adjust the way we do things for them to stay relevant and continue to be successful.
Related Articles