Who said rustic weddings are on the verge of extinction? What a terrible notion considering the vitality displayed in recent post-pandemic weddings. Everything about these weddings indicates there is no end in sight to the unique charm a rustic theme adds to your big day.
If anything, wedding planners alongside brides and grooms have continued to reinvent rustic wedding ideas effectively giving birth to trends worth trying out.
Are you planning a wedding soon? Try a bare bones, bench and table wedding all the way to an elegant rustic wedding. If you are looking for fresh inspiration for your wedding invitations and decoration style, a country-inspired approach still makes perfect sense amidst the fast-paced ultramodern age.
Whether you intend on saying 'I do' nestled in a tythe barn or a teepe in a field, the lovely treat of a rustic wedding never gets old. That said, it is never the wrong time to reimagine your rustic wedding and bundle it into something a little more personal. You might be amazed at just how much blending you can achieve with modern tastes.
With rustic weddings constantly evolving, you might be looking for a new angle to breathe some life into your wedding.
What does the atmosphere of a rustic wedding look and feel like?
A rustic wedding means different things to different couples. Some people interpret it as a wedding held in the countryside, lakeside, or woodland. Others simply consider it to be an outdoor wedding under the crisp breeze of nature.
Typically, a rustic wedding incorporates rustic or somewhat rural components in every stage. It may feature rustic decorations like mason jars or rustic venues like barns with a little touch of nature.
Thanks to its versatility, this wedding theme affords couples incredible flexibility to resonate with both their individual and bonded tastes and preferences. It can easily accommodate many different colours with an extra shade of elegance without losing the natural appeal.
What are the emerging rustic wedding trends to consider?
Do you fancy a rustic wedding in a country field somewhere? Or perhaps you are always drawn to barn rustic weddings? No matter your preference, you will find these rustic wedding trends awe-inspiring enough to reinvigorate your fashion sense.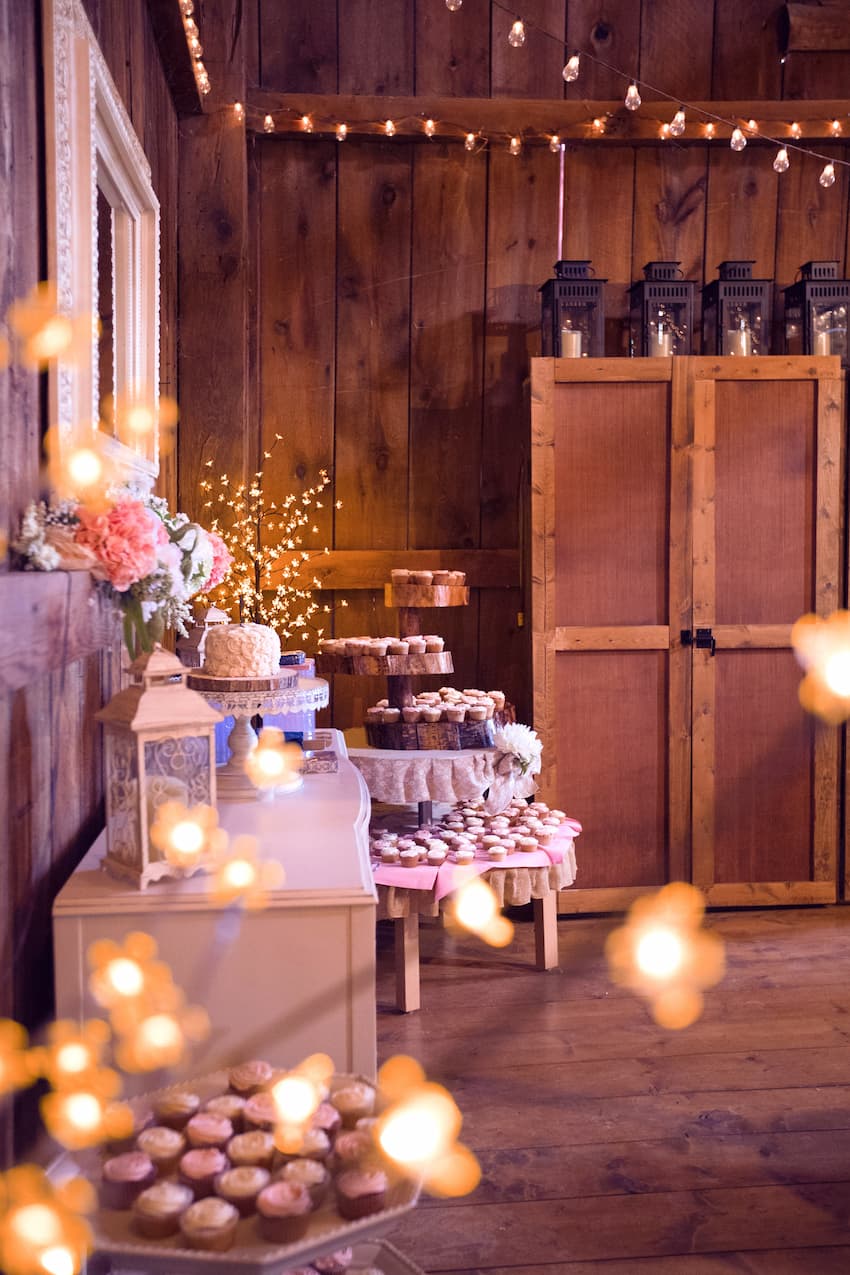 Rustic wedding venues
A rustic wedding venue is as important as the wedding itself. Without the proper venue selection, your dream for a perfect wedding may never materialize. Whether you have a soft spot for indoor or outdoor spaces, you can choose from a wide variety of farms, warehouses, inns, barns, and vineyards. Within these expansive categories, you will hardly miss an ideal venue to suit your location, guest count, style, and budget.
You might also want to spice up the romance of your reception areas by cleverly infusing rustic lighting into the space. Over and above the typical tiny string lights that come standard with most outdoor wedding venues and barns, you can further enhance the rustic appeal by introducing dimming lights, lanterns, and candles to the whole reception setup.
What about rustic dining? Yes, every tiny detail of the wedding should have at least an ounce of rustic vibe to reap the best from your wedding experience. You can make a statement by setting up a rustic dining area dotted with the conventional round tables. If that doesn't produce a strong enough statement, you can opt for uniqueness by combining a tasteful mixture of different table shapes and sizes or simply using long wooden tables.
Alternatively, you can go with the more popular trend of ditching traditional table linens. Using bare wooden tables is a rustic way of exposing all the natural beauty tucked inside the dining tables. It almost creates a deep sense of dining with nature.
Rustic wedding attires
Rustic wedding attires can take a formal or a laid-back approach or even a blend of both. Ladies are more rustic-attuned in patterned dresses. On the other hand, men fit the description by opting for a rather customary suit coupled with subtle tweaks like suspenders, patterned shirts, or vests. Crowning the perfect rustic suit with a pair of brown leather shoes, sneakers, loafers, or cowboy boots makes even more rustic sense.
A boho wedding dress is a handy component of a perfect rustic wedding thanks to its carefree, laid-back, and romantic demeanour. The elegant wedding gown features graceful decorative details such as lace, beading, and embroidery perfect for a countryside setting.
To leverage the adorable spirit infused in a boho dress, the bride would do well to ditch the conventional wedding veil and embrace a rustic flower crown. Your florist can help you customize one that resonates perfectly with your hair.
Beyond the bride and groom, the bridesmaids can blend well in long dresses, short dresses, patterned dresses, mismatched dresses, or one-coloured dresses depending on their personality and style preferences.
Rustic wedding invitations
A rustic wedding invitation helps you create a remarkable first impression by setting a rustic tone. While you may find a huge selection of wedding invitations online, paying attention to the details is critical in finding something a little more personal.
Most rustic wedding invitations come bundled with nature motifs that you can leverage to accentuate your wedding theme. To add a rustic appeal to your wedding stationery, you can personalize the details of the design, style, and paper.
Some of the most popular rustic materials to consider for your wedding invitation include recycled paper, cotton paper edged naturally, and kraft paper. In terms of colour, some cream, beige, or green might make all the difference, especially when punctuated with nature details like trees, foliage, woodland, or birch.
Furthermore, the styling of the invitation can also feature nature-themed detailing such as mountains or stunning greenery.
Rustic wedding decorations
The underlying decoration of your wedding ceremony is what qualifies it as a rustic wedding. Decoration can pop up anywhere from the venue itself, backdrop, aisle, signs, to the seating pattern. The extent of your decoration will depend on how much of a rustic scene you want to create.
For example, to add a rustic mood to an outdoor wedding setting, you can play around with doors, flower baskets, and the seating arrangement. In the case of an indoor setting say a church hall, you can weave some clever decorations into the altar, drapes, or the pews.
In other words, as long as you can intuitively create a focal point to the main ceremony location through your rustic decoration, the rustic vibe will set in automatically. Some little details like incorporating wooden doors, tree stumps, lanterns, aisle runners, or large flower pots can go a long way in transporting your wedding ceremony back in time.
With that in mind, there are equally tons of backdrop ideas you can integrate into the ceremony to spark an unforgettable rustic appeal. Much better than your typical photo booth backdrop, a rustic wedding sits well with a flowery, wooden, or birch arched backdrop.
While at it, don't forget to stage a perfect rustic welcome sign. You can use a custom-made wooden sign neatly layered with some draping foliage for that good old wedding theme. Take advantage of the sign and provide additional information to direct your guests accordingly.
Your wedding's seating arrangement can as well provide that extra layer of flair if cleverly executed. You can go with veiled hay bales, benches, or wood chairs and arrange them in a circle to allow yourselves to be surrounded by love and enveloped within nature itself.
Rustic wedding transportation
You want to make sure you explore every inch of a rustic wedding to maximize your experience. That includes thinking about transportation too. How will you and your guests move to and from the ceremony location?
There are endless popular means including vintage automobiles, farm wagons, good old pickup trucks, as well as trolleys. You can rustically dress up your preferred pickup truck with gorgeous floral detail or 'just married banners' to maintain theme consistency for the perfect couple shots. A farm wagon might come in handy when helping your guests effortlessly navigate a country landscape.
Rustic wedding cakes
Wedding cakes have greatly evolved in the recent past. This evolution has even found its way in rustic weddings. Drifting away from the conventional plain white cakes, most rustic weddings today predominantly feature naked cakes, cupcakes, woodland cakes, chocolate cakes, and birch cakes that all draw their inspiration from nature.
The cake setting has also morphed into something more artistic and natural. You'll find wedding cakes neatly sitting on a sleek slice of log and beautified with some rustic foliage around the edges to immerse the cake in nature.
Rustic furniture
Rustic Country Styled Weddings have become increasingly popular over the years and BE Event Furniture Hire have developed a rustic range of rustic furniture to meet this demand, both indoor and outdoor wedding furniture to hire.
Now that you know the full ingredients of a perfect rustic wedding, don't be afraid to take the plunge. Hopefully, this article has brought you a step closer to the right decision. Good luck in your rustic happily ever after!
Related Articles