Outdoor weddings have become rather in vogue, and with many people still wary of being in enclosed spaces, there's even more reason to take an al fresco approach to saying "I do". Look around you. Nature provides a startling array of colours and backdrops. When you harness that beauty and add your personal touch, you can create moments as unique as they are special.
Getting your wedding planning underway is the first step to a memorable event. We've put together some ideas and tips to help you plan the perfect outdoor event for your big day.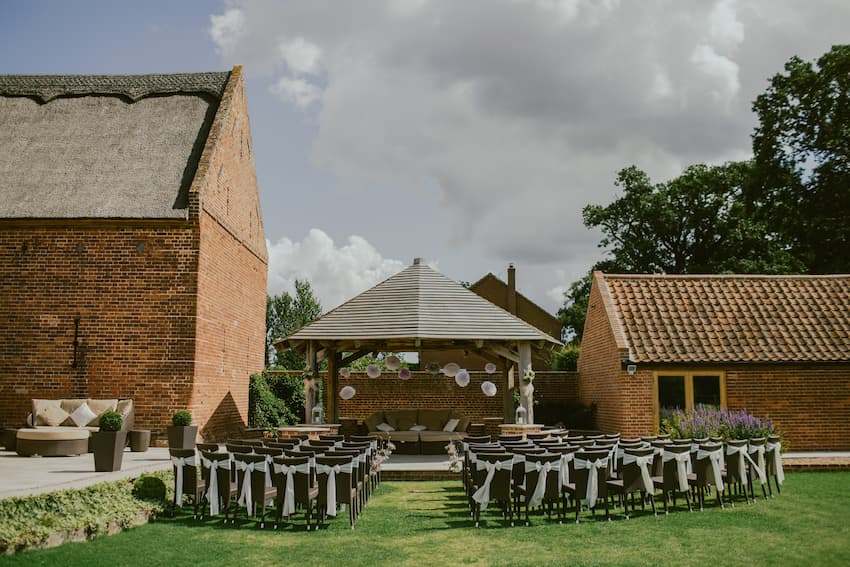 Location and Venue
The location and venue that you select for your wedding can set the tone for the whole event, and even more so when it's in the great outdoors. However, there are certain practicalities that you need to consider when deciding on where to hold your nuptials.
For a true outdoor feel, a location far removed from a city centre or motorway is ideal, but you need to consider the ease with which your guests can reach this venue, either with their own vehicles, taxis or public transport. In addition, if yours is an evening event, you should consider that some guests will require accommodation.
Finding the balance between remoteness and convenience may seem like an impossible task, but there are plenty of secluded venues that are off the beaten track yet still within a reasonable distance from public transport and B & B accommodation. Allow yourself the time to source these venues and you're bound to find the perfect hidden gem.
Time of Year
Outdoor weddings rely on good weather and this is something that we just can't guarantee in England. However, there are certain times of the year that are more inclined to deliver dry, sunshiny days and are perfect for your al fresco celebration.
The most sought-after months for weddings, whether indoors or outside, are June, July and August. This is the great English summer and we can usually expect the weather to be balmy and pleasant, although also prone to a shower or two. However, outdoor wedding venues get booked up quickly for these months and can also be more expensive than other times of the year. On the other hand, May and September still have glorious days, and you won't need to sell a kidney to fund your dream venue.
Theme
Themed weddings are hugely popular. From your Save the Date notification, to the wedding favours and thank you cards they inspire creativity in every aspect. It's an opportunity for the bridal couple to show their individuality. You can choose to make a huge splash or a little ripple, but either way, the theme is an impression of you and your partner.
Outdoor venues provide a natural backdrop against which you can frame your wedding. Whether you choose a forest, a beach or your Nan's back yard, you can style the venue your way. The key is to use the location and the natural décor it provides to dictate your theme, while staying true to yourself. If you don't want a Caribbean island vibe, maybe a beach isn't the right wedding location.
Garden weddings have experienced a notable bump up the popularity stakes. Not only do they lend themselves to a multitude of themes, you can also tailor your garden wedding to fit your budget constraints. A simple theme, like a classic garden tea party, can be as elegant and memorable as one from the pages of a Sidney Sheldon book, but cost a fraction of the price. And if you can hold it in your Nan's back yard, your cost will be even less!
Décor
An outdoor location provides a ton of décor options, and you don't need a degree in design to turn your venue into something special. Sometimes the simplest ideas can make the biggest splash. Let the setting be your guide and take inspiration from your surroundings. Keep your décor as organic and natural as possible for the best overall effect.
A beach wedding usually invokes a casual vibe. Think bare feet and flowing sarong-style dresses, shorts and deck shoes. Your décor should be simple and classic, in keeping with the natural elements and soothing landscape. However, you can definitely cause a splash with your colour scheme. Bold, bright colours will work beautifully against the neutral backdrop of the ocean without detracting from its splendour. If your event goes on until dusk, light up the area with candles in glass jars scattered around the beach. This simple solution to fading light is inexpensive and creates an atmosphere indicative of the romance of a wedding.
Wooded areas are magical places and your imagination can truly take on a life of its own to create an enchanting setting. Use the height of the surrounding trees to add another dimension to your décor. String fairy lights among the branches or dangle lanterns overhead to create soft lighting. The use of wooden décor adds a rustic element to your setting and you can use them in hundreds of ways to enhance the natural environment. Bright floral arrangements or swathes of fabric adorning tree trunks add a dash of colour to nature's hues, but keeping it classic with white or cream tones has an equally stunning effect.
Backyard wedding are intimate affairs, with a low-key, comfortable style. Keep it casual by setting up chilled seating areas using rugs, big cushions and pouffes. If you've opted for a sit-down meal, long tables and benches are ideal if they fit into your garden. Most gardens come with a colour scheme so simple décor in neutral colours is the best option. If your backyard is a courtyard, why not try a Mama Mia style set up? But make sure you have a dance floor for all the dancing queens!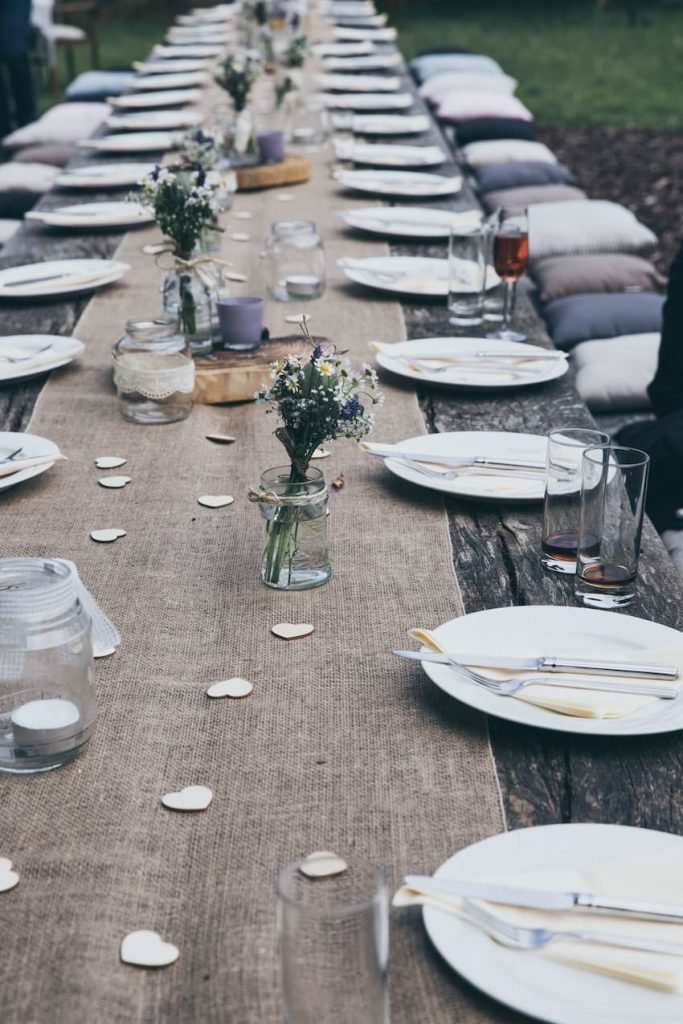 That Extra Touch
Nature is unpredictable. Although a prefect day is never 100% guaranteed there are measures you can put in place to make it as close to perfect as possible. We've got your back with these tips to cover the unexpected.
The Covid-19 pandemic is still very real to many people, so have a bottle of sanitizer on each table.
Have bug spray available as those little critters may be on the rampage and you don't want your guests caught off-guard.
Dot citronella candles around the area and on food tables to help keep the bugs at bay.
Provide warm blankets to help fend off the cool air when the sun drops.
Have an assortment of parasols or umbrellas available for guests to protect themselves from the sun's rays. Handheld fans also work wonderfully on hot days.
Keep a First Aid kit close by.
When all is said and done, your wedding is your special day. It's the blank canvas that starts your journey through married life. There's no doubt that outdoor weddings are magical, and if you let the venue work for you and see the endless possibilities, your al fresco "I do" moment will be one you'll never forget.
Related Articles