The Chiavari chair, originating from the Italian town of Chiavari, has long been regarded as a quintessential piece in wedding décor. It's elegant design and versatile appeal make it a preferred choice for events ranging from intimate weddings to formal receptions.
At BE Event Hire, we recognise the importance of the Chiavari chairs in creating your dream wedding.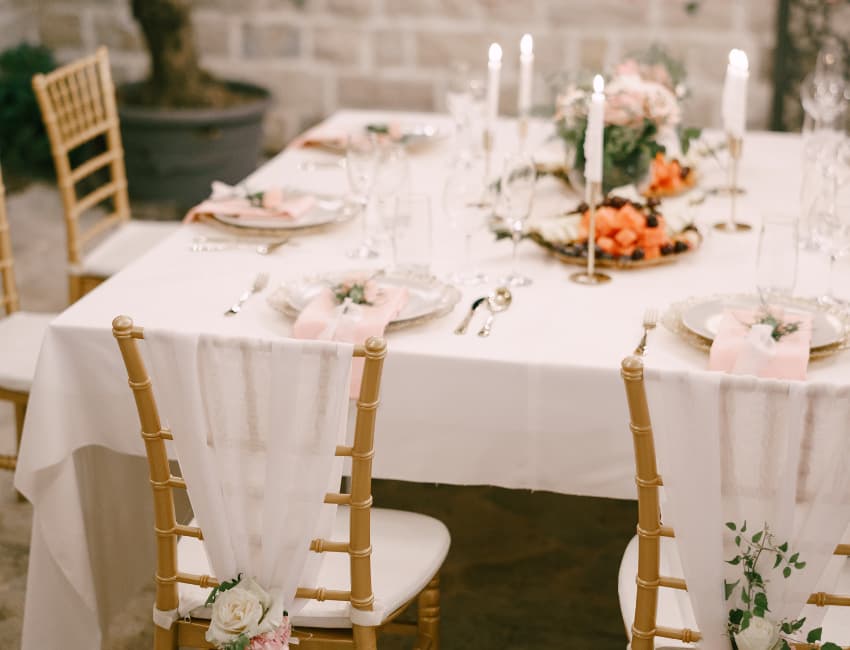 Why Chiavari Chairs are a Popular Choice for Weddings
The Chiavari chair's continued prominence in wedding décor is not by mere coincidence. This chair, originating from an Italian design legacy, offers a unique blend of aesthetics and function that few other seating options can match. Here's a closer look at what makes Chiavari chairs the preferred choice for nuptial celebrations:
Classic Design with Broad Appeal:
The intrinsic design of the Chiavari chair boasts a universally appealing aesthetic, making it suitable for many wedding themes. Whether planning a vintage-themed celebration, a rustic outdoor wedding, a contemporary reception, or even a traditional ceremony, the Chiavari chair effortlessly complements the occasion. Its minimalist yet detailed design adds a touch of sophistication without overpowering the overall décor.
Versatile Seating Solution:
Beyond its visual appeal, the Chiavari chair is lauded for its versatility. Its lightweight structure and sturdy build make it apt for indoor venues and outdoor garden settings. Furthermore, its design ensures comfort for guests, making it suitable for prolonged seating during extended ceremonies or receptions. Its adaptability ensures that the Chiavari chair remains harmonious, enhancing the event's ambience regardless of the venue – beachfront, a barn, a country house, or a modern space.
Chiavari Chairs to Hire
Limewash Chiavari Chairs
Limewash Chiavari chairs exude a rustic elegance that effortlessly enhances the ambience of any event setting. Their whitewashed finish brings a touch of vintage charm, making them a favourite for weddings aiming for a timeless, rustic feel.
Padded Seat Choices: Limewash Chiavari chairs from BE Event Hire offer a diverse palette of padded seat colours, ranging from gold and ivory to more vibrant hues like blue, red, and green. These colour choices can dictate the mood of your event, from regal to romantic or even contemporary.
Decor and Settings: These chairs beautifully complement barn weddings, garden settings, and even beach venues. Pair them with lace table runners, pastel-coloured floral arrangements, and soft candlelight for a dreamy and romantic touch.
Crystal Resin Chiavari Chairs
The Crystal Resin Chiavari chairs offer a modern interpretation of the classic Chiavari silhouette, which adds a unique, contemporary edge to any setting.
Design Highlights: The chair's clear resin frame is its defining feature, providing a chic, almost ethereal appearance. It effortlessly becomes a focal point without overshadowing other design elements.
Recommendations: Given the chair's modern aesthetic, pairing seat pads in colours like black, ivory, or gold can create striking contrasts. Ideal for evening receptions, gala events, or sophisticated urban weddings, the transparent frame beautifully captures and refracts light, especially under fairy lights or chandeliers.
Gold Chiavari Chairs
Gold Chiavari chairs exude opulence and luxury. They manifest elegance and are undeniably a premium choice for events that resonate with grandeur.
Design Attributes: The rich, golden wood frame radiates a regal aura. This aesthetic allure is further accentuated with diverse seat cushion hues like red, ivory, and green.
Best Themes and Settings: These chairs are best suited for grand ballroom weddings, elegant mansion receptions, or any event aiming for an aura of luxury. Their luminosity is heightened with deep coloured drapes, crystal centrepieces, and plush carpets.
Silver Chiavari Chairs
Subtle and sophisticated, the Silver Chiavari chairs offer an understated elegance, making them a versatile choice for numerous event settings.
Pairing Tips: Maximizing the appeal of Silver Chiavari chairs involves pairing them with white table linens for a clean, monochrome look. For a more dramatic contrast, black linen can be used, allowing the silver tones to pop truly.
Ideal Venues: Perfect for contemporary wedding venues, rooftop events, or minimalist-themed celebrations, the Silver Chiavari chair harmoniously blends into settings, enhancing their aesthetic without dominating the scene.
BE Event Hire's range of Chiavari chairs offers diverse styles, ensuring that every event finds its perfect match. Whether rustic or regal, modern or classic, our wedding furniture hire collection provides your event's seating is both comfortable and visually appealing.
Related Articles