The annual Christmas party is undoubtedly a highlight on the office calendar. It's the one time you can really let your hair down with your colleagues and bosses, and make memories that outlast your hangover.
Organising your office Christmas party is no mean feat. Although everything invariably comes together on the day, there's a lot of hard work that goes on behind the scenes to ensure that the event is one to remember. Getting it right is down to your planning, but you don't need to be a hotshot events planner to pull off a super duper Christmas party.
Below are some vital elements that you should give attention to when planning the festive event for your office.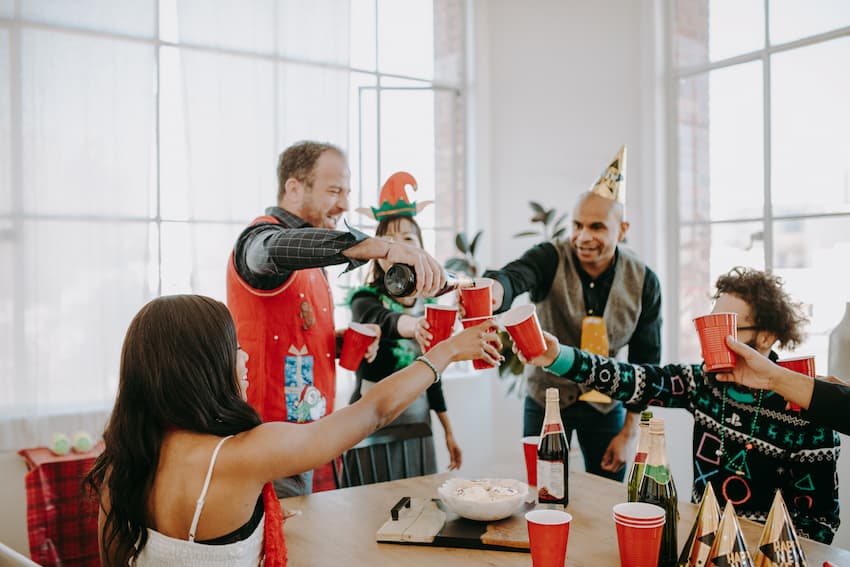 The Finances
Let's get the serious stuff out of the way first. The amount of money set aside for your Christmas party will determine the kind of event you put together. If you have a fantastic idea that the budget just doesn't cover, don't panic.
Put together a few fundraising ideas throughout the year to bump up the finances a little more. Raffles and lucky draws are great ways of raising some money, and your colleagues are more likely to buy tickets to win a fabulous prize if they know that ultimately they'll benefit from an awesome event.
It's not taboo to ask people to buy tickets to the Christmas event, but ensure the amount is affordable to everyone. Granted, it's not the best way to fund a party, but if your business has suffered during the pandemic, this may be the only way that you can throw a Christmas function. And we all need a party to look forward to!
The Date
You can never confirm your date too early. The closer we get to Christmas, the more booked up venues become and the harder it will be to secure a suitable date for your function. Fridays and Saturdays are always snapped up quickly, but if you're happy to hold the event mid-week, then you'll have better luck.
If you struggle to find a suitable date before Christmas, consider a January function. A post-Christmas event isn't unheard of, and in some instances may fit your requirements better. If the last quarter of the year is a busy one for your company and time off is a luxury, a January or February celebration may be a better option.
The Venue
The venue that you choose depends very much on the type of function that you're planning. If you wish to include teambuilding activities, you'll need a venue with sufficient space or an outdoor area. With the time of year that this event will be held, though, a large indoor space may be a better option.
Your budget may dictate that you host the Christmas party in your office. If this is the case, think out of the box for unique décor ideas that transform the space from the day-to-day drudgery to a festive party venue.
The Theme and Décor
If you're going all out for your event you may decide to have a themed party. Popular themes like Après-Ski, Winter Wonderland, Carnival and Masquerade Ball lend themselves to stunning décor ideas, and you can incorporate a dress code for a real wow factor.
If you're leaning towards something a bit less extravagant, stick with a simple Christmas theme. You can still incorporate some jaw-dropping décor into the party space, and you'll likely have more bucks left in the budget for other elements of your event.
However expansive or basic your décor plans are, make sure that you communicate them to the venue manager. There might be restrictions on what you can bring in, or a limited time in which you can dress the space.
The venue may also already be decorated according in a pre-planned theme. This is usually the case with shared venue, but if you still want to make your area unique, you can opt for festive table décor, place settings or a themed dress code for your group.
The Entertainment
Like your décor, you can be as extravagant or as conservative with your entertainment as your venue, budget and theme allows. Interactive and immersive experiences have become very popular, particularly after social distancing and work from home kept employees apart for so long.
You can outsource a teambuilding company to run the activities for you, or you can plan simple ones yourself. A Christmas-themed quiz, cocktail-making competition, Christmas karaoke and cookie-decorating competition are activities that you can incorporate into your event to encourage interaction and build atmosphere. Simple party games, like charades, provide a fun element and can provoke much hilarity. They're also cost-effective and suit events with limited budgets.
Some events don't need much entertainment. A dance floor and a lively playlist may be all you need for your group to let their hair down, shake off the winter blues and have a blast.
The Food and Drinks
A Christmas party isn't a party without some form of catering. A five-course meal, buffet dinner, food trucks or canapés – it really doesn't matter what you provide. You can tie your choice of food in with the theme, or go with the adage that variety is the spice of life. Whatever you decide, ensure that there is sufficient sustenance for everyone and that you take into account any guests with dietary restrictions.
All bars serve pretty much the same beverages. Why not make your event stand out with a unique themed drink? This could be a standard cocktail with a catchy name relating to your company, or the bar staff can invent a new cocktail or drink just for your event. Give this to guests as a welcome drink to encourage a spirit of company togetherness and colleague bonding.
DIY Christmas Party
Whether you are catering for a small garden Christmas lunch or for a corporate Christmas party we have what you need.
BE Event Furniture Hire can cater for all Christmas events, from the Christmas Party to your New Years Eve event, both private and corporate. Our extensive Christmas furniture hire range, caters for all types of events from outdoor tables to banqueting tables and chairs for all your Christmas Event requirements, from bar stools to benches and garden seats. At Be Event Hire we pride ourselves on affordable, efficient and friendly service 24/7.
At BE Event Hire we believe Christmas should be spent making those around you feel special and not worrying about your furniture hire.
However big or small your Christmas event is, make it memorable. The best events are those that we talk about in the office long after they've past.
Related Articles