It's never too early to start thinking about Christmas and planning that perfect office party to celebrate the holiday. The office Christmas party represents an opportunity to show your appreciation for your employees and all their hard work. We've compiled a list of ideas and themes for you to choose from to help you throw your best Christmas bash yet!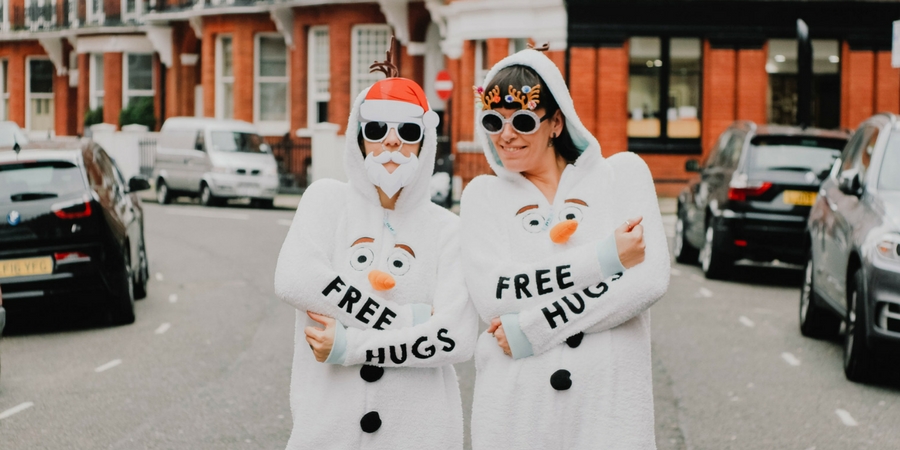 1. Christmas, Cookies, and a Classic.
Cookies and classic holiday movies are two staples of Christmas. Why not combine the two and throw a laid-back holiday party that will have everyone in a good mood? For the cookie aspect of this idea we have two suggestions. The first, everyone can bring in their favourite Christmas cookie to share with co-workers. Don't forget to encourage your employees to also bring in their recipes to share as well! For a more hands-on approach make it a cookie decorating party. Order a couple dozen sugar cookies from a local bakery, buy frosting and other decorations and have everyone get icing! This is a fun activity that can be enjoyed by all and will put people in minds of celebrating Christmas as a kid. During the cookie festivities, there will no doubt be chatting and mingling, but to add to the Christmas spirit why not screen a Christmas classic or two? Take an office poll and pick the top two or three Christmas classics to show during your party.
2. TV-Themed Christmas Party
Perhaps in your office there is a favourite T.V. show among your employees. Why not show support for your employees and their favourite t.v. program and throw a themed Christmas party? Whether you've got fans of Downton Abbey (why did that show have to end!?) or Game of Thrones a themed party can be a great choice. Have people dress up as their favourite characters or within the time period of the show. Play trivia games and discover who the number one fan in your office really is! Have people bring in themed foods and dishes. A themed party can be a great way to celebrate the holiday!
3. Charity Event Christmas Party
Why not take the office Christmas party out of the office? Around the holidays many local charities and foundations throw events to help raise money for their respective causes. As an office, choose a charity or foundation you want to support and attend that charity or foundation's event as your holiday party. Purchase tickets to the event as gifts for your employees. Your organization and your employees will get to support a cause and enjoy a night of fun at the same time. With this Christmas party idea, everyone wins.
4. Family & Friends Christmas Party
For this idea it may be best to rent a venue or move the party to a fun place, like a bowling alley, arcade or trampoline park. For this type of party invite your employees to bring their families, significant other or a friend to come to the party to help celebrate the holiday. This is a great way for your employees to really get to know each other and see who everybody is outside the office. Make it a potluck style party and have everyone bring a favourite dish to munch on while mingling and spending time with friends and family.
5. Christmas Cruise
If you've got some extra funds to throw towards the office Christmas party this year, this might be the choice for you to really show your employees how much you appreciate them, especially if your office is located near the water. River cruises have grown increasingly popular and why not treat your employees to the experience? Often times you can reserve a cruise just for your group and your employees can celebrate the holiday while cruising the night away. Opt to add to the festivities by providing a cash bar. Give your employees an extra gift and hand out one free drink token apiece! Hire a local band to play for the night and have dancing be a part of your Christmas celebrations.
6. Drink to Christmas
Local wineries and breweries have been popping up everywhere. Why not combine your Christmas party with celebrating and supporting a local business? Take your employees for a wine-tasting event at a local winery or for a craft beer adventure at a local brewery. Pick a winery or brewery that looks interesting and call to speak with someone about setting up an event for your office. Encourage everyone to dress up and make a night of sampling local spirits. To add to the fun, and to ensure no one gets too tipsy, pick a place that serves tapas or hors d'oeuvres. Enjoy local spirits, tasty treats and everyone's company during your holiday celebration.
7. A Dicken's Christmas
Take a step back in time and celebrate Christmas and enjoying everyone's company an old fashioned way…go ice skating! Whether you find a rink outside or in, have everyone come ready to have a good time! From novices to experts all your employees will share some laughs out on the ice. As a gift to your employees, cover the cost of skate rentals. Contact a local rink and see what's available for group rates and rentals. Bring cocoa, cookies, and other Christmas goodies for everyone to snack on as everyone is sure to work up an appetite out on the ice!
8. Winter Carnival
For a fun and merry way to celebrate the holiday why not throw carnival-themed party? Rent games to spark some lively competition. Ring toss, knock down, darts, or go real crazy and rent the dunk tank. Use the dunk tank to raise money for a local charity to add some Christmas spirit to your event. Find a local caterer or food truck that will provide yummy carnival treats like dough boys, chips, and cotton candy to sweeten everyone's experience. Put each department in charge of coming up with different prize ideas to add some fun and silliness. Everyone will enjoy letting out their inner-kid during your office's Winter Carnival party.
9. Cocktail Party
Keep it simple and fun with an office Christmas Cocktail party. Encourage a cocktail party style of dress to add a touch of elegance to the party. Have your cash bar create a special office drink. Prior to the party have your employees submit drink concoctions and ideas. Have everyone vote and use the winner for your signature drink. Make it so everyone gets one on the house. Have an office Secret Santa and do the gift exchange during the party. Don't forget the food. Have a local caterer serve up savouries for everyone to enjoy as they celebrate the holiday!
10. The Winter Olympics
If your employees are the competitive sort and enjoy sport, this could be the theme of your next holiday party. Have your employees divide into teams and let the games begin! You can decide and create any games you want to, but some neat ideas might include a snowman-making contest, sled races, or even an obstacle course. If some employees don't want to participate in the games put them in charge of decorations or creating medals and prizes. Top off the game day festivities with a pot luck or catered treats.
11. Ugly Christmas Jumpers
The ugly Christmas sweater party has gotten to be quite popular, and while it's no longer the most unique idea it is still a lot of fun. Encourage everyone to find and wear the ugliest Christmas sweater they can find to your office party. Have a contestant to see who finds or makes the ugliest sweater and hand out a prize to the winner. Add a touch of nostalgia to the party and have everyone bring a favorite dish from their Christmas' growing up. Add to your party's silliness and play karaoke with Christmas songs. Who does the best rendition of Jingle Bells? This is a fun and simple choice to get everyone in the spirit during the Christmas season.
12. Christmas Scavenger Hunt
This can be a neat idea for a medium-sized office Christmas party. You need enough people to break into teams, but not so many you've got too many. Split your office into groups of about four and send your employees on an adventure. Let employees experience your local town at Christmas while they search for items on your list. Encourage a friendly competition and have different prizes for each team depending on what place they finish the scavenger hunt in. Have a set end time and have everyone meet up at a local coffee shop to warm up and share their Christmas scavenger hunt adventures!
13. Eat and Be Merry
Is there a new eatery in your town that everyone has been talking about? Or a favourite restaurant your employees all like to go to? Why not hold your office party there? Most restaurants are willing and able to accommodate a group dinner or lunch, just make sure to make arrangements far in advance during the holiday season when places book up fast. Provide a Christmas treat by paying for your employees' meals. Your employees will get the chance to eat, chat, and enjoy each other's company during a fun, holiday meal!
Whatever theme or party-idea you choose, we hope you and your employees all have a great time!
Related Resources: