It's wedding season, love is in the air, and many couples are beginning the wedding planning process. Every couple wants their special day to be centered around beauty, love, laughter, and memories. This is one of the most important moments of a lifetime, so everything must be executed perfectly.
While most couples have a unique vision of how this special day will look, they also like to incorporate pieces of today's most popular wedding trends. If you're looking to plan the picture perfect wedding this year, here are a few popular trends emerging in 2017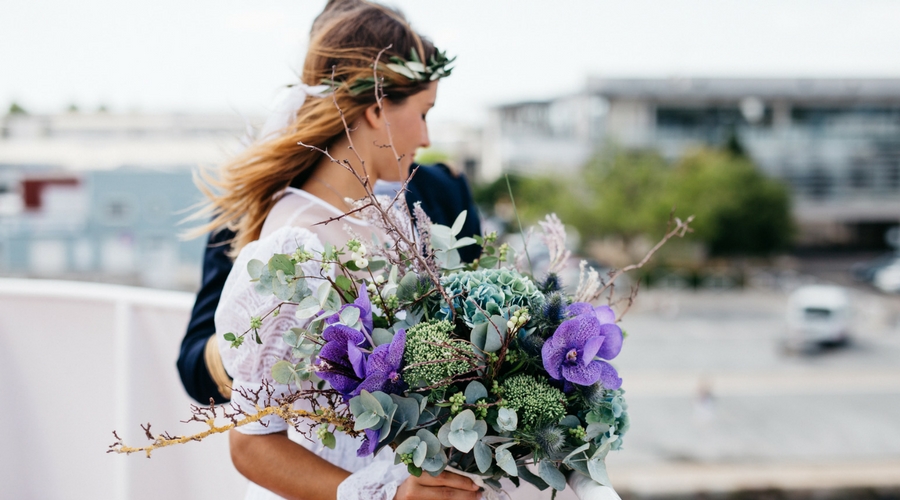 Unique Wedding Invites
In 2017, the event invitation will really set the mood and tone for the event. Couples are getting crafty and incorporating unique textures and styles like plexiglass, foil stamping, and glow in the dark features. Modern calligraphy and monogrammed styles will also be popular this season. As with most weddings, the invitations are bound to match the overall wedding theme and decor, but adding little surprising pops will definitely be a trend!
Shameless Wish Lists
People are marrying much later in life these days. This means, most couples already have all the traditional wedding gifts and household items like pots and pans, towels, and other kitchenware items. This year, many couples will begin to craft a unique wish list that includes more adventuresome and experiential gifts. It's not uncommon to find a couple requesting money for an awesome honeymoon excursion, fitness packages, or spa memberships. Couples are redefining the gift-giving process and learning to ask for assistance in helping them strengthen their bond and get off on the right foot.
Twist on the Veil
Bridal fashion changes almost every year, but something seen quite often on this year's catwalk was the bridal cape. This bold concept is an extension of the conventional train, and is meant to replace the traditional veil. Brides are trending towards this feminine stance on power and independence and are walking down the aisle flaunting this fabulous piece. The cape is meant to be used in the formal ceremony and ditched later in the evening, but is a great addition to any gown.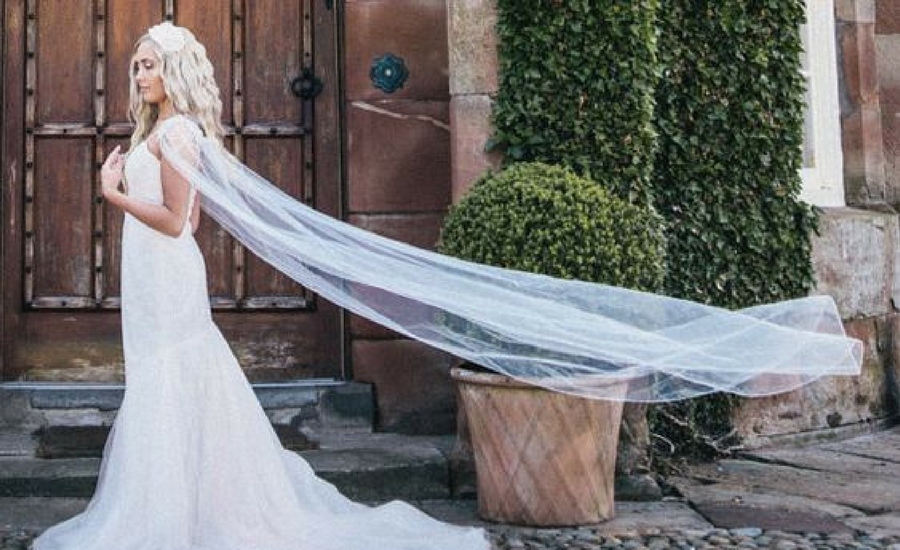 Pre-Ceremony Toast
It's becoming more and more common for couples to dive right in to the celebration with a pre-ceremony toast. Of course, there will be plenty of toasting at the reception dinner, but couples are wanting to ease their nerves, and take one last sip together before they officially tie the knot. In 2017, you'll see a trend with the ceremony space being set with champagne glasses and a pretty, decorative note about the couple's story.
Live Aisle Music
While this trend isn't exactly original, many brides are opting for a live performance for their aisle walk rather than a recorded ensemble. Piano and string instruments are popular choices for this important moment. In addition, many brides are choosing a unique song that reflects their personal interests and tastes or provides some symbolism to their relationship. This is one of the most emotional moments of the day, so brides are pretty choosy when it comes to their grand entrance.
No Seating Arrangements
Many couples are beginning to play up the fact that they're becoming one unit and are deviating from the tradition of a "team bride" or "team groom" concept. In 2017, you'll see less seating assignments and more intention towards blending families. Many couples will even post signage that reminds people that two families are becoming one. It's a nice feature and a way for everyone to get more acquainted.
Bold Colours
Neutral colours have been on fire for quite some time now. In recent years, nude, gray, and peach colouring has graced the cover of almost every bridal magazine. Luckily, this trend has paved the way for a whole new burst of colour. This year's bridal genetics will incorporate bursts of bright yellows, pinks, and greens. You can expect more cheery combos sprinkled throughout the wedding decor from the wedding party apparel to invitations to table placements. Bold is definitely making a statement this year.
Dangling Decor
Hanging decorations add height to any space, and provide a unique twist to the typical table decorations. In 2017, you'll see venues draped in dangling lights, flower strands or tapestry. This added ambiance can also serve as a deterrent from any less than attractive elements in the venue. Shag carpet or warped woodwork will disappear as guests focus their attention on the beautiful hanging decor.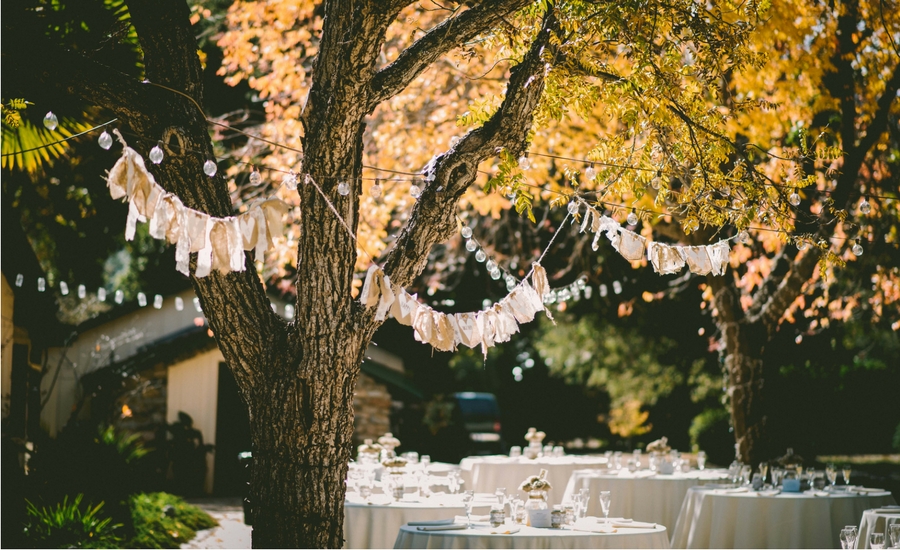 Floral Mix-up
While flowers will always be a staple at any wedding, many couples are downplaying flowers and opting to incorporate more rustic greenery. The mystical forest or lush garden look will be very popular in 2017. You'll see lots of moss, ivy and other more natural elements. Couples will still mix in flowers via bouquets and occasional arrangements, but flowers won't see as much attention as past years.
Clever Lighting
Lighting has a way of setting the mood. In 2017, you'll see more clever lighting schemes than ever before. Christmas lights draped around a tree branch, floating lanterns, fire pits…the list is endless. Couples will use lighting mechanisms as a way to set the stage for their special day. Whether they're going for full-blown romance, or a more fun and jazzy time, lighting will be key in 2017.
Light-Hearted Entertainment
Games will be a hot entertainment item in 2017. Many couples will revisit their childhood and work to bring out the more playful side of their guests by offering games during the reception or cocktail hour. Simple twists like corn hole, croquet, bocce, and put-putt are a few of the more popular options. Both indoor and outdoor venues can accommodate this fun feature and it's a great additive for any party.
Custom Menus
One of the best ways couples can tell their story is through the use of food. Many couples will spend a first date in a restaurant or coffee shop, or will enjoy trying new places together. Couples are staying clear of the traditional, stuffy, four-course wedding meal and opting instead for mini finger food stations that add significance and meaning to their love story. In addition, couples are incorporating local flavors into their menu so their friends and family can get a little taste of their community. For example, gumbo might be a staple at a Louisiana reception while pulled pork sandwiches and craft beer might pop up in Kansas City. Either way, using food to share a story is definitely trending for 2017.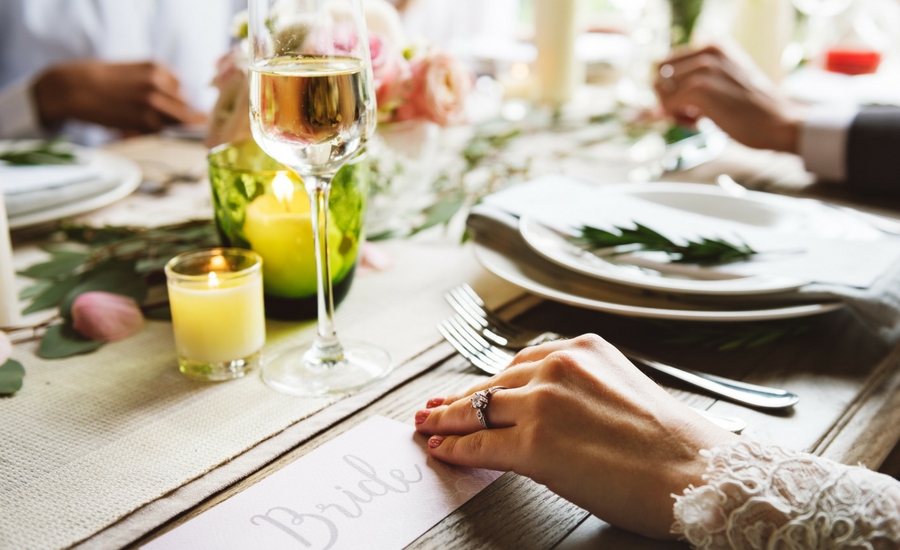 Paired Canapes
Another popular trend involving food takes place at the cocktail hour prior to the reception. Pairing wine with various food items has always been a popular hobby, but couples are taking it to the next level and pairing their appetizers with fun mixed drinks. Guests will be treated to interesting facts about the pairings and will enjoy the process of sampling each combo. This is a great way to keep the guests involved throughout the waiting game. Fun pairing examples include mini tacos and blended margaritas or mimosas and pastries for a wedding brunch.
Tall Cakes
Tall, tiered cakes are making a come back! In the last couple years, more cutesy desserts have been all the rage. Cake pops, donuts, and cupcake bars have dominated the market, but tiered cakes will be making a return in 2017. You'll begin to see the wedding cake as a focal point and couples will put much thought into the design and taste of this important wedding day tradition. Couples will also decorate the cake in colours and embellishments that help carry out their vision and theme.
Interactive Photography
Photography options are beginning to expand with the use of things like Snapchat and Instagram videos. Many photographers will incorporate an Instagram 60 second reel in their package price. This is a great way to capture the day and commemorate the celebration. It's also in a format that will be impossible to lose or antiquate. In addition, many couples are encouraging the use of Snapchat and Instagram for their guests. They love having a montage of moments at their fingertips for times when they aren't able to fully interact with everyone during the event. This social feature allows them to reflect on their day and permits each guest to put their stamp on the special day.
Grab Bag Gifts
Again, incorporating the couple's love story into all elements of the wedding is definitely a theme for 2017. The guest gifts are included in this trend. In 2017 you'll see a "gift lounge" where couples will display a few of their favorite things. Guests will be invited to stuff a bag with these items. Attached to each item will be a written reflection of a memory from the couple's love story. Guests will have the opportunity to get to know the newlyweds on a more personal level and will appreciate the take-home treats.
Surprise Exits
Modern couples are looking for any way to make their day unique. Surprise exits will definitely be a trend this year. You can expect to see couples sent off on something fun like a motorcycle, vintage truck, horse, helicopter or boat. It's a great way to draw attention to the exit and close out an awesome day!
Overall, each couple's wedding day will offer personal reflections of their journey and relationship. It's a special moment that will be celebrated and remembered for years to come. Most weddings will follow a conventional pattern, however these trends offer a fun twist on many of the traditional wedding concepts.
Wedding Trend Updates