Corporate gatherings can effectively help your employees get to know each other outside of work. They can also be an effective way to network with clients, investors, and others who support your business growth each day. Let's look at some theme ideas that you can use to give the event a sense of purpose and help people understand what they can expect during an outing.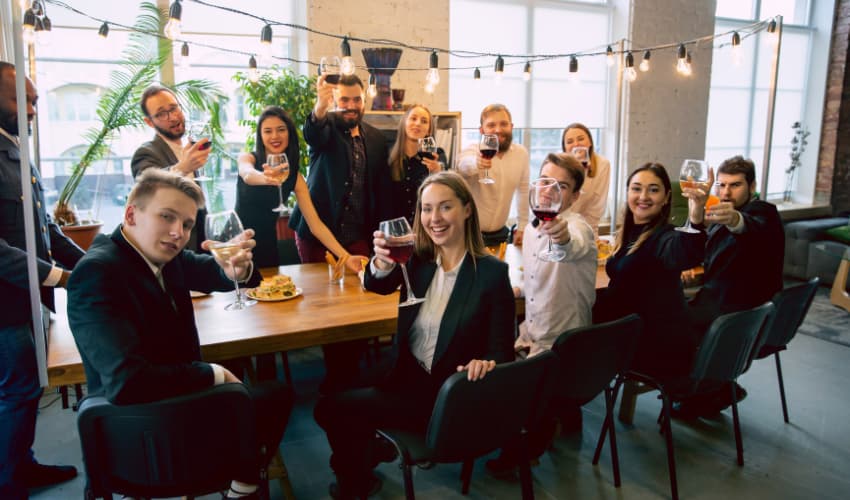 Screen Day
Seating, lighting and other relatively easy adjustments can be made to accommodate those with vision, hearing or other impairments. You may also prevent those World Cup sick day phone calls. It can be an ideal way to get your team together because it only requires a little effort on anyone's part to have a good time.
Several different events lend themselves to viewing parties, such as Wimbledon, the world cup, grand national etc.
The decor for the event will depend primarily on whether the event is inside or out. An indoor event may feature little more than a large television or projection screen, some comfy chairs or traditional movie theatre ware. You can use rustic furniture and a sizeable inflatable projection screen if the event is held outdoors. Participants can also be encouraged to bring blankets, pillows or anything else that would make them more comfortable during a screening.
Company Picnic
A company picnic is an excellent way for employees to bond in a relaxed environment that offers a little something for everyone. Those who enjoy cooking can take charge of the bbq and make hot dogs, hamburgers or steak for everyone in attendance. A company picnic is also a great place to play volleyball, football or other games that almost anyone can play.
Food should be relatively inexpensive, and most of what you're serving is lunch meat and snack foods.
Those who attend will also likely have outdoor games, sports equipment or other items at home that can be used by everyone who attends, keeping costs down.
Formal Evening Event
Generally reserved for the annual Christmas Party, but additional evening events can be used in conjunction with corporate activities that may appeal to clients, investors or others who prefer to talk business in a more formal environment.
While it may be possible to host a formal dinner or cocktail hour at company headquarters, there may be better ideas than this one for several reasons. Event spaces come in various sizes and price ranges depending on the evening arrangements.
Kill two birds with one stone and combine a product launch, fundraiser or promotions into the evening.
And of course there are themed evenings which might be more in keeping with your employees.
Corporate Retreat
A corporate retreat can be as straightforward or complicated as you want it to be.
Retreats can be fun because they allow everyone to spend time together as people instead of merely colleagues. Workers also commonly come up with great ideas while enjoying a drink on the boat or while watching a horse race.
The attire for such an event will reflect whatever the overall aesthetic of the retreat is. A trip to the mountains requires people to wear oversized coats, winter boats and other clothing typically worn in outdoor environments. Of course, if you go to a casino or a racetrack, you could run the gamut from casual wear to formal attire, depending on the flavour of the venue you choose.
Financials
As an employer providing social functions and parties for your employees, you have certain National Insurance and reporting obligations.
What you need to report and pay depends on:
if it's an annual event
if it's open to all of your employees
if it costs more than £150 per head
how many events you provide during the tax year
whether the employee is a director, and how much they earn
You might not have to report anything to HM Revenue and Customs (HMRC) or pay tax and National Insurance. To be exempt, the party or similar social function must:
be open to all your employees
be annual, such as a Christmas party or summer barbecue
cost £150 or less per person
This also applies to online or virtual parties.
If your business has more than one location, an annual event that's open to all of your staff based at one location still counts as exempt. You can also put on separate parties for different departments, as long as all of your employees can attend one of them.
Corporate retreats offer companies an ideal way to help people build relationships as colleagues and everyday people. Whether you hold a World Cup or Race Day party, take your team to the mountains or have a formal event at a local club, there are plenty of ways to help your team bond inclusively.
Related Articles