Rustic weddings are very popular and one of the simplest and most cost-effective wedding themes, the effect is stunning and romantic in the most natural way.
It doesn't matter what time of year it is; rustic weddings work. Natural and pastel colour schemes and autumnal hues, are ideal for these weddings.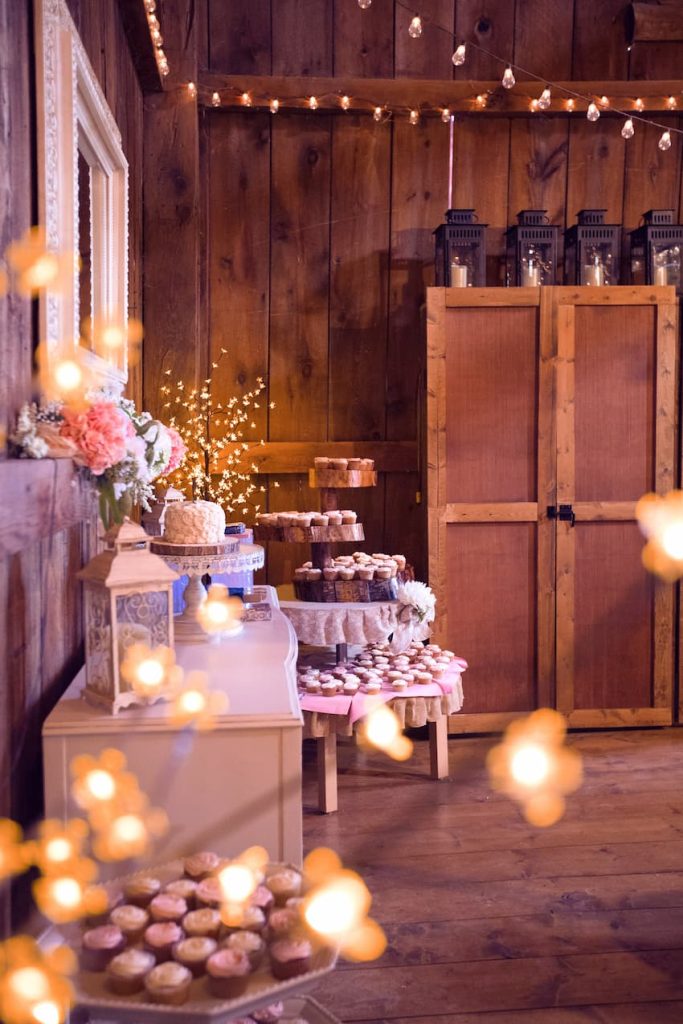 Décor for Your Rustic Country Wedding
Decorations are a crucial element in any rustic wedding. They can be used as a table, floral, wall, or floor decorations.
1. Wood Structures
Wood is an important element of rustic décor. You can use a rustic wooden arch to welcome your guests. You can also use a wooden structure to hold your floral arrangements. Wooden structures can be used as rustic wall decorations as well.
2. Floral Decorations
Flowers are one of the most common decorations for a rustic wedding. You can use single flowers or flower arrangements for your rustic decorations. You can also use vines and rose creepers for your rustic décor. You can use flowers in wall decorations, table decorations, or even centrepieces.
You can use fabrics to create flower bouquets. You can also use them to create table runners, table cloths and other decorations.
3. Candles
Candles are another rustic adornment. Candles may decorate walls and floors. Use rustic wooden candleholders. Iron candleholders are also available.
4. Wedding Props and Backdrops
Rustic wedding accessories and backdrops are available. Barrels, crates, wooden slabs and boxes make good props and backgrounds. Rustic furniture, pallets, fabrics and cartons also make great backgrounds and props. Combining colours may produce a rustic look.
The rustic décor might include red, yellow, blue, purple, brown and black.
5. Rustic Fabric-Based Decorations
You can use fabrics to create table runners, table cloths, wall decorations and many more. You can use any colour of your choice to create a rustic theme. You can use a combination of several colours to create your rustic decorations.
You can also use a pattern on your fabric to create a rustic look. You can use floral, geometric, animal and geometric patterns for your rustic decorations. You can also use textured fabrics to create a rustic look.
Dress for a Country Wedding?
Rustic weddings are perfect for floral accents and lace. Sleeveless, form-fitting gowns with lengthy trains are also highly fashionable. If you're going for a rustic look, stay away from bright white and go for ivory or eggshell instead.
1. Unique and Stunning Rustic Wedding Dresses
The strapless sweetheart necklines, princess skirts and jewelled waistbands of today's wedding dresses aren't the best fit for an outdoor ceremony. Choose instead a style that is uncomplicated and natural looking.
Dress your attendants in sage green, dusty pink, or gold if you're going for a flower theme. Bright and luminous colors, like pillar-box red, don't go well with the rustic motif. Materials like chiffon and lace work well, but satin may be too formal.
2. Clothing for a Country Wedding
Guests at a rustic wedding should not wear silk jackets, tails, or bow ties. The outfits worn by the groom and his attendants could be tweed. It's affordable, complements flower arrangements and is easy on the eyes.
Colours like grey, olive green, brown and navy are great choices. You may ditch the jacket in favor of only a tweed waistcoat and a dress shirt for an outdoor wedding.
3. Accessories, Hair and Makeup for a Rustic Wedding
Don't go overboard if you want to make a statement with your hair. To avoid appearing fake, you should go for a more natural appearance. You may still use hairspray to keep your loose curls or braids in place throughout the ceremony, making them perfect for a rustic wedding.
To top off your country look, try wearing a flower crown.
Keep your makeup simple and muted and stay away from bold colours and lines. Try a no-makeup-makeup or a natural approach. The only makeup you'll need for your rustic wedding is a peachy blush, some translucent lip gloss and a little mascara.
Rustic Wedding Venues
The beautiful outdoors is ideal for a country-style wedding.
1. A Barn Venue
Barns offer couples a fun and unique way to celebrate their wedding day. They also provide plenty of room for couples to create a wedding that is truly their own. Several kinds of barns can make great wedding venues. First, there are traditional barns.
These wooden, rustic structures make a perfect venue for a wedding.
They're large enough to host a large reception and come with all the charm and rusticity of a classic barn. Another option is a new or repurposed barn. These modern architectural structures are perfect for couples who want a unique, industrial space for their wedding.
2. An Outdoor Theatre
If you're looking for a unique venue, you need to look no further than the local outdoor theatre. These are not only a great place to see a show, but they can also host an incredible wedding. Outdoor theatres are often nestled among beautiful scenery, giving couples options for wedding photos.
Outdoor theatres are also great for a variety of wedding styles. You can host an elegant black-tie wedding or an informal rustic affair at an outdoor theatre. These open-air venues also offer plenty of options for decoration.
3. A Private Estate
A private estate makes a beautiful wedding setting. Your wedding photographs will be beautiful at a house or a castle. A private estate enables couples to construct a wedding that represents their individuality.
A private estate wedding may combine your partner's culture and background. You may also marry in the estate's garden. Choose a property near the coast, river, or lake.
4. A Meadow or Garden Location
A meadow or garden location is a very rustic wedding venue option. There are many different types of gardens and meadows that you can choose for your wedding, ranging from formal gardens to wildflower patches.
A meadow wedding is a truly unique affair. It allows you to bask in the beauty of Mother Nature while also enjoying the convenience of indoor plumbing. A meadow or garden location is also perfect for couples who want a casual wedding.
5. An Marquee Location
Marquees have become popular for wedding venues in recent years. They make it easy for couples to enjoy the outdoors without worrying about bad weather. They also provide plenty of room for décor, making it easy for couples to create a stunning wedding.
Entertainment
Bridal couples can choose from several rustic entertainment options, such as a barn dance or an old-fashioned square dance. If the wedding is held in a barn, the couple can set up a "fiddle-and-dance" booth, where guests can learn how to play the fiddle.
Another option is a caller, who can lead guests in a country-style square dance.
Rustic weddings have remained fashionable. The late spring, summer and early autumn are ideal for a country wedding. It is the perfect style for a wedding if you want to take things slow and enjoy every moment. Rustic weddings can be beautiful no matter the season.
Related Articles