Are you planning an incredible event? Do you already know that you're going to need chairs? Do you feel overwhelmed by the process?
If you answered "yes" to any of these questions, then read on to get our top five expert tips for not only finding the perfect chairs but making sure you find the right chair hire for your event. With a little research and prep work, you'll be on your way to outfitting your event with enough chairs for your guests to be comfortable — and you'll feel less stressed on the day of event.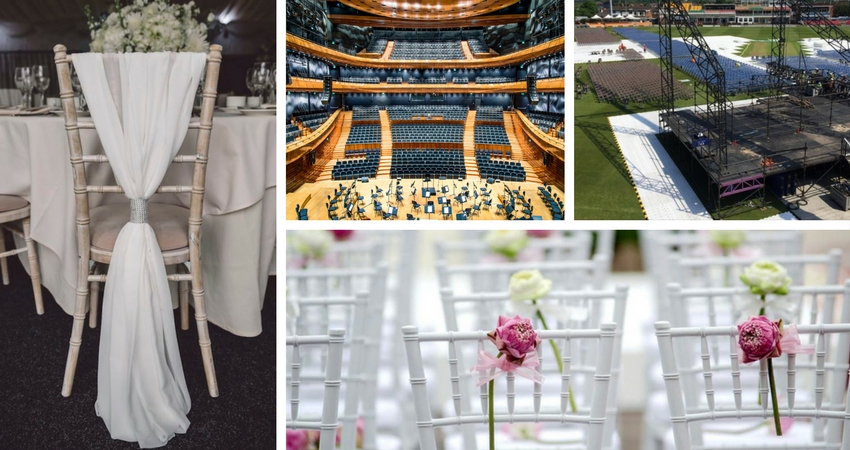 Tip #1: Do Your Research Early
If you're planning a wedding or a corporate event that will need a significant number of chairs and other custom seating, then you can't get into the game late.
You need to contact your chair hire company as soon as possible. That means you need to do your homework early and find out the chair hire companies you are interested in and can afford. It's also important to do your research early so that you know which chair hire companies have the inventory to meet your needs.
Start your search online or ask friends for referrals. From there, contact at least three chair hire companies to get comparisons on inventory and pricing. This at least gives you a baseline understanding of what is available. Also, keep in mind that some seasons are busier than others — such as the winter holidays or the summer season — so plan accordingly so that you can make sure to get your order exactly how you want it.
Tip #2: Give Your Max Number First
This can be a step some customers don't want to take at first because it can result in a higher quote — but it's absolutely essential to give your chair hire supplier an idea of how large your event could be. Many companies realise that you may not have your final number of guests until a few weeks out.
The good news is that you always can lower the amount of chairs you need and pay less money at the conclusion of the event. The key to this step is making sure your company holds a maximum number of chairs for you should more guests than you are estimating decide to attend your event. It's better to have too many on hand than not enough.
You don't want to be scrambling around with other companies looking for extra inventory to match or complement your chairs — and you certainly don't want to end up with a mismatched grouping of seating for your event.
So in that initial estimate, make sure you are including the maximum number of chairs you think you would need for your event. Drill down from there!
Tip #3: Consider the Kinds of Seating You Need
This step is where it gets fun and creative. The kind of chairs you decide to hire will largely depend on the aesthetic of your event and the needs of your guests.
For example, are you needing to hire chairs for a wedding ceremony that is going to last several hours? If so, you might want an elegant gold chair with a custom cushion for comfort.
Are you throwing a corporate event in which you think most people will be dancing or grazing the hors d'oeuvres stations?
Then you might want a few modern couches and some high-top tables with a few high-top chairs to match. In this latter case, not everyone needs a chair. They just need a place to put their plate.
As you think about the event type and the design feel of your party, you'll want to match it with a chair your company has in stock. Get a sense of the feel and needs of your event first, and then actually visit the showroom to see the chairs in person. You can sit on the chairs, line them up to get a feel for what they will look like in mass, and customise cushions based on your event colour palette!
Tip #4: Get the Lay of the Venue Land
One big mistake planners make often is they don't check in with their venue first to work out details surrounding furniture. There are several questions you should ask of your event venue before signing on the dotted line.
For example, what is the maximum capacity of the venue. If you're planning a 150-guest wedding reception and that clubhouse you have your eye on will only allow 40, there is no way you're going to be able to hold your even there or get enough chairs in the space!
Also, many venues have rules for how furniture is set up and taken away. So you'll need to ask about timelines and where furniture can be placed. Keep in mind that you will be responsible if you bring furniture into a space and you damage the flooring. Ask those questions and figure out a way the company can protect the floor via the kinds of chair padding it uses on the legs of the chairs.
Finally, tour your venue to make sure the chairs you have your eye on really do fit within the space. There is a lot you can do with chairs in a venue, but it will be dependent on the design aesthetic of the venue.
Tip #5: Plan for Those Annoying Late Responders
Honestly, we know how you feel: You've put so much time and energy into planning your event, and you've asked for an RSVP for a reason. But no matter how meticulous a party planner you are, there are always those guests who show up without RSVPing.
This can be a real issue if you have a wedding ceremony with individual chairs or you have a seated wedding reception or dinner. Consider adding about 1-2% more chairs to your order to account for these non-RSVPers. To give you a sense of what that would be, it would be adding 10-20 more chairs for a 100-guest event.
Keep this in mind as you plan your overall budget, as it will add a new expense to it.
Ready to Find Your Chairs?
Don't leave chairs as the last thing you do in your event planning process. If you're going to put on an event that dazzles your guests — and gives them comfortable, sufficient seating — then you've got to plan ahead.
For more information on hiring tables or chair hire, check out our table hire guide and our chair hire guide, or contact our hire team direct.
Plan now for your amazing event later!
Related Articles