BE Event Hire's stainless steel bars are being used as a gift wrapping station at the Leicester Shopping Centre Highcross Leicester , so if you are shopping in Leicester and would like your gifts beautifully wrapped head over to the stand.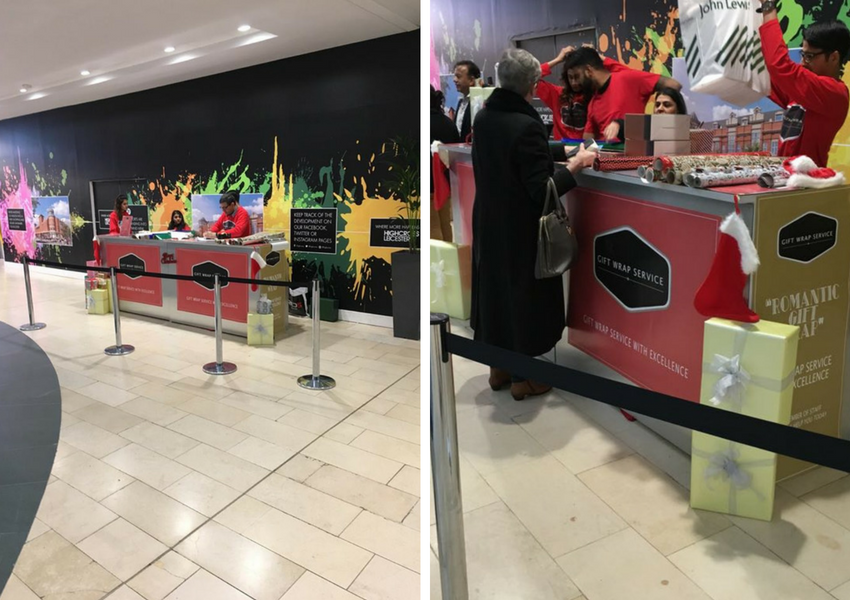 With news reports on online delivery networks struggling to deliver items before Christmas, it may just be worth a visit to a traditional shopping centre this close the Christmas Day.
Highcross Leicester is open until 10pm on Wed, Thurs, Fri – Sat and Sun open until 5pm.
And there is a Gift Wrapping service too.
Stainless Steel Bar Hire
Our Stainless steel bar counter hire measure: Bar front is 1.5 Meters long, 113 cm high, with a 52.5 cm deep top.
Each bar also comes with a stainless steel shelf inside that is 60 cm deep, 143 cm across and 79 cm high. These bar counters are also fitted with LED lights that shine down from the top and these can be set to one static colour or rotate through all the colours.
Related Articles