Are you planning a rustic wedding? If so, you are in for a treat!
Rustic weddings are becoming more and more popular and for a good reason. They are beautiful, intimate, and unique. We will provide some inspiration and ideas for planning the perfect rustic wedding.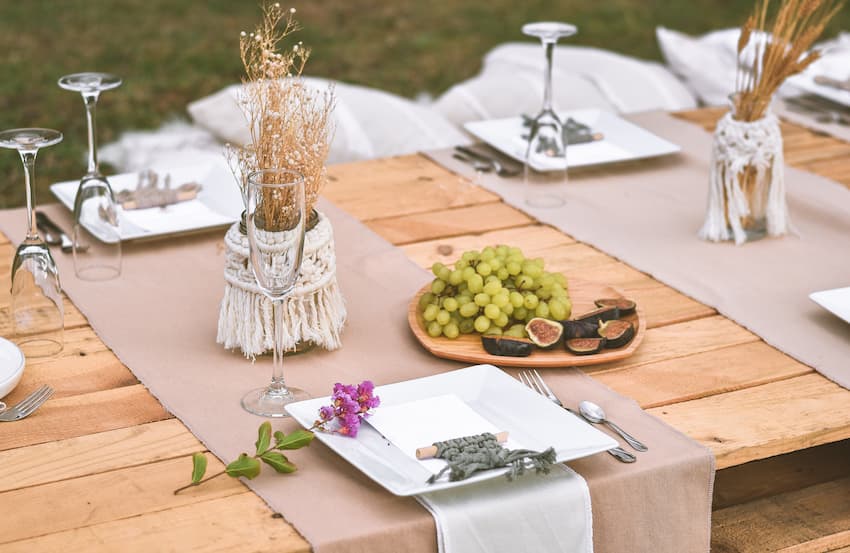 Rustic Inspiration
1. Mason Jars
Mason jars are one of the most popular ways to decorate a rustic wedding. They can be set up on tables or even be hung from trees! If you want to get creative, why not try using mason jars as your actual drink ware? These have become so popular that you can also buy personalised jars.
You could also try hanging flower arrangements in mason jars to decorate your outdoor ceremony or reception area. Mason jars are practical and beautiful, making them excellent for rustic weddings.
2. Lots of Wood
Wood is another key element of rustic weddings. You can use wood in your decorations, invitations, and even your wedding cake! If you have an outdoor wedding, consider using a wooden arbor or pergola to create a beautiful entranceway.
You can also use small pieces of wood as escort cards or place cards. Just write the guest's name on a small piece of wood and then attach it to a branch or vine. It is a simple, rustic way to let your guests know where they are supposed to sit.
3. Natural Elements
It is all about incorporating natural elements into your décor in a rustic wedding. It could mean using branches and leaves as table centrepieces or having a flower girl who scatters petals made of dried flowers. You could also use a live tree as the backdrop for your ceremony or reception.
If you are planning a rustic wedding, you should incorporate as many natural elements as possible. They will make your ceremony and reception unique, beautiful, and memorable.
4. Casual Dress
A rustic wedding is a perfect opportunity to let your guests dress casually. This relaxed atmosphere will make your wedding feel more intimate and laid-back and practical if you are planning a marquee / teepee in a field wedding.
Just remind your guests to bring a pair of wellies.
5. Homemade (no fusss) Food
One of the best things about rustic weddings is that they offer a chance to serve 'homemade' food, or should we rather call it no frills food. It can be anything from barbecue to pulled pork to fish and chips. There are plenty of no fuss outside caterers and wedding food vans that offer different options to guests.
6. Open-Air
You can't have a rustic wedding without an open-air ceremony. It is the perfect setting where the bride and groom will say their vows before their family and friends. There are many different types of outdoor venues that are licenced as wedding venues.
Remember to check if its licenced.
7. Signs
One of the simplest and most effective ways to make your wedding rustic is to use wooden signs. You can use them to direct guests to the ceremony or reception, as well as for décor purposes. Many different wooden signs are available, including hand-carved ones or painted with a rustic design.
There are enough wedding hire companies out there that specialise in rustic furniture that have accessories available to hire.
8. Barn Venues
If you want the ultimate rustic wedding, then a Tythe barn should be on your short list of venues.
Barns are a great way to create an intimate atmosphere at your wedding. They also make it easy to hold your reception or ceremony outdoors with an indoor option given out lovely British weather.
9. Napkins
If you want to add a touch of rustic elegance to your wedding, consider using printed linen napkins. These napkins are available in many designs, including floral prints, plaids, and stripes. They are also made from high-quality materials that will look great on your dinner table.
Printed linen napkins are a great way to add style and elegance to your wedding. They can be used as place settings for guests who need something simple but elegant, or they can be placed on top of plates with food, so each guest has their personalized napkin holder.
10. Rustic Card Holders
Rustic card holders are available in many different styles and designs. You'll find that they're made out of wood, metal, and other materials, so there's sure to be one that will match the style of your wedding.
11. Burlap Accents
Burlap is a great way to add rustic charm to your wedding. Burlap is affordable and is used on everything from table runners and chair covers to flower girl baskets and aisle décor.
Burlap is a popular choice when planning a wedding because it's easy to find at craft stores like Michael's or Hobby Lobby. It comes in many different colours, so there will always be something that matches the colour scheme of your wedding.
12. Barrel Bar
A Barrel Bar topped up with a wooden board brings out the rustic charm of the wedding. It is a great way to add style and elegance to your wedding. You can use this for everything from the cocktail hour or dinner reception, as well as an outdoor venue in warmer weather where people will want something lighter than beer during their meal.
You can find Barrel Bars in a variety of different sizes, so you'll be sure to find one that will fit the space you have available. They're also made of wood or metal, so you can choose the style that best matches your wedding.
13. Wedding Transport
A vintage wedding car is a perfect way to add rustic charm to your wedding. It's also a great way to show off your personality and style on your big day. Vintage wedding cars have a variety of different styles, so you'll be sure to find one that will match the style of your wedding.
And it does not have to end with cars, there are tractors, coaches available too.
14. Lanterns
This is going to be dependent on the type of venue and their fire policies and if so fairy lights in mason jars could be another option.
Lanterns come in a variety of different sizes, shapes, and colours, so you'll be sure to find one that will match the style of your wedding. They're also made of many different materials, including wood, metal, and glass, so you can choose the style that best matches your wedding.
Rustic Furniture Hire
BE Event Furniture Hire offers a range of wedding furniture hire that includes rustic options and accessories. BE have years of experience and a wealth of knowledge in furniture hire. Your furniture will arrive in perfect condition and on time. Every time.
Related Articles