The micro wedding could be the answer to all of your wedding dreams.
Life during the pandemic threw us many curveballs, and the micro wedding is a result of how the wedding industry has evolved to meet the new norm.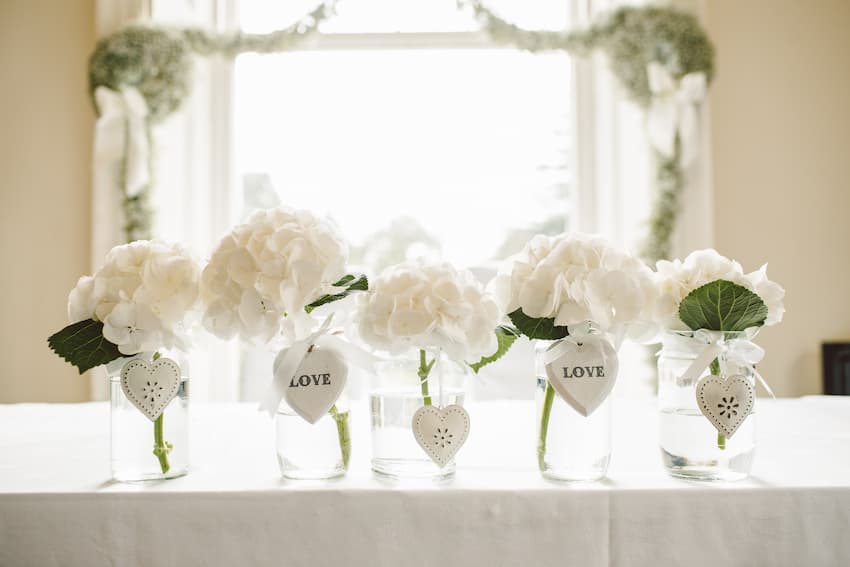 What Is A Micro Wedding?
The wedding site Hitched officially named this wedding concept. It was once known as just a small, intimate gathering. Now, it has a real name with a huge punch. Instead of tying the knot surrounded by hundreds of people, the micro wedding is a small, intimate gathering. The term officially refers to no more than 50 guests in attendance at your wedding. From couples that had to call off their wedding due to the large guest list to couples that no longer had the money due to pandemic-induced furloughs, the micro wedding saved their day. A micro wedding makes the experience easier for everyone involved in the wedding.
The Big Idea
Though micro weddings are technically a smaller celebration, this doesn't mean you have to skimp on style. The idea behind is that you actually go bigger and better. You don't have to minimise your dreams. You're just minimising the guest list and the "show." The big idea is that you're spending more quality time with loved ones in an intimate setting. You get to splurge on the people you love instead of greeting hundreds of guests. The pressure of entertaining 250 guests is taken away as you focus on the smaller crowd. It's up to you if you want to save more money. For some people, having a micro wedding may mean spending the same amount on a higher-quality wedding. For others, they're able to save money with the smaller gathering. A micro wedding gives you endless opportunities to dream and play with what goes into your intimate wedding.
Planning Your Micro Wedding
How do you even start to plan a micro wedding? The thought is you can still spend as much as your budget allows, yet your money goes a lot further with fewer people. It can be overwhelming to stare at a blank sheet as you start planning your dream wedding. We've got some easy ideas to steer you in the right direction.
No-Guilt Guestlist
One of the toughest parts of the micro wedding for many people is managing the guest list. Instead of inviting your cousin's best friend's mom, you're going to cut the list down to just your cousin. This is an exclusive event. You might start feeling guilty, but it's important to remember this is your special day. The world doesn't have to be in attendance. Your VIP guest list will make the day even more special surrounded by only those nearest and dearest to your heart.
Going Beyond The Guest List
Your guest list may have 15 spots, but it's important to remember that some other people must fill those spots. Your limit will often need to include, you, your future spouse, the registrar, and the photographer. From here, you can branch out to loved ones. You can also say a flat "no" to people asking to bring a guest or their children. Wedding guest lists often get out of control when a bride or groom cannot say "no." With a micro wedding, it's critical to learn to put down your foot because every number counts.
Exclusive-Use Venue
The good news is that a smaller wedding means you often get the chance to get married in any venue you want. The bad news is this venue needs to be exclusive for you that day, or it might be awkward. You probably don't wish to share your wedding venue with someone else getting married or the public in general. Speak with the manager or owner to ensure you get exclusive use of your venue that day or night. It will feel a little more private and magical this way. You can have an entire venue for your loved ones.
Hire A Wedding Coordinator
Even though it's a tiny wedding, a wedding coordinator will help things run smoothly, and remember you are saving on that large wedding expense. Your day should be free of stress. Let the wedding coordinator handle vendors and all of the details. The wedding coordinator handles everything from the tiny details to the really big stuff. You don't have to lift a finger.
The Wedding Party
Since your wedding is so small, you might want to throw out the idea of an evening wedding reception. There are no rules. You can have a best man and maid of honour, but the rest is up to you. You don't even have to have anyone standing beside you, other than your future spouse.
The Intimacy Key
The secret to your micro wedding is the intimate feeling. Keep that in mind when you're designing and planning everything. For instance, you don't need to set your guests at designated round tables. You can go for the longer banquet-style tables so everyone sits together. You're going to be able to mix and mingle easier with your guests. Think of your micro wedding as an intimate dinner at your home where you're the guest of honour and everyone gathers around you. The details should bring everyone together in this intimate gathering.
Think About A Social Media Ban
This is totally thinking outside of the "normal" wedding box these days, but you can consider a social media ban for your micro wedding. This is an "unplugged" wedding where guests live in the moment savouring the wonderful experience. Privacy is usually a big deal when you're having an intimate wedding. Guests won't snap photos constantly the entire time, so you can rely on your professional wedding photographer to capture special moments. Remember, you make the rules, so it's okay if you don't want your intimate gathering splashed all over social media.
Keep Up With The News
The pandemic is full of ups and downs. One day, the numbers of COVID-19 cases are up. The next day you're feeling a little more relaxed. It's important to understand that things can drastically change between now and the day of your wedding. A micro wedding gives you the relief that even if the limit of people in a group changes, you'll be okay with your small guest list. You may need to roll with the punches as they come in these times. The thing to remember is that guests are going to take their cues from you. They will focus on the positive aspects of your wedding, whether it's big or small. Take advantage of the excitement surrounding your big day. The world around you may change, but you are in charge of the way you plan and the way you feel about these changes.
Making The Day Extra Special
One of the biggest perks about having a micro wedding is that you get to make the day special in your own ways. You can choose as many non-traditional options as you feel, from the venue to the food. You can choose to get married in your favourite tiny coffeehouse or local art gallery. When you're hosting a huge wedding, your options are limited. A small gathering opens up many doors to customise the day to the couple's wants.
Go Big On A Micro Wedding
Splurge on the things that matter the most to you. A huge wedding forces you to spend lots of money on lots of things. A smaller wedding means you get to pick and choose your big spending areas. If you care most about the food, indulge on that five-course meal for your guests. If you care about the entertainment the most, go for the best live band in town. You can also splurge on the wedding favors gifting your small guest list the most unique gifts.
Fuss-Free Food
You're catering to a smaller group of people meaning you can either go for a fun food option or go wild with an expensive spread. The idea behind the smaller crew is you don't need to fuss so much about the food. You can go for the smaller businesses asking them for that special personal touch. You can get your favourite restaurant catered or go with canapes. Most people dream of their special wedding cake, but your cake doesn't need to be traditional. If you want to go with the best-tasting bakery cake from the store on the corner, go for it. This is your chance to think out of the box with the food and drinks.
Get Creative
Traditions can be thrown out the window when you're hosting a smaller wedding. Make your day special by letting your wedding reflect who you are as a couple. If you don't enjoy tradition, go with a theme. If you want to dress in 1920s clothing or a movie theme, get everyone involved in the fun. If you dream of the traditional fairy-tale wedding, then stick close to it. You can host a black-tie event for five people if you feel. The beauty is in the details of this day. It's all about you as a couple.
Stick Close To Your List Of Priorities
Make your day extra special by prioritising the things that matter the most to you. Include a list of non-negotiables that you will not budge on when it comes to your big day. If you want the best pictures you've ever seen or the most expensive alcohol, don't budge on these things. Even though the wedding is small, your priorities mean big business. Never compromise on the things you love just because it's a smaller crowd. By using your budget wisely, you can stick close to your priorities and host a small wedding.
Don't Overthink it
If you think too much about the details of your dream wedding, it'll never live up to the hype. If you've bought the fanciest dress in the store meant for the largest wedding of your life, go ahead and wear it. Let the dreams of your grand wedding flow into the dreams of your intimate wedding. Let go of the fear and worry you have of making everyone else comfortable. You can have a tiny wedding with lavish details. Focus on the importance of marrying the love of your life. Though a micro wedding might not be the one you dreamed about as a child, it might be the most perfect thing in the world for you. Don't over-analyse this magical day.
The micro wedding trend doesn't look like it's going anywhere. The pandemic may have forced couples to scale down their wedding, but it also showed people that intimate gatherings are often better than huge parties. If you love the idea of a small gathering with loved ones as you marry your soulmate, this micro wedding idea is perfect for you.
BE Event Furniture Hire supplies, delivers and collect wedding furniture hire around the country, no matter what size of wedding you decide on.
Related Articles