A wedding is a beautiful and happy event but can be an onerous financial burden in the Cost of Living Crisis.
Couples are finding they must cut back on their wedding day extravagances due to rising energy prices, interest rates, and mortgage payments. The Office for National Statistics (ONS) reports that the typical wedding cost is currently £23,030, with a lavish celebration costing more than £60,000. Many couples won't be able to afford these amounts, especially if they're trying to save for a deposit for a house or cover other expenses, like child care.
Each couple has its dynamic. Therefore, we've learnt that it's acceptable to have smaller weddings during times of emergency. It's also OK to keep things low-key or get married first and throw a big bash later.
We look at ways to cut costs without compromising quality when organising a wedding on a low budget.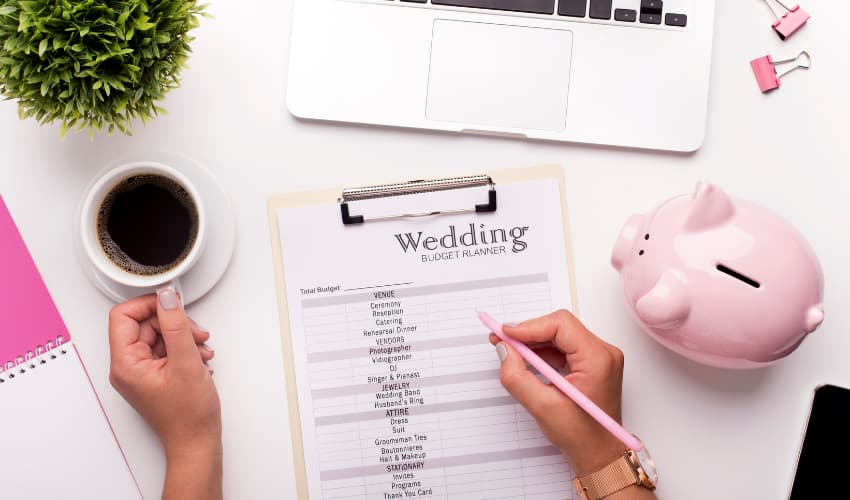 Your Wedding Budget
The term "wedding budget" refers to the overall budget proposal for the wedding. It's a statement about what's most important to you. With proper planning and communication, you can save money altogether.
Choosing a wedding venue, catering, and the number of guests are all important factors when creating a budget. It doesn't come as a surprise to find that the venue and food cost accounts for roughly 40% of most wedding expenses. Therefore, one of the things to think about when trying to save money on your wedding budget is the number of guests since this will affect the capacity of the venue and the cost of catering. The following are tips for creating and maintaining a sensible financial plan:
Be as detailed and honest as possible when estimating costs.
Don't forget the little expenses like the flower, wedding favours, and invitations, which might range from £150 to £200.
Prepare for the possibility that something will go differently than planned by allocating some cushion funds.
Cost-Saving Strategies for Wedding Planning
Here are some top ideas for making the most of your special day on a budget, from picking a unique wedding location to finding affordable catering options.
1. Choosing an Off-Peak Wedding Date
If you want to save money on your wedding venue, avoid a Weekend or having it during peak summer dates.
The wedding season is between May and October, with August and July being the busiest months. Therefore, selecting a slower month will save you money throughout the wedding, from the venue and the photographer to the makeup artist.
Weekday weddings are less expensive than weekend weddings, and if some guests can't attend because they have to work, that could be a natural approach to reduce the guest list. In addition, if you're flexible with the date, you can save as much as 50 per cent by booking a venue on a day it could not sell or one that became available because of a cancellation.
2. Opting for a Non-traditional Venue
A religious wedding must occur in a church, while a civil ceremony requires a licenced venue or registration office.
The Law Commission has proposed allowing marriages to occur in non-traditional settings, such as beaches and cruise ships; it would be interesting to check if these recommendations become legislation.
The cost of hiring a church venue is £500. And it usually costs at least £5,000 to rent a legally permitted wedding location, such as a hotel or castle.
Keep in mind that you don't have to throw a huge wedding. Around £50 is the going rate to tie the knot at the local registrar's office. Afterwards, you may host a party at your house or head to the nearest local pub.
Eloping may be the best option if you're looking for privacy and intimacy.
3. DIY Wedding Décor and Favours
Having everything go perfectly on your wedding day is natural, as it is one of the most meaningful days of your life. But, if money is tight, you may wonder what options you have for planning the perfect wedding without breaking the bank.
Make your wedding invitations, decorations, and cake or desserts to cut costs. Weddings may be expensive, so doing as much as possible to cut costs and add personal touches is a great idea.
Also, instead of buying wedding favours, consider making them yourself, such as cute jars of homemade jam, or donating to a worthy cause to honour your guests. Even better, you can deduct it from your taxes.
4. Reducing Guest Count
Reducing the number of guests is one of the simplest ways to cut costs for a wedding. This will have impacts on things like venue capacity and catering needs. Only the bride and groom, the registrar or celebrant, and two witnesses are legally required to be present at the wedding ceremony.
The number of visitors can be reduced in a variety of ways. Some couples invite only immediate relatives and friends, some don't allow children, and others don't require guests to bring a plus one.
After finalising the guest list, send out electronic invitations. They can be sent out at a fraction of the cost of traditional invites and offer guests the convenience of an online response card and gift registry.
5. Finding Affordable Catering Options
Trendy wedding catering options include buffets, street food, table sharing, and afternoon tea.
If you offer a buffet or set up tables where visitors can help themselves, you can reduce the number of servers you need. If you use disposable cutlery and plates made from recycled materials, you can avoid having to wash as many dishes after the event. Your guests will have the same flexibility with the street food vendors, from salad bars to pizza stands. A good rule of thumb is to have at least three or four vendors to accommodate varying interests and dietary needs. Make sure you choose a location that is comfortable with this catering style. This also eliminates the need to arrange a separate catering service for your evening visitors.
6. Hiring Wedding Furniture Does Not Have to Break the Bank
BE Furniture Hire has everything you need to throw the perfect wedding party, including chairs, tables, dance floors, red carpets, high chairs, barrier posts, and ropes. They also rent out table linens and wedding decorations to make your event memorable. Instead of paying more for the venue's furnishings, you can save money by hiring your wedding furniture.
Prioritising Wedding Expenses
While you're excited to marry your best friend and plan the perfect wedding, the less exciting details, like budget, can start to dampen your spirits. After the initial joy of getting engaged has worn off, it can become stressful to organise the wedding itself. You can simplify things by first identifying the most crucial factors to you. Therefore, you can allocate your budget accordingly and work out the remainder.
Entertainment should be a top priority when planning your special day to ensure everyone has a good time. Because it is essential to have a record of the wedding, photography is also a top priority. Remember that preferences vary from person to person, so it's crucial to create a budget that won't put undue stress on your finances.
Wedding Planning Resources for Budget-Conscious Couples
1. The Knot
It's a fantastic wedding website builder since it's free, simple to use, compatible with The Knot App and other planning tools, and has many gorgeous design options. The knot offers various free, high-quality themes experienced designers create. Their templates have sleek layouts and full-page photographs. To complete the professional look, coordinate the design of your website with your invites and other printed materials. It's pretty simple to set up; you can have yours operating in minutes on your phone browser, PC, or with their user-friendly All-In-One Wedding Planner app.
2. WeddingWire
It's made for lovebirds who desire a free wedding website with additional resources for organising their big day. One of the customisation options is a photo background template. Your site's colours and typefaces are highly adaptable. It also syncs up seamlessly with your other digital planning apps. With WeddingWire's hotel integration, you can easily book room blocks and recommend nearby hotels to your guests.
Quizzes, surveys, and a contact form are helpful extras that make it easier for visitors to interact with your site and get in touch with you. Also, it now includes a function that lets you have a countdown to the big day. You can also make the site inaccessible to search engines, password-protect certain pages, or both.
Related Articles