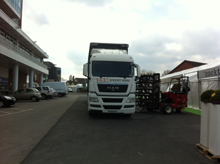 A busy end of the week for us here at BE today.
Tony is at Aintree today delivering wooden picnic benches for this years Grand National while Andy is down in London delivering 2,000 new chairs.
Picnic Bench Hire
James is also in London today delivering trestle tables, benches and a stage opposite Big Ben for a food festival while Luke is covering our Nottingham Furniture Hire deliveries and Jezz in sorting our Leicester Furniture Hire.
Trestle Table Hire
BE provides Event Furniture Hire across the UK
Related Articles