You've just planned an event and have a lot of sign-ups who indicate they're interested in attending, but you're not sure if they will. There are several stages to event planning and each stage along the way is important to get people into your event. Here are 11 steps to get people into your event to ensure it's a success.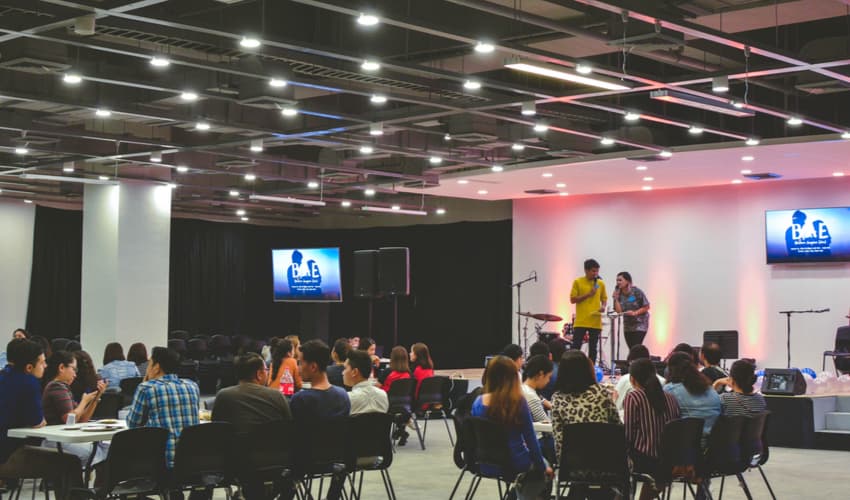 1. Know Your Tribe
Make sure you are planning your event for the right people. If you're hosting an event for Gamers, then you don't want to have segments on parental controls. If you're hosting a fundraiser for a local event, know the group. You probably won't host an afternoon Tea for your local Toast Masters or BMX Biker group. But it might be the perfect event for your local Garden Club or Friends of the Library organisation.
When hosting an event for a certain segment, you can also survey them to find out what they're interested in prior to planning an event. For instance, if the event is for Mommy Bloggers, what's their biggest priority? Should you focus on their children or on their self-care needs? Making food that kids want to eat? Or how to prioritise their day to meet everyone's needs? Be sure to include what they want in the planning of your event. If this is an annual event, reach out to past attendees to get their feedback.
2. Pick the right day/time
You need to match the day and time of the event to what you're planning. Sunday nights are not good since people are winding down from the weekend and planning out the following week. Friday night events aren't that great unless it's a meet and greet cocktail hour for the start of a weekend conference. If you want to bring in business people, plan it for 6 pm, right after work and only hold it for one to two hours on Tuesday, Wednesday or Thursday nights. If you're aiming your event to stay at home parents, then plan an event while they're children are at school or it's easy for them to get childcare.
3. Pick the right venue
Finding a central location that's easy to get to for the time of day you're planning the event, is important. Planning a downtown event during rush hour won't work unless your aim is to get people from local businesses to walk to your event right after work. Your event must be easy to travel to and have free or cheap parking that's convenient to your venue. Your location should be well-lit and feel safe, especially if it's a night event.
The location can also be part of your promotion. Maybe your fundraiser is a tea party in a local garden park or a walking tour through the museum that the money is going towards. How can your event be tied to the location to make it fun and interesting?
4. Know how to reach them
Now that you know who you want, you need to know how you're going to reach them. If you're going for a younger crowd, you need to know where to find them on Social Media such as Instagram or Twitter and what hashtags to use. When you're looking for a more professional/business crowd, then LinkedIn. If you're attempting to find an older crowd, then use Facebook and flyers that are distributed through the organisations they attend.
Aiming for bloggers? Then Instagram and Pinterest are great ways to showcase your event. You can also involve influencers to highlight your event while giving them backstage access to the planning stages and the entire event.
5. Reach out to past attendees
If this is an annual event, then reach out to your past attendees first. Get them involved and ask them to hype the event to their friends, family, and/or colleagues. If they got a lot out of the last event then not only will they want to come back, but hopefully they'll want to bring additional people.
6. Make an offer they can't refuse
Whether you are selling tickets to an event or trying to get people to attend a free event, you need to make it worth it for them to attend. Hold a giveaway that can only be won by people who are at the event. Make these prizes exciting to get people to attend. If you're aiming for the gamer crowd, it might be a game system or a package of new games that just came out. If you're hosting a free event for a Life-Coach who is trying to get new clients, then with their permission, offer a free coaching package that might involve two free 30-minute consultations or something similar.
You can also tie receiving additional raffle tickets for meeting certain requirements. Stepping into the event gets you a raffle ticket, bringing friends with you not only gets them 1 raffle ticket each but gets you additional raffle tickets for each person you bring.
7. Build Excitement
Sometimes it helps to build excitement for your event by announcing the event in stages. As it gets closer to the event start teasing "additional developments." For instance, start by sharing the event and announcing raffle prizes for the people who attend including one that appears like it's the grand prize. And then a few weeks later, announce that you were able to get an even more exciting raffle.
In the example of the Life Coach who is offering a raffle of two free 30-minute consultations, you could then announce that one lucky winner was going to win a 6-month package of coaching. Be sure to share the value of each package in order to build the excitement.
8. Hold Something Back
Build excitement by hinting at a special guest or a special prize that will be announced during the event. People will have to show up to find out who or what it is.
9. Showcase your keynote
Showcase your keynote by not only bringing excitement to the announcement through your influencer network but have your keynote involved in creating that excitement. Use Instagram, Twitter, and Facebook videos announcing the event and special giveaways. A few well-placed, free "learning tips" that highlight what will be shared at your event can also build excitement.
10. Have something to do
If the doors open at 6:00 pm, but the event doesn't start until 6:30 pm you need to have something going on to keep people's interest. A cocktail or appetiser meet and greet, or vendors that compliment, but don't compete with your event. Depending on your target market, you can have a photo booth, games to play like bag toss or a giant Jenga, and live music or a DJ. The key here is to keep everyone actively engaged so they don't quietly slip out the side door.
11. Keep the event moving along
You said it would be for two hours, then make sure it's two hours. Don't let your event go long. You'll need to be actively involved so you can keep it moving along. That includes ensuring there are mini-breaks to give out prizes, saving that big one for the end of the event!
You can always allow people to mingle for networking or a book signing. Your two-hour event was two hours, and after mingling is not a "required" part of the event.
Following these 11 steps will help you engage your audience, build hype, and create a successful event that people enjoy, and hopefully get them wondering when you're going to create another event.
Event Hire
BE have the capacity to cope with large national events to small regional events. We can supply event furniture hire up to 30,000 folding chairs and over 10,000 trestle tables plus many more items in large quantities and we can provide staff for setting up to your detailed plan.
We will deliver and collect 24 hours a day seven days a week and our hire prices are a flat rate for up to a week including one weekend. We can give excellent long term hire rates or even the option to buy large quantities of new or ex-hire furniture.
We have supplied furniture to prestigious and large events from Buckingham Palace to Glastonbury; we are big enough to cope and experienced enough to deal with all situations and types of venue from back gardens to setting up the whole of the ExCEL.
Related Articles