Back down to earth at Parkwood practice day last weekend after a fantastic two days in the Isle of Man training with all round nice guy, multiple world champion and biking legend David "Knighter" Knight MBE.
So, a chance to put into practice some of those winning techniques! Hmm, a week later and a freezing cold and muddy Parkwood, what can I remember, did any talent and tips rub off!. Well, actually quite a lot, I soon found myself looking ahead and reading the rutty and root heavy terrain like never before. Quickly I found that I could string together long flowing sections taking lines that previously I would never have even seen or considered. I totally recommend training with the top guys. Having trained with both Wayne Braybrook and David Knight I feel that my riding has improved enormously this season. Who better to try to emulate than those that have done it and won it.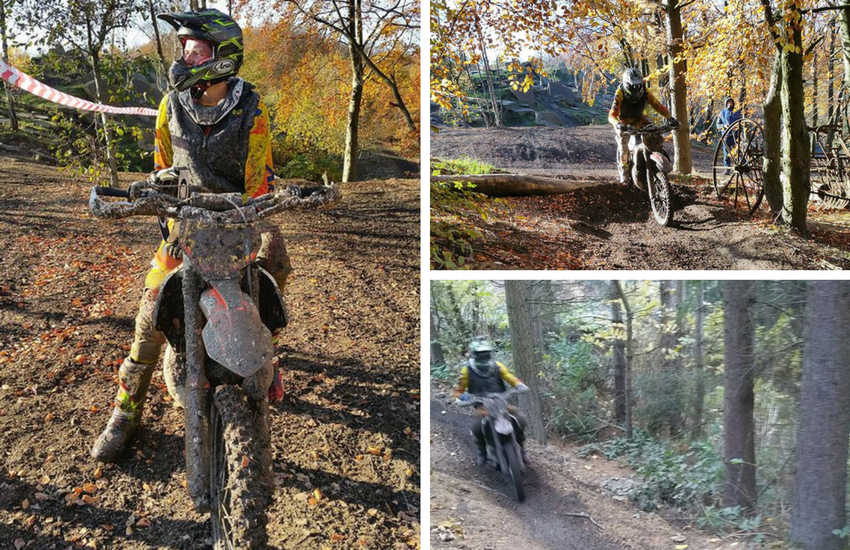 So as a late starter I have now firmly put my foot on the first slippery rung of the dirtbiking ladder. As Winner of the AMCA East Trent Junior championship this season, I am anticipating being moved up a class and having a season in the senior class. Small fish, big pond springs to mind but hey, what's to lose. If they do give me the chance and move me up then I will "go for it" as we say here at B.E. I don't expect to be in front straight out the gate but I reckon I can run mid pack by season end.
Next weekend is the last round of my TBEC championship campaign at Redrrick's Herts.
I am lying 1st in the E2 class at the moment and 8th overall on the totally flawless B.E. Event Hire KTM 250 XC. If all goes well in the four hours long race then I will be more than happy if I can retain my present position. What we need is a good solid rain from now until the race. Not sure if the mud brings out the best in me or the worst in everyone else but I do seem to do better in the slop.
After that my season is officially over but I just can't leave it alone, I intend to keep my hand in at a few of Wayne Braybrook's Fab RAWEnduro winter series races and I am already booked in for one of my favourite events of the year at a fantastic venue Enduroland's MudSweatandGears at Deepdale in Bedfordshire on Dec 30th certainly one not to miss so hope to see you there.