Melton Mowbray motorcycle racer sponsored by his employer BE Event Hire Antony Hart kicked off the season in sensational style as he returned to the international circuit.
The first round of the 2018 International Classic Grand Prix series took place in dry, but bitterly cold conditions at the world-famous Paul Ricard circuit in the south of France.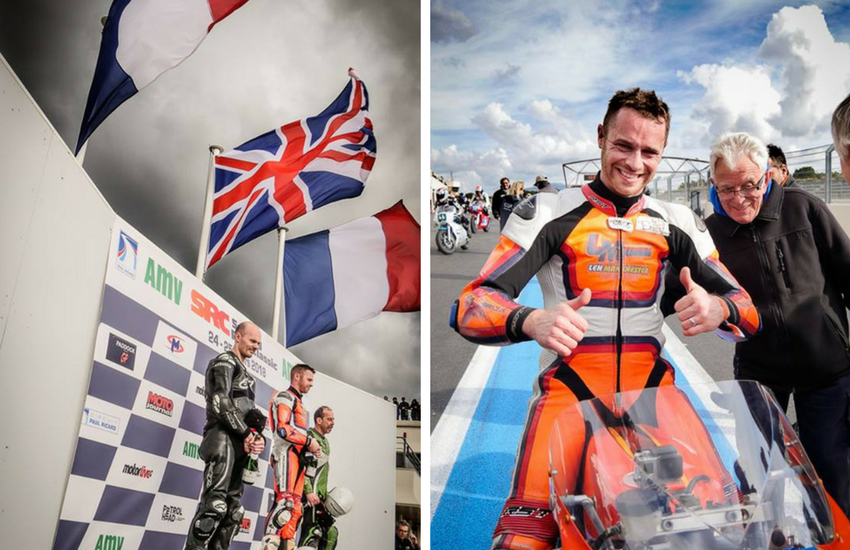 It was left up to Ant to turn up the heat by winning both races in fine fashion.
During Friday qualifying there had been a problem with the Manchester YamahaTZ 350 which Hart rides for Arnold Fletcher. But even so the Leicestershire rider still managed to qualify in second position and earn a front-row start.
The first race was scheduled to run on Saturday which gave the team time to thoroughly check the bike over and locate the problem. His team soon discovered the problem stemmed from fuel starvation caused by a faulty petrol tank breather. With the problem solved, Hart lined up on the grid with confidence and when the lights turned to green he was away with the front runners and soon chasing last season's champion Mike Edwards. By the beginning of lap six, and after posting the fastest lap of the race, Hart moved into the lead, a position he would hold to the finish.
Race two, which was run the following day, turned out to be a repeat performance with Edwards again leading off the line. Once more Hart closed him down and again posted the fastest lap of the race to take the lead at the start of the final lap.
Ant Hart held station to score his second race win of the meeting and take maximum championship points from the meeting.
With a healthy championship lead the team are already looking forward to heading for Italy in the next round in May.