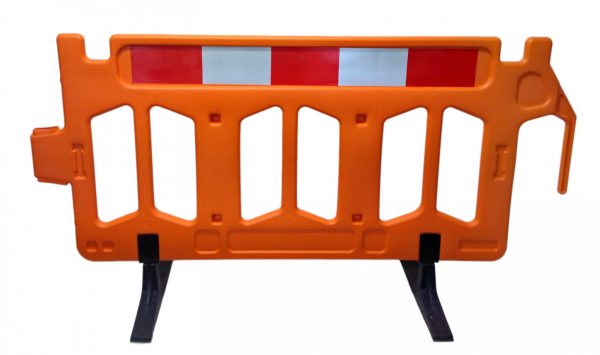 Pedestrian Barriers Chapter 8 Barrier – 2 Meters long
£5.65 exc. VAT per week
Description
The Firmus pedestrian barrier has a generous 2 metre working length and a height of 1 metre and is Highways approved
Made from high density polyethylene it offers a reassuring presence to any site or walkway.
The Firmus creates a highly visible protective wall for pedestrians, whilst making sure motorists are appropriately cautioned that they are in close proximity to a hazardous area.
It can be deployed with ease in either a straight line or can be angled to accommodate more irregular excavations.
With its link pin design it is ideal for use on uneven surfaces, kerbs and slopes without compromising stability and with the option of an anti-trip foot it keeps walkways clear without encroaching on pedestrian space.
Fitted with a reflective strip the Firmus is clearly visible at night or in bad weather and has the option to add beacons or hazard warning signs.
We also offer security fencing for larger construction areas.
Product Code
$crobar3
Need any help? Call 01664 812627